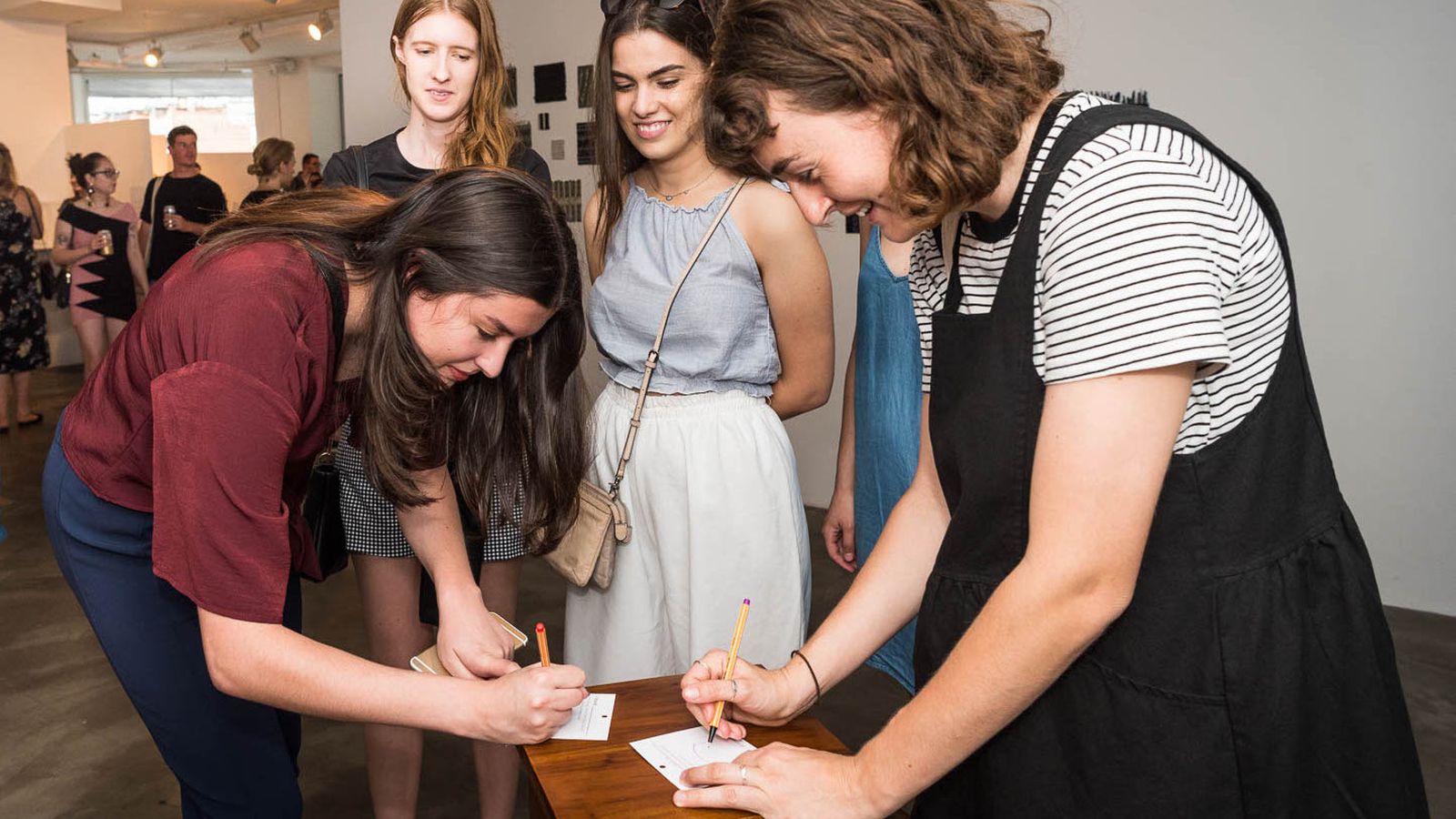 ---
We are grateful to all of our partners for their generous support of Australian innovation, creativity and design. Whether it's government support, or the continued patronage of our valued donors, gifts of all sizes, big and small, help us to continue to deliver a diverse creative program that centres through contemporary craft and design in Australia.
Australian Design Centre acknowledges the support and contribution of the NSW Government through Create NSW and the Visual Arts and Crafts Strategy, and the Australian government through the Australia Council for the Arts and the Visions of Australia: Regional Exhibition Touring Program.

Government Partners
Create NSW, City of Sydney, Visions of Australia, Australia Council for the Arts, 
Partners
Signwave Newtown, IAS Fine Art Logistics, Tyrrell's
Project Partners 2019
Art Gallery of NSW, Arthur G, ArtsHub, Australian Tapestry Workshop, Authentic Design Alliance, BoConcept , City of Sydney, Craft Victoria, Crafts UK,  DenFair, Design Tasmania, Digital Press, Ernabella Arts Centre, Garland, JamFactory, Maker and Smith, MAAS (Sydney Design Festival) NAIDOC, NSW Architects Registration Board, Seed Stitch Collective, Skein Sisters, Sydney Architecture Festival, Sydney Living Museums, Sturt Craft and Design Centre, The Australian Ceramics Association (TACA), UNSW Art & Design, UTS , Vert Design, VIVID, WORKSHOPPED
Trust & Foundations
Ian Potter Foundation, Gordon Darling Foundation

Individual Donors 2020 
Anonymous
Carola Akindele-Obe (Maker&Smith)
Nanda Altavilla
Robyn Ayres
Andrew Barron
Laila Bazzi
Hahna Busch
Lisa Cahill 
Steven Cateris 
Mark Clark and John Pearson 
Gillian Corban (Corban & Blair)
Robert Costa 
Greg Dean 
Kim Elliott (Squarepeg Studios)
David Ellis
Elizabeth Espinosa
Alix Fiveash 
Jenny Green
Aedan P Harris
Kevin Hetebry
Meredith Hinchliffe 
Frank Howarth
Melanie Ihnen (Ihnen Atelier Jewellery)
Louise Ingram 
Jo Jarosinska
Nina and Ashley Jones (Gunyulgup Galleries)
Yuri Kawanabe 
Guy Keulemans (Keulemans & Hashimoto)
Robert and Rosemary King 
Robert Lim 
Kelly McDonald
Niki McDonald
Annalyse McLeod 
John O'Callaghan
Lanny Paoki-Merukh
Emily Pow (Seasonal Supplies)
Steve Pozel
Jane Reynolds
Barbara Rogers
Alan Rose 
Harlene Rubin
Maisy Stapleton
Arvind Thangali
Luke Torrevillas and Bridget Kennedy (Ecomlocations)
Liz Williamson
Sophia Wilson
Warwick Wright
Individual Donors 2019
 Anonymous 
 Carola Akindele-Obe (Maker & Smith)
 Lisa Cahill 
 Kate Caicedo 
 Taner Can
 Alexander Cheek 
 Katie Choy 
 Mark Clark 
 Janine Combes
 Robert Costa
 Carol Crawford
 Credit Suisse
 Diana D'Ambra
 Gregory Dean
 Helen Earl 
 David Ellis 
 Alix Fiveash 
 Alexander Ghent 
 Cameron Giblin 
 Kylie Gould 
 Jenny Green 
 Rebecca Hinwood 
 Colin Hopkin and Ilona Topolcsanyi (Cone 11 Ceramics and Design) 
 Meghan Hay 
 Frank Howarth and Associates Pty Ltd 
 Yuri Kawanabe 
 Bridget Kennedy and Luke Torrevillas (Ecomlocations)
 Leo Kennedy 
 Guy Keulemans 
 Robert and Rosemary King 
 Regina Krawets 
 Michael Leung 
 Brendan Lonergan 
 Rosemary Lucas (Rosemary Lucas Interior Design) 
 Kate McDonell 
 Frances Mahoney 
 Robert Middleton 
 Lesley Parker 
 Bradley Pike 
 Emily Pow (Seasonal Supplies) 
 Steven Pozel 
 Stuart Read 
 Alan Rose
 Sophie Robertson 
 Olaf Sialkowski
 Andrew Simpson (Vert Design) 
 Merryn Spencer
 Maisy Stapleton
 Bic Tieu Designs
 Marilyn Valli 
 Liz Williamson 
 Helen Wyatt (F Tanner Baker) 
 Melinda Young 
 Hezhong Yu 
 Ziqi Yu 
 Brian Zulaikha 
Individual Donors 2018
Jacqui Bonner (Jacqui Bonner Marketing and Management)
Damian Borchok (For the People)
Lisa Cahill                 
Helen Earl      
Alix Fiveash              
Leslie Green
Jenny Green   
Meghan Hay              
Clara Ho
Colin Hopkin and Ilona Topolcsanyi (Cone 11)            
Frank Howarth                       
Melanie Ihnen (Ihnen Atelier Jewellery)
Louise Ingram
Cynthia Jackson
Yuri Kawanabe
Bridget Kennedy and Luke Torrevillas (Ecomlocations)
Rosemary and Robert King               
Cassandra O'Brien, (Asia Society Hong Kong Centr)
John O'Callaghan (JOC Consulting)
Mia Penn (Ruby Raisin)
Steve Pozel
Sophie Robertson (Credit Suisse)
Alan Rose
Marc Schamburg (Schamburg + Alvisse Design Pty Ltd)    
SquarePeg Studios
Maisy Stapleton
Ashley Stewart           
Carmel Sullivan         
Karin-Ann Tesdorf
Margot Ware (Margot Design)
Alice Whish
Liz Williamson
Individual Donors 2017
Andrew Barron
Rhadi Bryant
Lisa Cahill
Tim Collins and Rebecca King
Diana D'Ambra
Alix Fiveash
Jenny Green
Leslie Green
Meghan Hay
Hana Hoogedeure
Frank Howarth
Louise Ingram
Yuri Kawanabe
Bridget Kennedy and Luke Torrevillas (Ecomlocations)
Guy Keulemans
Steven Pozel
Alan Rose
Andrew Simpson
Oliver Smith
Maisy Stapleton
Carmel Sullivan
The Write Business
Emma Thomson
Stuart Williams (Touching Space)
Liz Williamson
Henry Wilson
You can find out more information about supporting ADC here.
The Object Development Fund is a tax deductible fund listed on the Register of Cultural Organisations under Subdivision 30b of the Income Tax Assessment Act 1997. Donations of $2 or more are tax-deductible.
Image: Designing Bright Futures 2017, opening night. Photo: Boaz Nothman.