Article: Lessons in wood
The Art of Making & Beyond Ordinary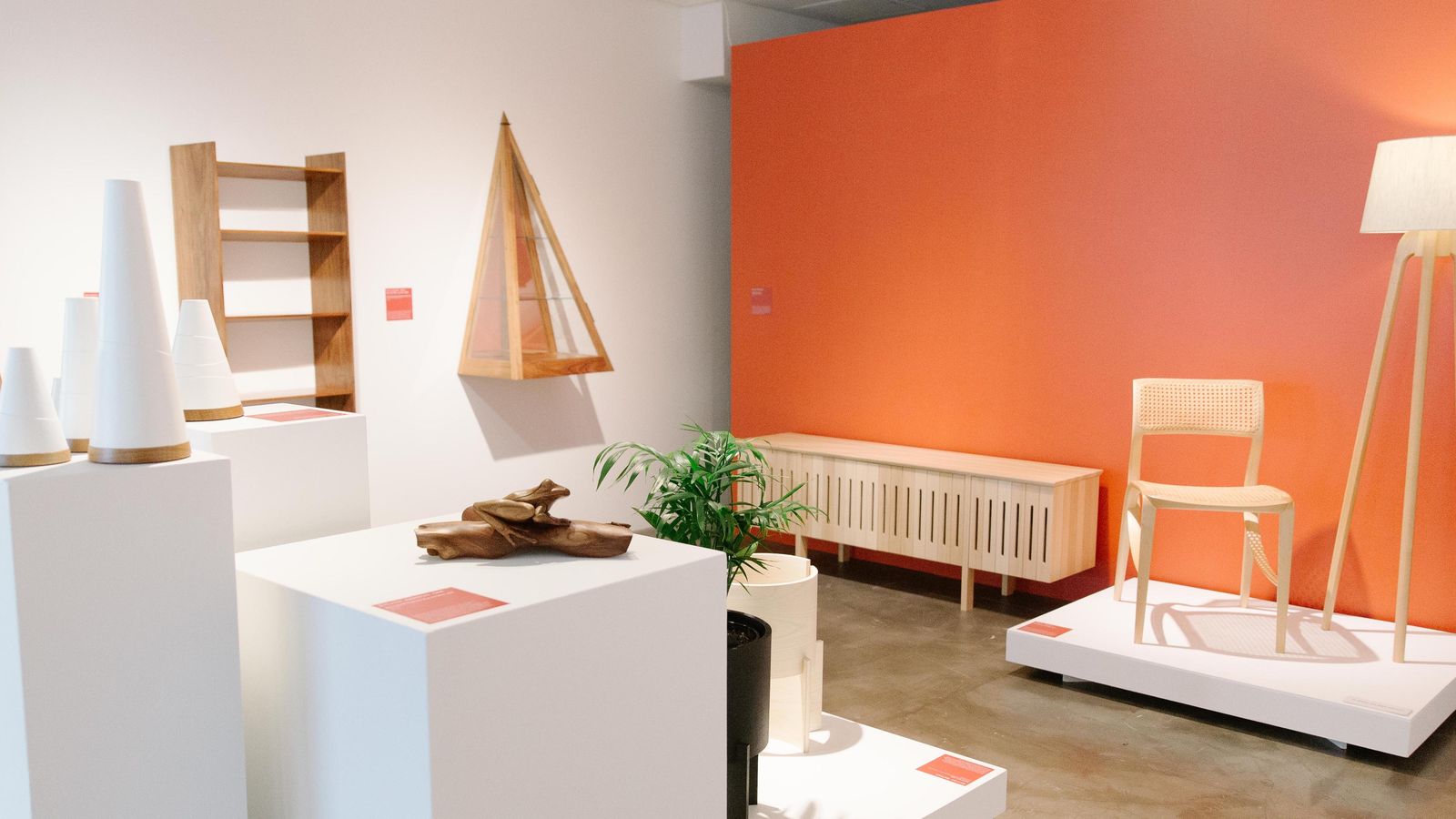 ADC Associate Director - Creative Programs, Holly Williams, reflects on two exhibitions of contemporary woodworking in Australia.
As global events make us question how and where we live, for many, the desire for a functional and beautiful home has come into sharp relief. It seems the need for our homes to provide a deep sense of refuge has never been greater. While our world is inherently insecure and impermanent, now the feeling of uncertainty touches almost every aspect of our lives.
Two recent exhibitions, The Art of Making: Studio Woodworkers Australia at ADC and Beyond Ordinary: Contemporary Women Makers at Sturt Gallery and Studios, brought some solace to these shaky, consumption-fatigued times. These exhibitions presented an eclectic mix of finely crafted pieces, each intended to profoundly enrich our day-to-day lives and domestic surroundings, places for our eyes and mind to rest. Though the primary organising principle behind each exhibition was the simple notion of group alignment (members of an association in the former and women makers in the latter), a clear common thread ran through them: the pursuit of meaningful objects designed to endure, to span generations.
These exhibitions point to a tradition entering a new 'purple patch' as consumer demand (and disposable incomes) meet a dynamic, growing field of artisans. The vitalising forces of outstanding skill and risk-taking was evident. At ADC, Will Mathysen combined 300-year-old clockmaking techniques with technology from the cine cameras of the 1930s and spring technology used in present-day satellites, while Ruth Thompson's brush with serendipity – coming across an old piano discarded in a ditch – led to a long-legged jewellery cabinet with sensuously tactile ebony drawer handles. At Sturt, the cross-disciplinary practices of Isabel Avendano Hazbun, Chelsea Lemon and Marian Shapiro sat dynamically with finely honed, functional pieces by outstanding craftswomen who have carved their own path in a field historically dominated by men.
Traces of mentorship, collaboration and experimentation were apparent – reminding us of the skills passed between generations of makers and drive to both sustain and transcend them. Teachers showing alongside their students, new digitally-informed processes sitting beside the most manual and labour-intensive methods honed through apprenticeship. These makers walk, as Kristie Phelan, Head of Sturt, puts it, 'the dangerous tightrope between the old and the new, of tradition and innovation.'[1]
Our thirst for connection to the natural environment has been met by these makers with processes that respect and draw out the intrinsic beauty of the timbers (even as we live through the great climatic changes that will likely render some of the tree species extinct). Recycled or repurposed materials or judiciously sourced timbers are prioritised. By shaping the heirlooms of the future, these craftspeople have also been creating micro carbon sinks and 'botanical time capsules' at a time when disastrous global warming appears unavoidable. In an interview during The Art of Making, David Muston, a Sydney-based woodworker and long-time member of SWA reflected on this broader context:
When I think about why I do what I do, what is it about? Is it about making? Is it about ending up with a piece of furniture? Or is there a deeper philosophical motivation there? …working with the natural materials that you love is a critical, central part of it. You can't look at the piece of timber if you look at it properly, and not revere it, not revere forests, and not revere what sustains forests. And not see the big picture, which we are now looking at as a human race, full-frontal, urgently. It's hard in a way to see a connection, but for me, there is one. There is a really important connection between quality, really good quality, things made slowly, by hand, carefully, that people treasure and the future of this place.[2]
Kristie Phelan also highlighted the intersection between the universal and the personal:
Each of these makers has taken different paths - some started as doctors, engineers, teachers or scientists, but each has made a fascinating choice to slow down and develop a deeper, more meaningful connection to nature through their craft. Connection to the natural world around them, but also the nature within. As one maker said, as we shape the wood, we shape ourselves.
As Kristie alludes, we find woodworkers coming from other fields – love affairs that started as slow-burning embers before bursting into flame later in life. This richness of experience is embodied by makers such as furniture maker and medical doctor David Muston, artist and engineer, Birgit Jordan, Rhys Jones, who returned to furniture after studying architecture and now teaches at Sydney-based wood school, Heartwood Creative, and Vivienne Wong, a soloist dancer with The Australian Ballet for 14 years before setting up her own workshop in 2020. These shows help collapse long-held stereotypes of who a woodworker is and might be in the future.
While The Art of Making and Beyond Ordinary highlight the resurgence of interest and opportunities to take up woodworking, as a field, it has largely resisted contemporary fads and follies found in the myriad art/craft, design/craft debates. Nevertheless, Rhys Jones found questions of comparison emerge through his own cross-disciplinary practice:
I was trying desperately to define craft in the modern world and see how it related to architecture and design. To try and bring the two together. But what I realise is that craft is about people. It's really that the objects you make are incidental. And what ensures the longevity of craft and why it's been around for so long is because people openly share discoveries and what they know.[3]
Perhaps it's this underlying generosity, so sorely needed during this new decade of great upheaval that makes the work of these makers so timely. Through their life-long dedication to crafting a material that is both enduring and perilously vulnerable, these designer-makers and artists help us touch into continuity, to ourselves and our planet.
The Art of Making: Studio Woodworkers Australia was held at ADC from 10 February - 19 March 2022
Beyond Ordinary: Contemporary Women Makers was held at Sturt Gallery and Studios from 13 February - 3 April 2022
Beyond Ordinary photos: Steven Foster Photography and Sturt Gallery and Studios
The Art of Making photos: Anna Hay and ADC
[1] Speech notes for The Art of Making: Studio Woodworkers Australia launch, 10 February 2022
[2] Filmed interview with David Muston and the author, ADC, 18 February 2022
[3] Filmed interview with Rhys Jones and the author, ADC, 18 February 2022