Article: Prue Venables
Masters of Australian Craft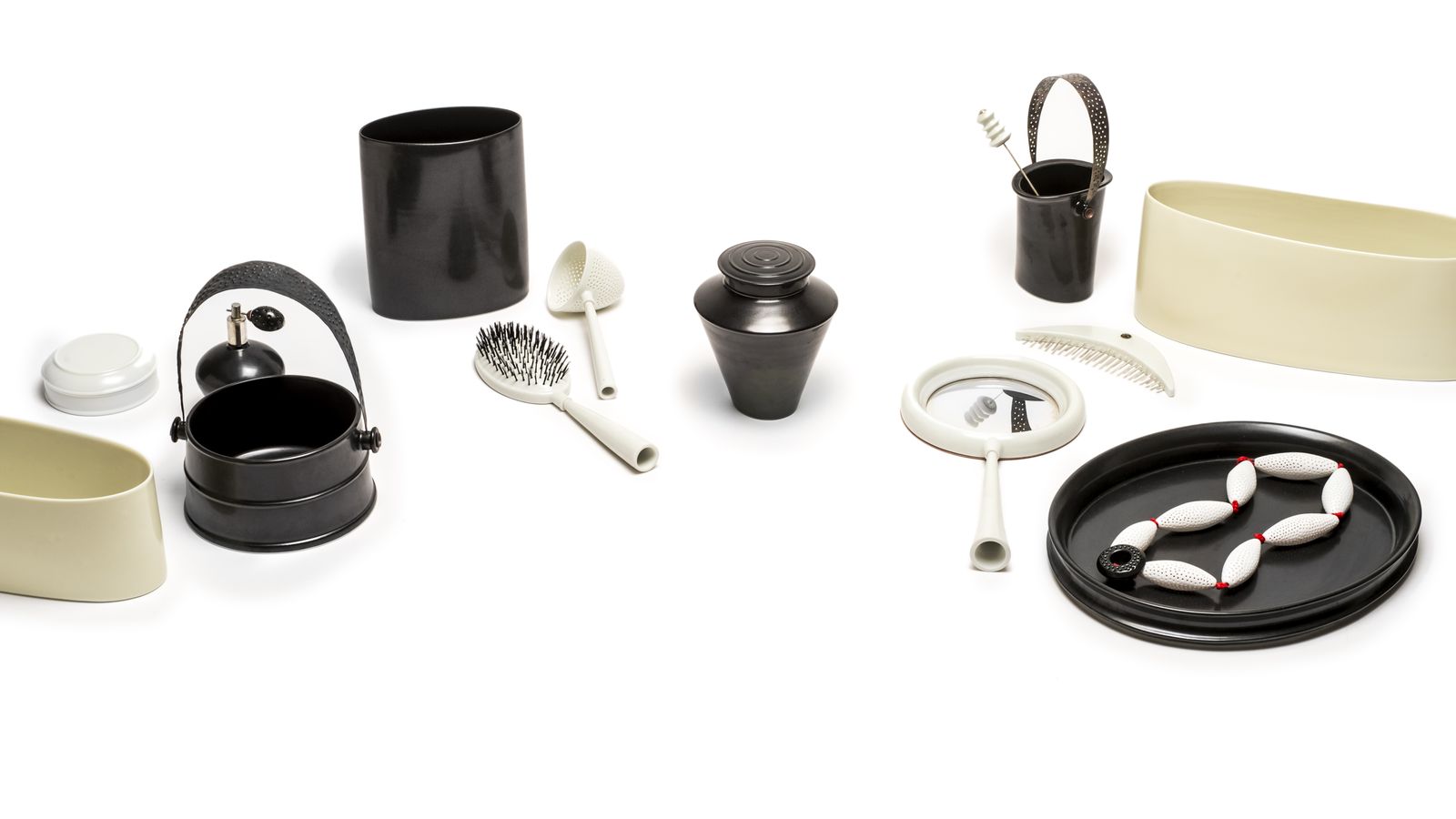 The Prue Venables exhibition, recently held at the Australian Design Centre in Sydney, is on its first stop in a national tour. H.R. Hyatt-Johnston reviews the show for Artist Profile magazine.

 The Prue Venables exhibition, recently held at the Australian Design Centre in Sydney, is on its first stop in a national tour. It is being shown with its accompanying documentary, which was filmed in her studio in Castlemaine, Victoria. Over the next four years the exhibition will tour to fourteen locations across Australia.
Venables' exhibition is the ninth in a series of solo exhibitions initiated by the Australian Design Centre to celebrate Australia's most respected craft practitioners. It is aimed particularly at celebrating those who have been making work for over thirty years. The exhibitions, however, focus on current practice rather than being retrospectives or surveys.
Venables, who has been practising since 1977, is one of Australia's most accomplished ceramicists, with a demonstrated mastery of porcelain. Her work over the past forty years has evolved from traditional and functional objects to sculptural entities that mimic the useful and everyday. This perhaps echoes the English philosopher R.G. Collingwood's distinction between art and craft: in craft there is a known outcome sought, whereas art is about exploration, and the end result is unknown.
In the documentary, she refers to the influence of Japanese master Takeshi Yasuda on her work and discusses what happens when you allow inquisitiveness, experimentation and humour into your practice and take something out of context to give it another use. For example, a brick with food on it can become a plate when it is placed on a table.
With this in mind, one can more easily appreciate the apparently quirky groupings and pairings of objects, and consider what else they could be or be used for when juxtaposed alongside something unexpected: Shoes made of porcelain, copper and red felt, for instance, are placed alongside White Lidded Pot, Yellow Oval Vessel that has been thrown and then altered by hand, and Black Night Light, made with porcelain and copper. The meaning of their placement, alongside each other, is not immediately obvious, but that does make the viewer thoughtful and curious.
The neutral colours and imperfections in these unique objects have a calming and meditative effect. The colour palette and groupings in Yellow and Black Oval Form, White Cups (three stacked), Yellow and Black Bottle and Yellow and Black Stemmed Bowl remind one of the Italian painter Georgio Morandi's (1890–1964) still life arrangements and compositions. The result, in his work, is a creative meditation in stillness through his chosen muse of bottles, bowls and jars. The overall impression made by Venables' exhibition is of a sublime array of enigmatic domestic- looking porcelain objects grouped together in clusters. In her arrangements of these objects, Venables conveys a stillness similar to that achieved in Morandi's paintings.
These arrangements are a mixture of potentially functional sculptural objects and deceptively impractical tools. Some of them are enhanced by the inclusion of sterling silver or copper, enabling other components, such as the handles and joints that would not be possible in porcelain, to be included. Porcelain is a particularly remorseless material to master, as well as having certain limitations and restrictions in its use.
Some objects, such as Sieve, with Silver Handle, are stand-alone, while others are curated into a narrative or reading, and grouped according to a particular context. Esme's Dressing Table, for example, is made up of a collection of objects, including Comb, Hat Pin, Necklace, Mirror and Hair Brush. Betty's Kitchen includes Black Sieve, White Funnel and Black Teapot, amongst other objects. It is all deceptively domestic.
These beautifully rendered and precious-looking objects appear useful, reliable, practical and familiar, and yet there is always a delightful twist, in that they are not quite right. There is a reassuring pleasure that results from being surrounded by things you may need but do not use regularly – it's the security of knowing that they are there, just in case.
The other thread running through the exhibition is works that look as if they are from some long-distant past, and whose original use is now forgotten. They are more akin to precious artefacts or relics from another age. These sculptural objects seem to embody echoes or shadows of their original functionality. They are like a story, or like archaeology, where you don't have the whole picture or history, just fragments and clues, leaving you to ponder or contemplate the objects.
As Venables says in regards to her practice, it is an 'adventure': you don't know how it will end, and as the saying goes, the journey is as important as the arrival at the destination.
Living Treasures: Masters of Australian Craft \ Prue Venables
See here for details of national tour, concluding late 2022
Courtesy the artist, Stella Downer Fine Art, Sydney and Australian Design Centre, Sydney
This article was first published in Artist Profile magazine and has been republished with their permission.
Image: Esme's Dressing Table, 2017, Limoges porcelain, thrown and altered, Jingdezhen porcelain, cast, silver, copper, thread, bristles, dimensions variable, photograph Terence Bogue