Article: Q&A with Lynn Pavey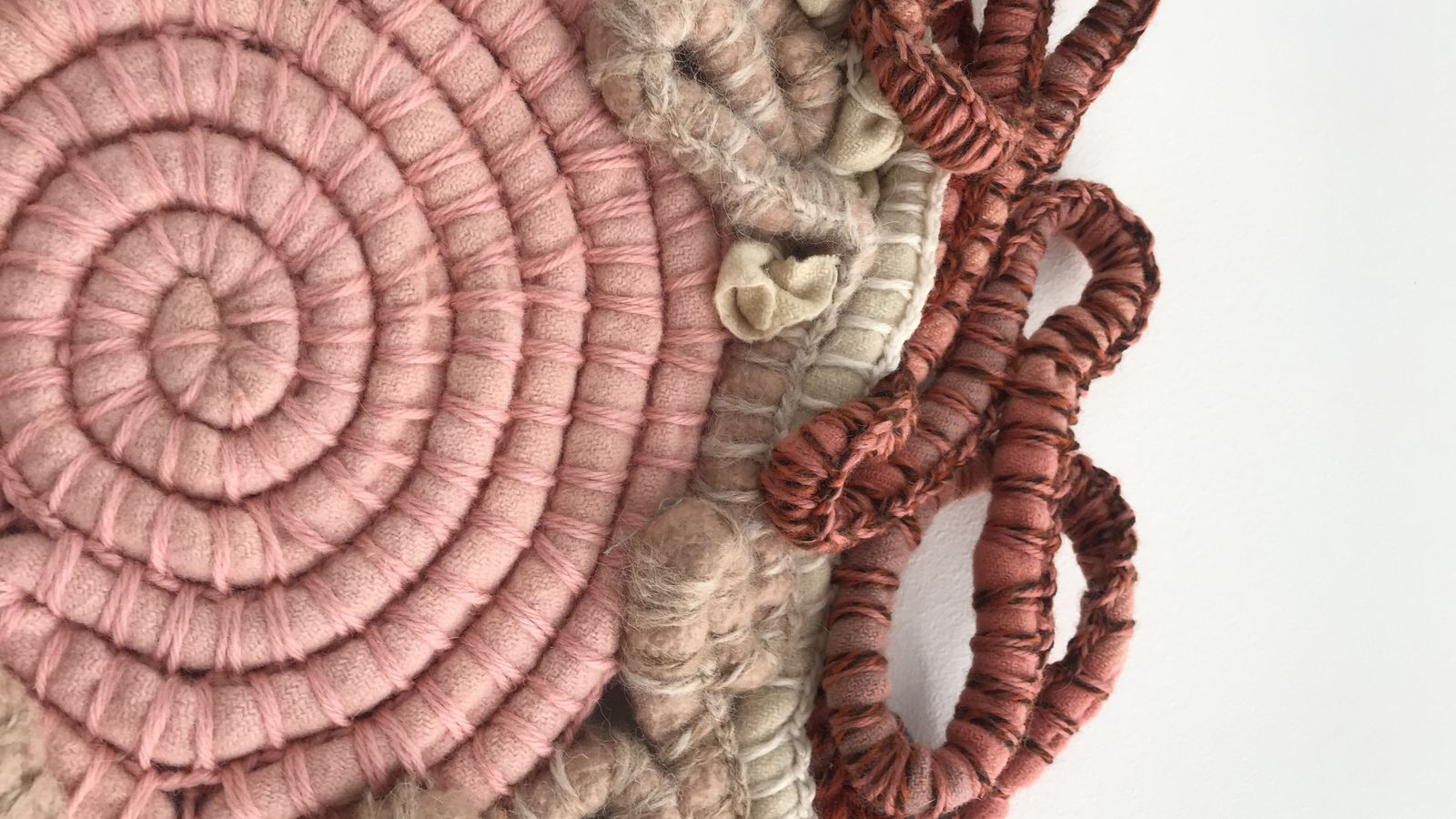 ADC's Rhadi Bryant recently asked textile artist Lynn Pavey a few questions about her Object Space exhibition, Febrile Momentum, including the significance of the environment and material use in her practice.

Febrile Momentum, is exhibiting in the Object Space window at Australian Design Centre between 3 August – 24 September 2023.
Rhadi: Is the focus on the environment a significant interest for you in your work?
Lynn: Having spent my childhood on a farm in the central west of NSW, the country landscape has always been a large part of my life. Long travel distances and no neighbours provided the opportunity to develop an affinity with the environment. In the following years I have been fortunate to experience first hand, the wider Australian landscape and many international landscapes by walking and camping, giving me chances to absorb a landscapes physiognomy. Undertaking ramblings, in at times extreme weather conditions, has shown me the beauty and the fragility of our environment. Having a child and looking to his future, wanting him to see and experience in wonder, prompts me to have an environmental focus for our continuing life.

Rhadi: What are the traditional textile techniques used in your practice?

Lynn: Crocheting, needle weaving, garment construction and embroidery are like breakfast, lunch and dinner. Feeding me, aligned with teaching the use of a hook or needle. My first sewing machine appeared when I was 3 years old. Now, my main focus is crochet as a creative construction method, somewhat different to its uses in 950 BC. Crochet has fluctuated in popularity over thousands of years, specimens from Ireland, Egypt, and Israel document the history. In Ireland, women came to the forefront as bread winners in the "Great Potato Famine", by crocheting garment adornments for more well off society, a cottage industry thus formed.

Rhadi: What materials do you use in your practice?

Lynn: Use what you have, collect discarded material, re-use, forage, gratefully accept gifted materials. I have a wall of inspirational ideas, when the materials are found I then work on my concept. I have a continuing focus on the use of Australian vintage blankets and hand dyed Australian yarns. 

Rhadi: What is Febrile Momentum and what is the significance of the title?

Lynn: Febrile is my personal perception of my nervous energy waiting for recognition, my frustrations and understanding of the need to react to climate changes that impact society world wide. Momentum, the impetus gained by a moving object. What is developing with this driving force an unstoppable event.

About Lynn Pavey
Lynn's passion for textiles and frugality were learnt through the expertise and practical necessities of her matriarchy. Careers in fashion, clothing technology and horticulture allowed exploration in colour, texture, form and functionality. Lynn is a passionate advocate for using what is discarded and transforming it into revitalised textile works. This focus on recycled materials provokes thought, connecting us to intangible histories and the restoration of environmental harmony.
Image (above): Lynn Pavey, Febrile Momentum (detail), 2023