Lynn Pavey: Febrile Momentum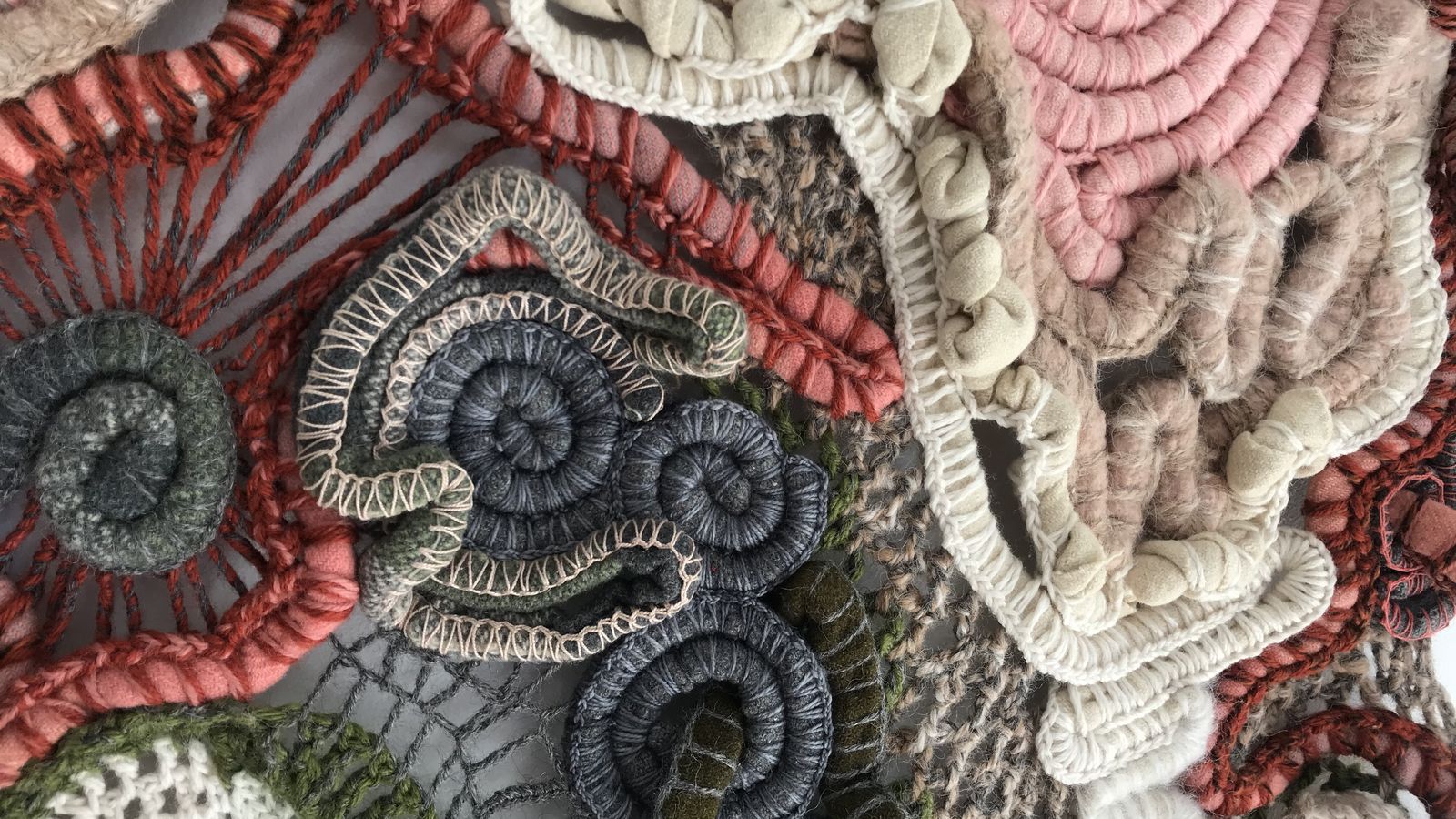 3 August – 21 September 2023
This work is inspired by Kati Thanda – Lake Eyre, Australia's largest salt lake. Unintended consequences of early settlement left this area without a deep rooted network resulting in rising water tables and in turn rising salt deposits. It has only filled to capacity three times in the past 160 years.
Febrile Momentum (2023), in its three-dimensional intricacy, echoes the forms found across the lakebed – crusty clay pans in stunning earthy hues. Reflecting Lynn Pavey's sense of melodrama, the work contrasts the inertia of parched waters with the frenzied energy of the encroaching desert sands in the landscape. They are a mass in motion, continually developing at a pace and unlikely to stop.
The artist's use of reclaimed yarns and textiles adds an immediate sense of texture to the work, while also lending a fresh and environmentally-focused voice to her practice.
Read Lynn's Q&A for more detail about the work here.
About Lynn Pavey
Lynn's passion for textiles and frugality were learnt through the expertise and practical necessities of her matriarchy. Careers in fashion, clothing technology and horticulture allowed exploration in colour, texture, form and functionality. Lynn is a passionate advocate for using what is discarded and transforming it into revitalised textile works. This focus on recycled materials provokes thought, connecting us to intangible histories and the restoration of environmental harmony.
Lynn Pavey
Febrile Momentum 2023
wool yarn and vintage wool blankets
SOLD
Event
Lynn Pavey: Coiled Crochet Workshop
Inspired by her artwork, Febrile Momentum, Lynn will take you through her coiled crochet technique utilised in this piece. Using twine crocheted around hand dyed fabric you will produce a small artwork of your own.
When: Saturday 26 August 1.30pm - 3.30pm
Where: Australian Design Centre, 113-115 William Street, Darlinghurst
Costs: $25 inc. materials. Book here