Article: Q&A with Sue Jo Wright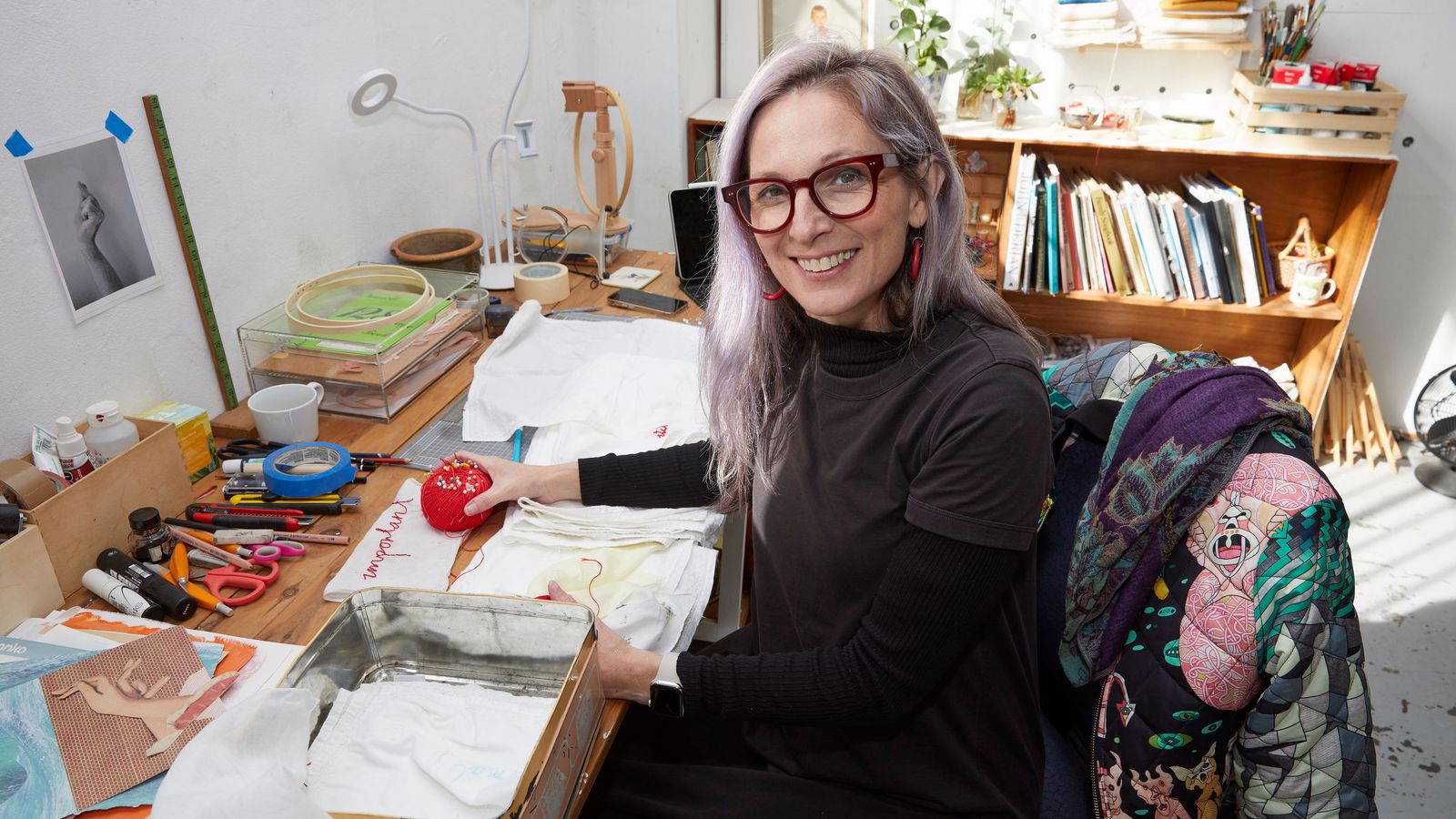 ADC's Holly Williams recently spoke to artist Sue Jo Wright about her Object Space exhibition Dinner Table Syndrome. They discussed Sue Jo's practice and her identification as a Deaf person and her advocacy activites.
Holly Williams: Throughout your practice as an artist, your work is centred around your personal identity of being Deaf and bringing awareness to the deaf community. Why have you chosen art to be your outlet and the means of creating awareness of the deaf community?
Sue Jo Wright: I am a visual person. I communicate and experience life in a visual way. Art, for me, is a replica of this. It reminds me of my language, Auslan (Australian Sign Language) and is the perfect way for me to express myself. I experience barriers daily, but with art, I can communicate expressively and feel a sense of belonging.
It is important for me to educate people through my Deaf perspectives and inspire them to explore the culture embedded within the Deaf community. If people were more aware, this would ensure that past mistakes are not repeated and that we can set a better example for the next generation.
HW: What is Dinner Table Syndrome?
SJW: 'Dinner Table Syndrome' is a term used to describe the alienation deaf and hard-of-hearing people experience daily at important social gatherings — such as at the dining table. While hearing family members and friends can easily participate in large group conversations, deaf people often find these social situations frustrating, difficult to follow and overwhelming, leading to a feeling of disconnection and paradoxical isolation — being there yet invisible.
This alienation and isolation often threaten to undermine a deaf person's self-esteem and confidence, prompting a discomforting internal thought process — "Am I normal?"
HW: Your textile artwork for Object Space of the same name gives people a unique insight into your experiences with Dinner Table Syndrome. Can you describe the work?
SJW: The repetition of the napkins represents my many dinner invitations- from friends, family and work colleagues. It was always the worst feeling, knowing it would be long hours, seated at the dining table, desperately trying to figure out what everyone was saying.
I used red cotton threads to sew, trying to convince myself, "I am normal", but over time, it became exhausting and turned negative. I left the middle area empty as it represented how I felt, a hole in my heart.
I still have plenty of napkins, so over time, there will be more additions to this project, including video art.
HW: Within your practice, you work across various mediums: film, photography, textiles, and collage. For your exhibition Dinner Table Syndrome, you work in textiles, embroidering text onto vintage linen napkins. Can you explain how you came to use these materials for this work?
SJW: I decided to pick vintage linen napkins as they are strongly connected to the dining table theme. I found the materials at a second-hand shop because I loved the old style. Simple but beautiful and delicate.
I use red cotton thread to represent blood, sweat and tears-what I experienced all those years ago while seated at the dinner table and what I also experienced while working on this project. The dining table serves as a prop.
HW: Following on from the previous question about the various mediums you have worked with, have you connected with other artists across these disciplines? And if so, have you noticed similarities or differences between these different creative communities?
SJW: I have met many artists through my work and have had great networking opportunities; however, I notice a lack of artists who are represented in the art industry that have a disability- specifically Deaf artists. It is rare for these artists to be exhibited in established galleries.
HW: Making art is often a solitary endeavour. Have you found any insights into the themes of isolation during the development of Dinner Table Syndrome?
SJW: Isolation can be a good thing. It is like meditation and can be self-healing by providing space and the ability to focus solely on the art process. Often I will be alone, working on my art and not realise that hours have gone by, and I look down and see a finished project. This makes me feel more connected to my art because it has been a natural, subconscious process.
On the flip side, isolation can be overwhelmingly lonely. Deaf people are at a high risk of becoming isolated within their families and communities due to feeling different and the barriers they face. This is the theme I explore within this work.
HW: Art is a powerful way to communicate and raise awareness about important issues. How key is this advocacy for you in your practice?
SJW: For me, making art is a form of therapy that helps me move forward from past experiences and shows the world what it is like to be Deaf and proud. It is also a 'voice' for the Deaf people, who too, have struggled and relate to my work. It also serves as an opportunity to re-educate the broader audience on how to work with Deaf people and that it is never too late to learn sign language.
About 95% of deaf and hard-of-hearing children are born to hearing parents, and I am one of them. Unfortunately, there are still myths that certain technologies, lipreading or captions can 'fix deafness', and sign language is not recommended. I wanted to raise awareness to this by breaking down the myths within my art. It's like giving a taster of what it is like living in my Deaf world.
Bio
Sue Jo Wright is a Sydney-based artist working primarily with photography, video, and textiles which explore her identity as a Deaf person.
Sue grew up being torn between the 'hearing world' and the 'deaf world,' speaking orally early in life and not using sign language until the age of 10. She feels that sign language saved and enriched her life and is inspired to create artwork that breaks barriers between our two 'worlds' - offering the wider community a glimpse into the identity of the deaf community.
Explore the exhibition Dinner Table Syndrome
Explore Sue's artist page
Image top: Sue Jo Wright in her Studio, 2022 Photo: Shane Rozario