Dinner Table Syndrome
Sue Jo Wright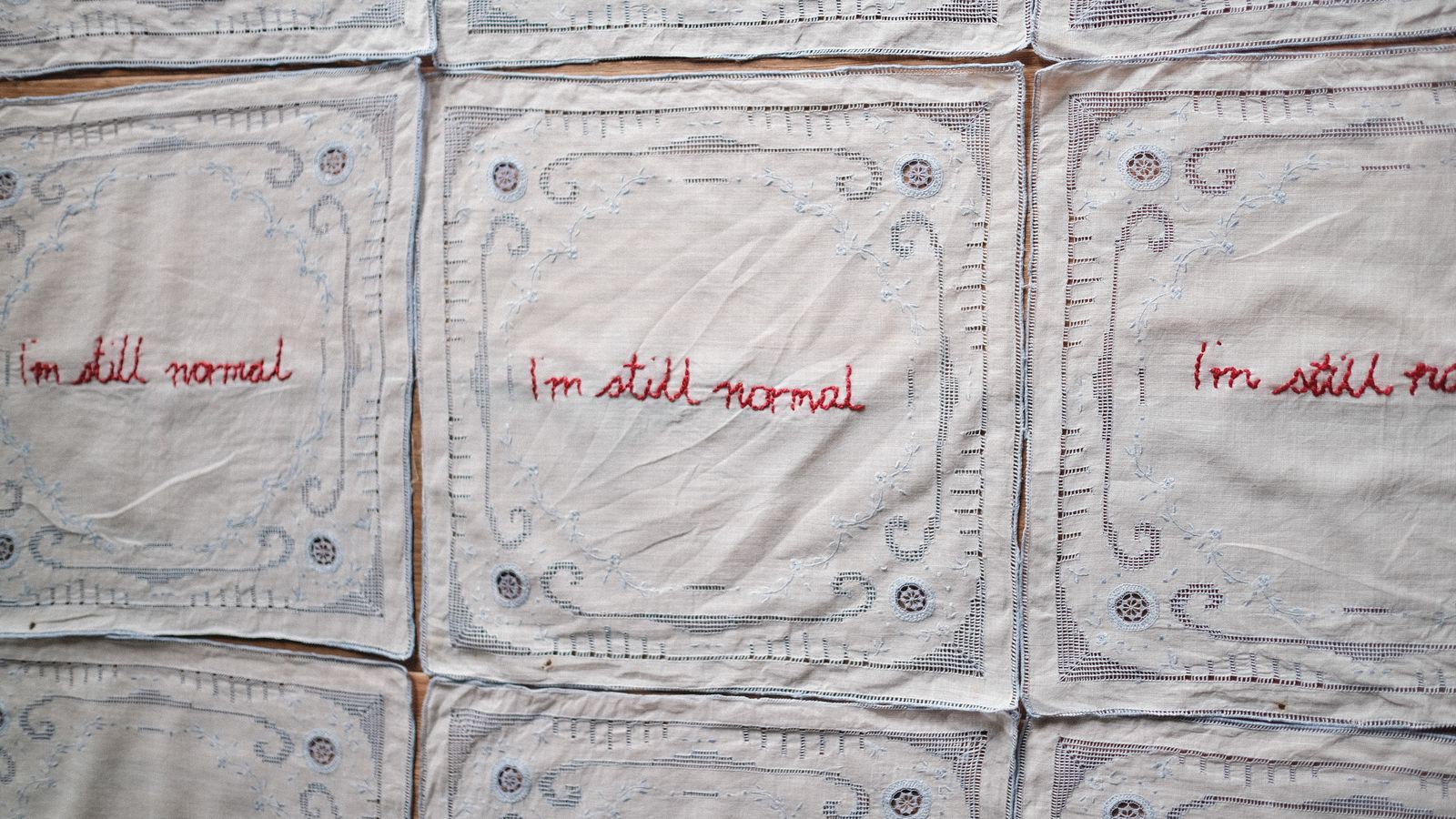 Australian Design Centre plays a critical role in celebrating the work of Australian artists who embrace the highest degree of skill and who continually explore material, process and ideas to advance contemporary craft and design practice.
Object Space is our window gallery located at the Australian Design Centre HQ on William Street, Darlinghurst, on view 24 hours a day.
Dinner Table Syndrome
9 August - 28 September
Napkins are an everyday item that form a trivial yet important part of our meals. Using imperfect, second-hand napkins as a medium, the artwork mirrors a typical family gathering around the dinner table where 'Dinner Table Syndrome' spontaneously occurs.
'Dinner Table Syndrome' is a term used to describe the alienation deaf and hard-of-hearing people experience every day at important social gatherings — such as at the dining table. While hearing family members and friends are easily able to participate in large group conversations, deaf people often find these social situations frustrating, difficult to follow and overwhelming, leading to a feeling of disconnection and paradoxical isolation — being there, yet invisible.
This alienation and isolation often threaten to undermine a deaf person's self-esteem and confidence, prompting a discomforting internal thought process — "Am I normal?"
Most people with disabilities often go through this debilitating thought process, also known as 'internalised ableism'. While people can grow and learn to accept their disability as being part of their identity, it is difficult to unlearn rigid societal conditioning that tells us that we are not considered by others as being 'normal'.
About Sue Jo Wright
Sue Jo Wright is a Sydney-based artist working primarily with photography, video, and textiles which explore her identity as a Deaf person.
Sue grew up being torn between the 'hearing world' and the 'deaf world,' speaking orally early in life and not using sign language until the age of 10. She feels that sign language saved and enriched her life and is inspired to create artwork that breaks barriers between our two 'worlds' - offering the wider community a glimpse into the identity of the deaf community.
Sue Jo Wright won the Australian Design Centre Award - Object Space Gallery window exhibition prize as part of Seed Stitch Contemporary Textile Award 2020. See the work here Sue Jo Wright, Sign of the Time – I Love you, & Sign of the Time – Family, 2018
Events:
Accessible Artist Talk with Sue Jo Wright
Join us for an Auslan-accessible Artist Talk for both hearing and deaf audiences with Sue Jo Wright, find out about her exhibition Dinner Table Syndrome on display at Object Space.
When: Saturday 10 September, 2:30pm - 3:00pm
Where: Australian Design Centre
Free event, bookings required, RSVP here
A written Q&A was developed following the artist's talk and published on Object Digital, read it here
Image top: Sue Jo Wright, Dinner Table Syndrome, 2022. Photo: Courtesy of the artist