Design/ Isolate and the Art of Creative Journaling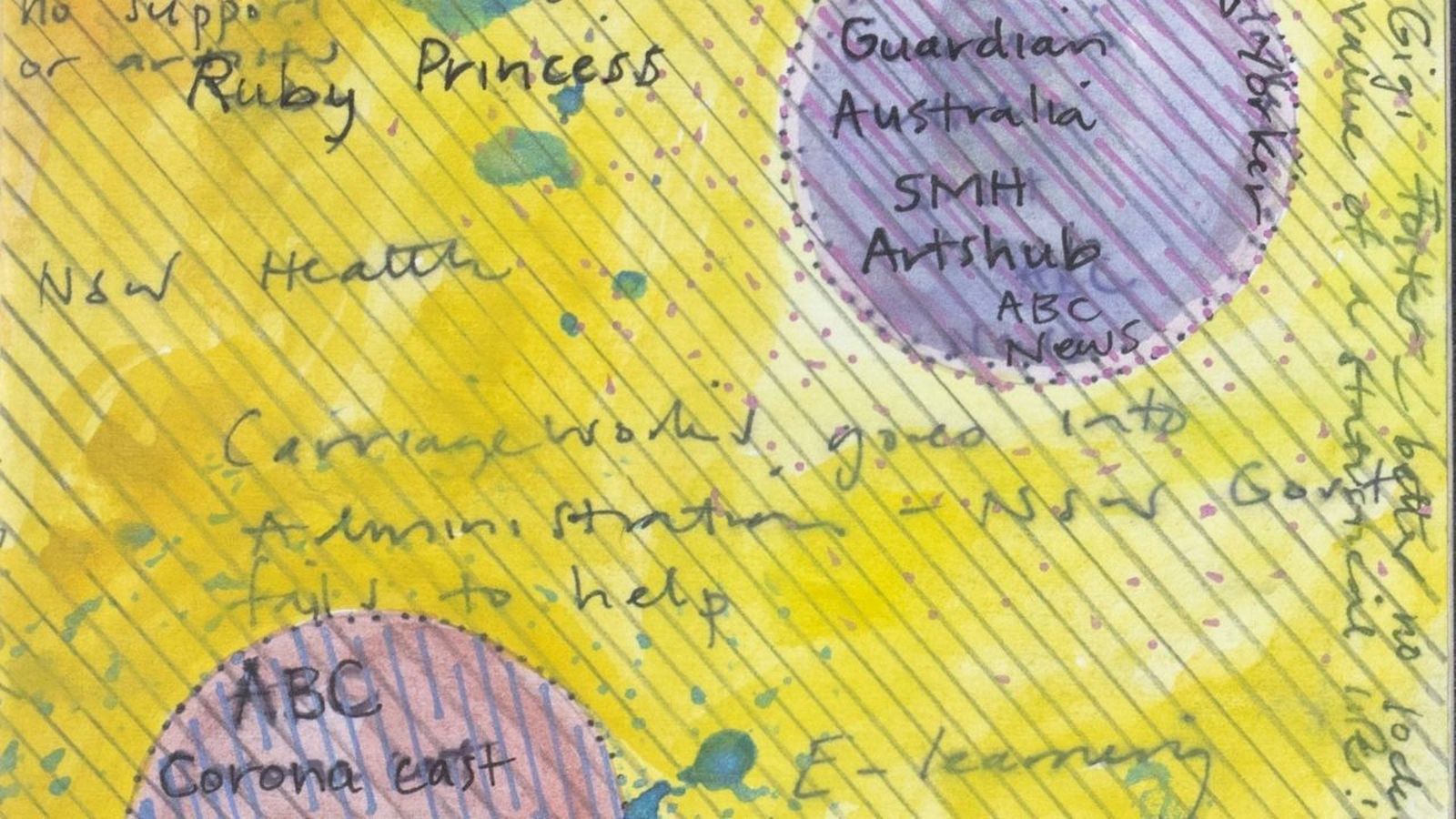 Design/Isolate and the art of creative journaling
This resource was developed by artist, contemporary jeweller and educator Melinda Young for creative journaling workshops held during the Design/ Isolate exhibition in conjunction with Sydney Festival 2020. The resource is designed to introduce a broad range of approaches to creative journaling practices, with an in-depth reflection on some of the journals created for the Australian Design Centre's 2020 initiative Design/Isolate curated by Lisa Cahill. Below is some inspiration around the art of starting a creative journal.
View all 60 journals online here
Melinda Young is a contemporary jeweller and craftsperson who has spent the past 20 years working as an educator, curator and gallery manager. She is currently an Associate Lecturer at UNSW Art & Design.
As the journals in Design/Isolate demonstrate, a creative journal can really be anything. There is no exact recipe for making one, however the practice can be a prescription for creativity and self-care.
A journal can be a place/space to plan a project or procrastinate; to dream and develop ideas; to draw with purpose or doodle; to play; to collaborate; to escape; to write or wonder; a space for lists or loose thoughts; ideas that are meaningful or meandering.
Your journal may be a means to an end or an object in itself; a thing of utility or of beauty.
The form your journal takes will be as individual as you are, there is no right or wrong. However, it is desirable that it is something that gives you pleasure and a sense of fulfilment (whatever this means for you).
I find journaling habits are made easier with some nice tools. Pens and pencils that give you pleasure to use. A notebook that is fit for purpose; not too small or too large – something that you can carry with you is a good idea. Think about the paper in the book too. Does a white page give you joy, or intimidate you? Take the time to find the tools that inspire you, and that work for you.
Sometimes when it is difficult to get started or move forward (due to the infinite possibility presented by the blank page), it is useful to set yourself some rules or guidelines.
The designer and artist Anni Albers said that:
"Great freedom can be a hinderance because of the bewildering choices it leaves to us while limitations, when approached open-mindlessly, can spur the imagination to make the best use of them and possibly even to overcome them."
Via embroiderer Hanny Newton, @hannynewton Instagram post, dated 11 January 2021
Use a range of journal prompts, ideas and a selection of materials – these are designed to act as guidelines to get you started.
Perhaps something will resonate with you; perhaps it won't, but hopefully you will find some inspiration. The intention is to inspire a spark for you to take away and put into whatever a creative journaling practice might look like for you.
Here are some workshop prompts:
A list of intentions
Mindful (mindless?) mark making
Blind contour drawing
Journal prompts
Collage
Mixed media play
Texture exploration
Drawing lists
Some additional inspiration:
Morning Pages
The idea of a Morning Pages Journal was developed by Julia Cameron as part of her seminal text The Artist's Way. Morning Pages are three pages of longhand, stream of consciousness writing, done first thing in the morning.
"There is no wrong way to do Morning Pages – they are not high art. They are not even "writing." They are about anything and everything that crosses your mind– and they are for your eyes only. Morning Pages provoke, clarify, comfort, cajole, prioritize and synchronize the day at hand. Do not over-think Morning Pages: just put three pages of anything on the page...and then do three more pages tomorrow".
juliacameronlive.com/basic-tools/morning-pages/
According to Julia Cameron, keeping a Morning Pages Journal is essential to cultivating creativity and personal growth. These pages of longhand, stream-of-consciousness writing will provoke, clarify, comfort, cajole, prioritize, and synchronize the day at hand. The miracle of the Morning Pages Journal is a companion text that clarifies and expands upon the ins and outs of the art of keeping a Morning Pages Journal.
www.amazon.com/The-Miracle-Morning-Pages-Everything-ebook/dp/B00DIQ9K40
www.theguardian.com/lifeandstyle/2014/oct/03/morning-pages-change-your-life-oliver-burkeman

The Sketchbook Project
The Sketchbook Project is a not for profit community funded project operating out of the Brooklyn Art Library. Started in 2006, the Library now holds over 50.000 crowdsourced sketchbooks from all over the world by more than 30,000 participants. Its physical location is in Brooklyn, USA, but many of the sketchbooks have also been digitised for online viewing. Anyone can submit a sketchbook, purchased online from the website, this in turn helps to keep the project funded. Participants fill the sketchbook and return it; it is then added to the Library. The digitised sketchbooks in the Library are a great resource if you are looking for inspiration for an approach to your own creative journaling and sketchbook practice. brooklynartlibrary.org
Co-founder Steven Peterman describes The Sketchbook Project as:
"…a slice of global creativity. We are an inside look at what people are thinking. We are an archive, a library, a source for endless inspiration."
brooklynartlibrary.org/mission
A couple of articles providing more information about The Sketchbook Project:
www.smh.com.au/entertainment/the-sketchbook-project-draws-the-line-all-the-way-from-melbourne-to-the-world
www.newyorker.com/books/page-turner/inside-a-strangers-sketchbook

Some of Mel's favourite books for spurring creative thoughts:
Keri Smith: Canadian author, illustrator, and thinker. Keri has written a great range of books to inspire creativity. Mel uses them regularly as prompts for herself and for her students.
Keri's books demonstrate a 'learn by doing' approach and are used in school curriculums all over the world as a way of fostering non-traditional methods of creative exploration. There is also a fun range of apps based on her books.
See her full catalogue here: www.kerismith.com/shop
Mel particularly likes the following books by Keri Smith:
How to Be an Explorer of the World: Portable Life Museum, 2008
An interactive guide for exploring and documenting the art and science of everyday life.
Mess: The Manual of Accidents and Mistakes, 2010
There are only three rules you will find in this book:
1. Do not try to make something beautiful.
2. Do not think too much. (There is no "wrong.")
3. Continue under all circumstances.
Wreck this Journal, 2007
For anyone who's ever wished to, but had trouble starting, keeping, or finishing a journal or sketchbook comes Wreck This Journal, an illustrated book featuring a subversive collection of suggestions, asking readers to muster up their best mistake - and mess-making abilities to fill the pages of the book (and destroy them).

There are also lots of great books designed to get you doodling and help break the seal when it comes to marking a page.
For example:
Sarah Walsh; 100 Things to Draw with a Circle - Start with a Shape, Draw What You See, 2016 This is a doodling book designed to inspire creative thought and loosen your imagination. It is the follow up to 100 Things to Draw with a Triangle.
Jennifer Lewis; The Sketchbook Idea Generator (Mix-and-Match Flip Book) : Mix and Match Prompts for Your Art Practice, 2020 The pages of this book are divided into three separate mix-and-match sections that represent the three essential elements of a good drawing prompt: medium, colour and subject. These can be flipped, mixed, and matched to generate more than 100,000 unique sketchbook prompts.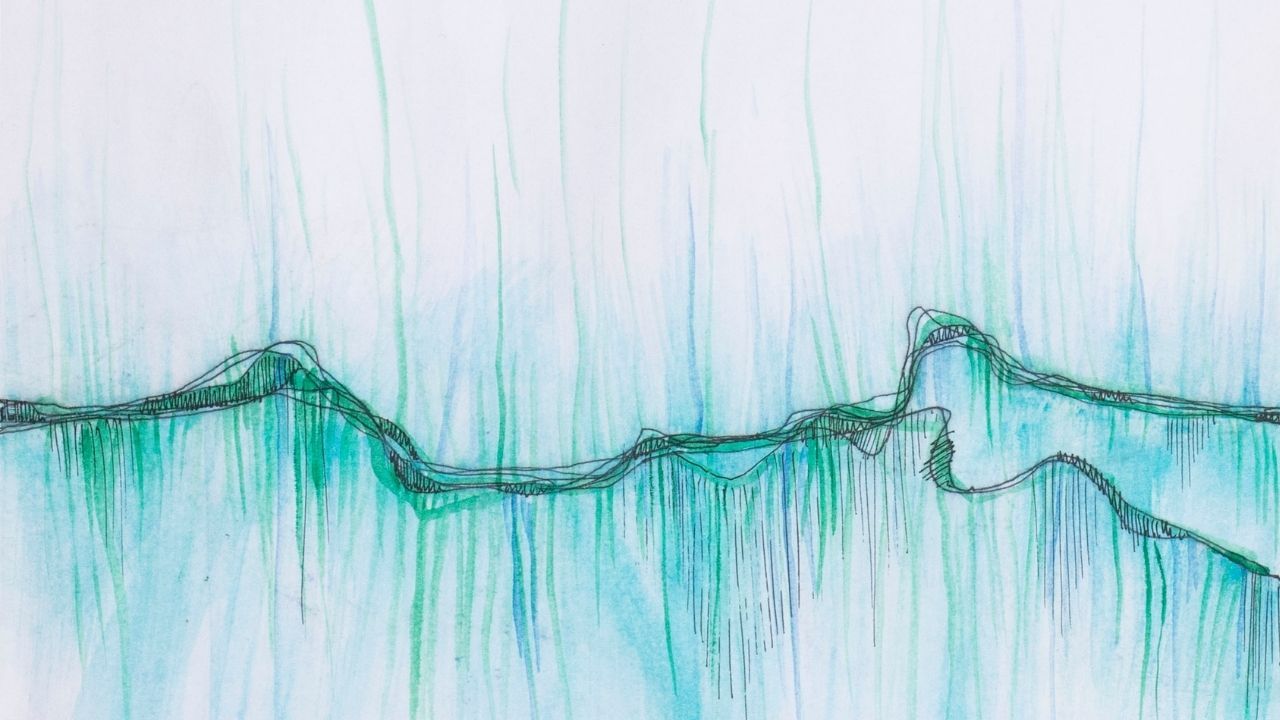 Images: Pia Larsen and Melinda Young. Design/Isolate journal pages (detail), 2020. Courtesy of the artist.