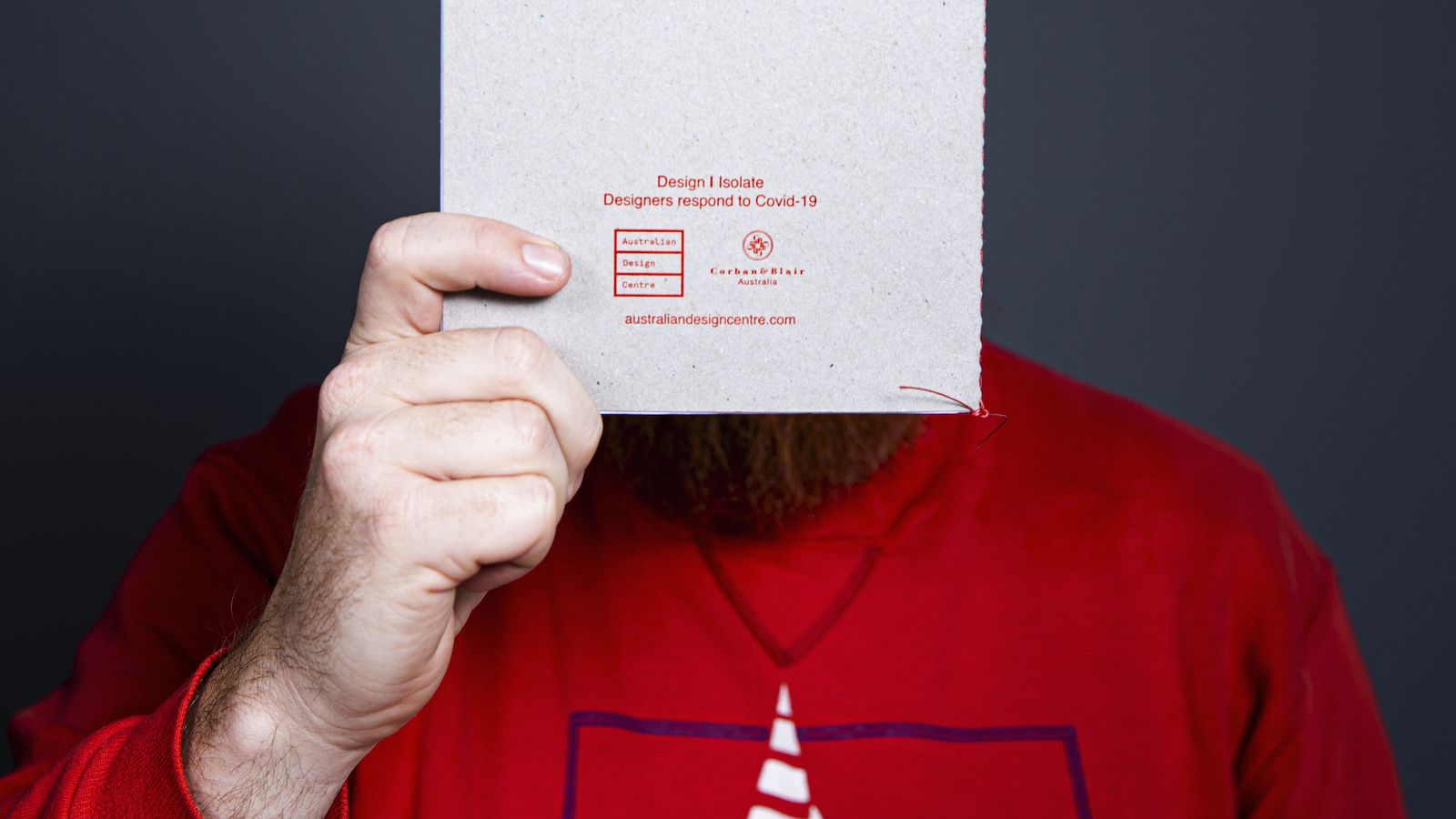 Design | Isolate Exhibition
26 November 2020 - 27 January 2021
This time of pandemic is surreal, isolating, traumatic, tragic, frustrating, inevitable. Whatever you think it is, it's something we have not experienced before.  It's a time for a reset in terms of how we live and design is key.  Designers and creative thinkers are uniquely equipped to imagine new ways of living, working and engaging with others in families, societies and in diverse cultural and geographic environments. 
Design/Isolate is an Australian Design Centre initiative to show how creative thought can help lead the way for change.  Over 60 designers/creative thinkers have captured their thoughts in sketches, diagrams, drawings, text or collage on COVID-19, isolation, what 'a new normal' in Australia might look like, how they are affected and how design might contribute to recovery post-pandemic. 
The project began by way of an experiment. At Easter time in the midst of lockdown in Sydney, I thought what if we were to send 100 journals to 100 creative people and ask them to document something of their time during Iso (as of today this is a word!) in an analogue as opposed to digital form – a modest sketchbook fit for purpose. So many took up the challenge and the results are breathtaking.  To read someone's journal is a privilege. Sometimes done in secret, without permission, or long after a person has gone, this is a rare insight into the very recent thoughts of designers, makers, artists, architects as they have lived alongside all of us through this tumultuous year.

Working from home, home-schooling children, missing loved ones, spending more time together as a family unit, celebrating small wins, relentless zooming and watching as tragedy unfolded here at home and across the globe, these things resonate more or less as part of our shared experience.  COVID-19 was not the only tragedy of 2020 – Black Lives Matter was central to the lives of many and brought to the fore by shocking recent events; and the summer bushfires etched on our landscape and in our minds made climate change the emergency. Personal and collective resilience, respect and care is what we hope will enable us all to emerge changed yet stronger and more mindful than before.  
Nicole Monks says it best in a single Wajarri word in her journal: 
nganggurnmanha
listening, hearing, thinking, remembering
Design Isolate shows us the generosity of spirit in these creative people. It shows us how creatively confident we are in this country and how much our creative community gives so that each of us can lead richer, more fulfilled lives. 
Many thanks to all of the creative practitioners who have participated in this project.  They have contributed something unique, creative and personal to this document of Australian creative lives lived through this unprecedented time. 
Dianne Beevers | Zoe Brand | Deborah Burdett | Lisa Cahill | Elise Cakebread | Maria-Fernanda Cardoso | Tulla Carson | Sebastian Chan | Sacha Coles | Rhys Cooper | Corban & Blair | Daniel-Emma | Anna Davern | Tracey Deep | Bin Dixon-Ward | Paula do Prado | Kate Dunn | Eggpicnic | Alexi Freeman | Honor Freeman | Garbett Design | Maddison Gibbs | Stephen Goddard | Dennis Golding | Mark Gowing | Blake Griffiths | Christian Hall | Benja Harney | David Holm | Michael Hoppe | Pennie Jagiello | Taerim Claire Jeon | Rebecca Jobson | Mark Ian Jones | Pia Larsen | Stefan Lie | Peter Lonergan | Nikita Majajas | Claire McCaughan | Nicole Monks | Damon Moon | Julie Paterson | Fiona Roderick | Natalie Rosin | Tim Ross | Liane Rossler | Niklavs Rubenis | Melissa Silk | Lucy Simpson | Vipoo Srivilasa | Jane Theau | Bic Tieu | Isabelle Aileen Toland | Prue Venables | Zoe Veness | Harriet Watts | Louise Weaver | Liz Williamson | Jason Wing | Helen Wyatt | Melinda Young  
Conceived and curated by Lisa Cahill, the project was produced by Lisa Cahill, Fiona Pulford with assistance from Sephira Luo and the ADC team. Many thanks also to Corban & Blair for their enthusiastic support for the project.


Events
Design/Isolate events are part of the Sydney Festival 2021. 
Creativity During Covid Panel Discussion
A panel of designers and curators involved in the Design Isolate exhibition and museum collecting will talk about their experiences during Covid-19.  How has the pandemic affected their practice? Was it a fertile time for creativity? How do they make sense of a new normal? What can we learn from this experience and how can we capture these defining moments?  This discussion will be facilitated by ADC's Lisa Cahill with journal contributors Deborah Burdett, Stephen Goddard, Melinda Young, Gillian Corban and Craig Middleton from the National Museum of Australia's Covid collecting project. Come along and share your own stories about you creative Covid experience and hear how our panellists navigated the pandemic.
When: Wednesday 13 January, 6:30pm - 8:00pm
Where: ADC 
Ticketed event, book here 
Creative Journaling Workshop
Make 2021 the year you'll start a journal! Having a regular practice of keeping a diary or journal is good for mental health and for stimulating our inherent creativity. Join designer and educator Melinda Young in a creative journaling workshop and learn how to make a start on your own creative journal.
When: Thursday 14 January, 9.30am - 12:30pm and 2:00pm - 5:00pm
Where: ADC
Ticketed event, book here
Image: Design/Isolate, Journal covers, 2020. Photo: ADC.