Review: Australian Architecture - Lost and Threatened
By Dr Julie Bartholomew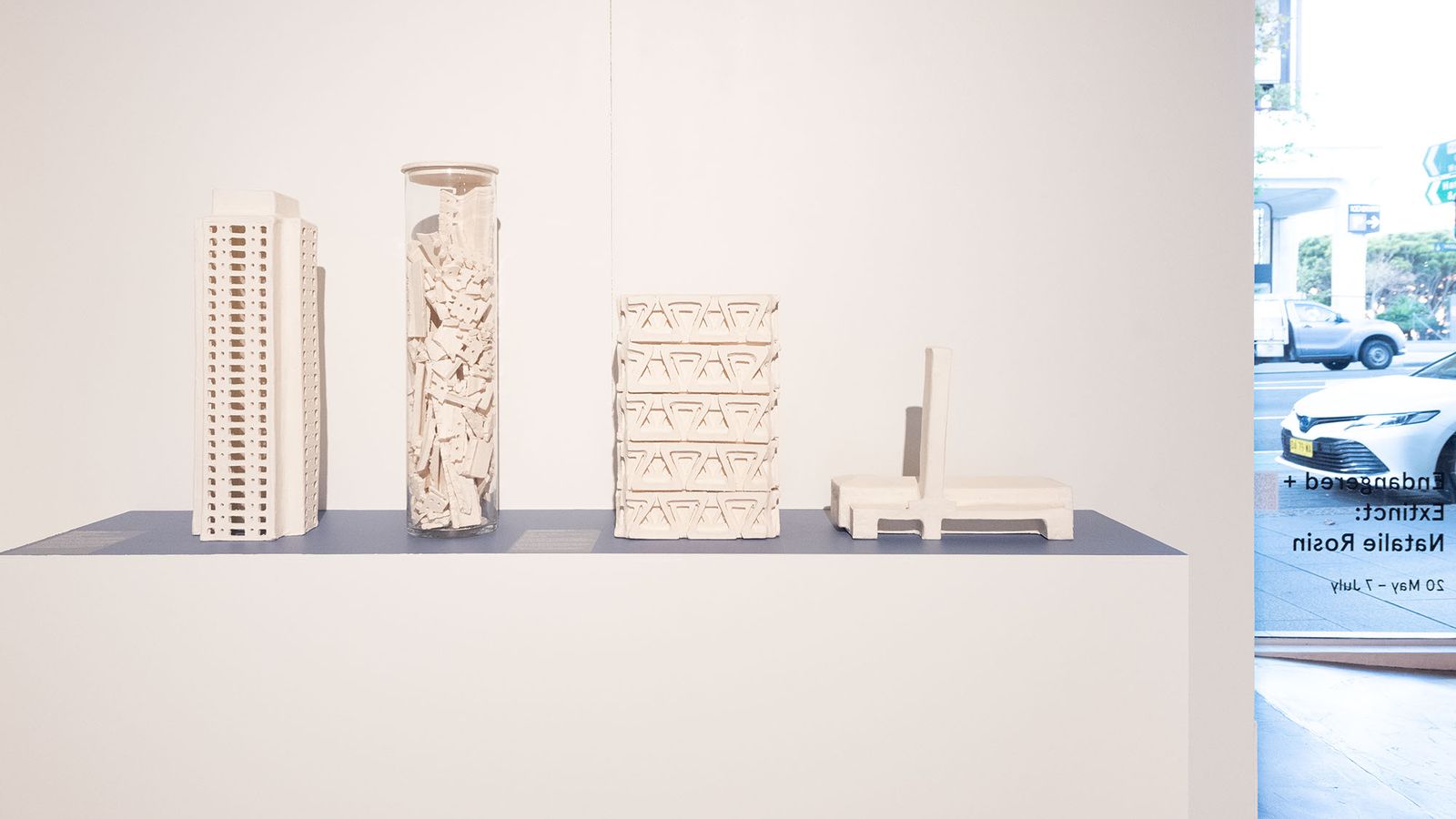 Traversing Sydney from the East across the Anzac Bridge to Sydney Collage of the Arts in Rozelle was my daily routine during the 1990s. Views from the bridge spanned a bleak cityscape, punctuated by one exception, Walter Burley Griffin and Marion Mahony Griffin's Pyrmont Incinerator. For me it was an intriguing visual signifier for many Modernist buildings scattered through Sydney and other major Australian cities. The Pyrmont Incinerator was overgrown with vegetation and aging poorly through neglect, but it was an architectural gem, and the site for illegal raves until its demolition in 1992.[1]
Natalie Rosin's exhibition titled Endangered + Extinct: Australian Architecture and Place-taking at the Australian Design Centre re-envisages a selection of Brutalist and Modernist buildings formed with white raku clay, including the Pyrmont Incinerator.[2] At first glance, iconic structures emerge from the past into the present taking up residence within a mini cityscape positioned on plinths in the ADC gallery. A play of light and shadow across the white surface of 11 extinct or endangered structures reveals, not precise replicas but carefully finessed, minimalist re-iterations of sections or entire buildings.
Unclad, raw concrete is a signature for Brutalist Architecture, devoid of postmodern façades and coverups. The use of concrete is harsh but candid, and Rosin renders a number of structures utilising unglazed and unadorned white clay, a material that successfully translates the Brutalist Style's truth to materiality.[3] These white structures may also be a reference to her architectural background, and the many hours spent constructing white cardboard and balsa wood models for prospective projects.
Present throughout the exhibition are indicators of her training as an architect and attention to extensive archival research. She is acutely aware of the impact each building brought to bear on occupants and the local community. The audience is encouraged to read living histories presented as text with each ceramic sculpture. Not all the selected buildings exert empathy towards humans, for instance the 30 storey twin buildings called 'Matavai' and 'Turanga' within the Waterloo Social Housing Estate were once referred to as "suicide towers" and declared by many as questionable social experiments in public housing. However, Rosin has also sculpted heritage classics including the exquisite Art Deco Lonsdale House in Melbourne's CBD, sadly demolished because of fashion changes, opportunistic developers and a general lack of appreciation for significant historic architectural styles in Australia.
The moving images accompanying the exhibition reference the unsettling smashing of three buildings modelled in clay, Sirius in The Rocks, Gaden House Stairwell in Double Bay and the Turanga Building in Waterloo. The fragmented debris is gathered and presented within large glass test-tubes, as if snap-frozen in time alongside carefully re-envisaged counterparts. The visual play between the fractured and the re-generated alludes to probable life-paths of significant Australian Architecture, either 'endangered' or 'extinct'.
Architectural ceramic sculpture is rare in the Australian art arena. The strong conceptual intent and sharp aesthetics that appropriately speaks to ideas and histories generated by the relationship between humans and the built environment, is unusual within a ceramics world currently driven by forms of expressionism that prioritise the maker, raw materiality and disclosure of processes of formation and deconstruction. Rosin's intelligent body of work extends beyond the maker by directing the viewers' attention towards an exploration of past buildings' capacity to generate community devotion and controversy. It is a reminder of the lost and threatened buildings that are woven within the social and culture fabric of our lives.

References:
[1] Raves are dance parties featuring performances by DJs playing techno dance music.
[2] The Pyrmont Incinerator was cubist-inspired with decorative façades based on Aztec motifs. The Powerhouse Museum was able to rescue a selection of tiles just prior to its demolition.
[3] Lewi, H. & Goad, P., Australian Modern: Architecture, Landscape & Design, Thames & Hudson Aust., 2019.

About Dr Julie Bartholomew
Dr Julie Bartholomew is an artist, educator and writer. Since 2010, Julie's art practice has engaged with creative approaches that focus on challenges posed by ecological conditions today.

This review was commissioned by Australian Design Centre with funding from the Create NSW Covid Restart Program.
Image top: Natalie Rosin, Endangered + Extinct at Australian Design Centre, 2021 Photo: Rhiannon Hopley