Endangered + Extinct
Australian Architecture and Place-taking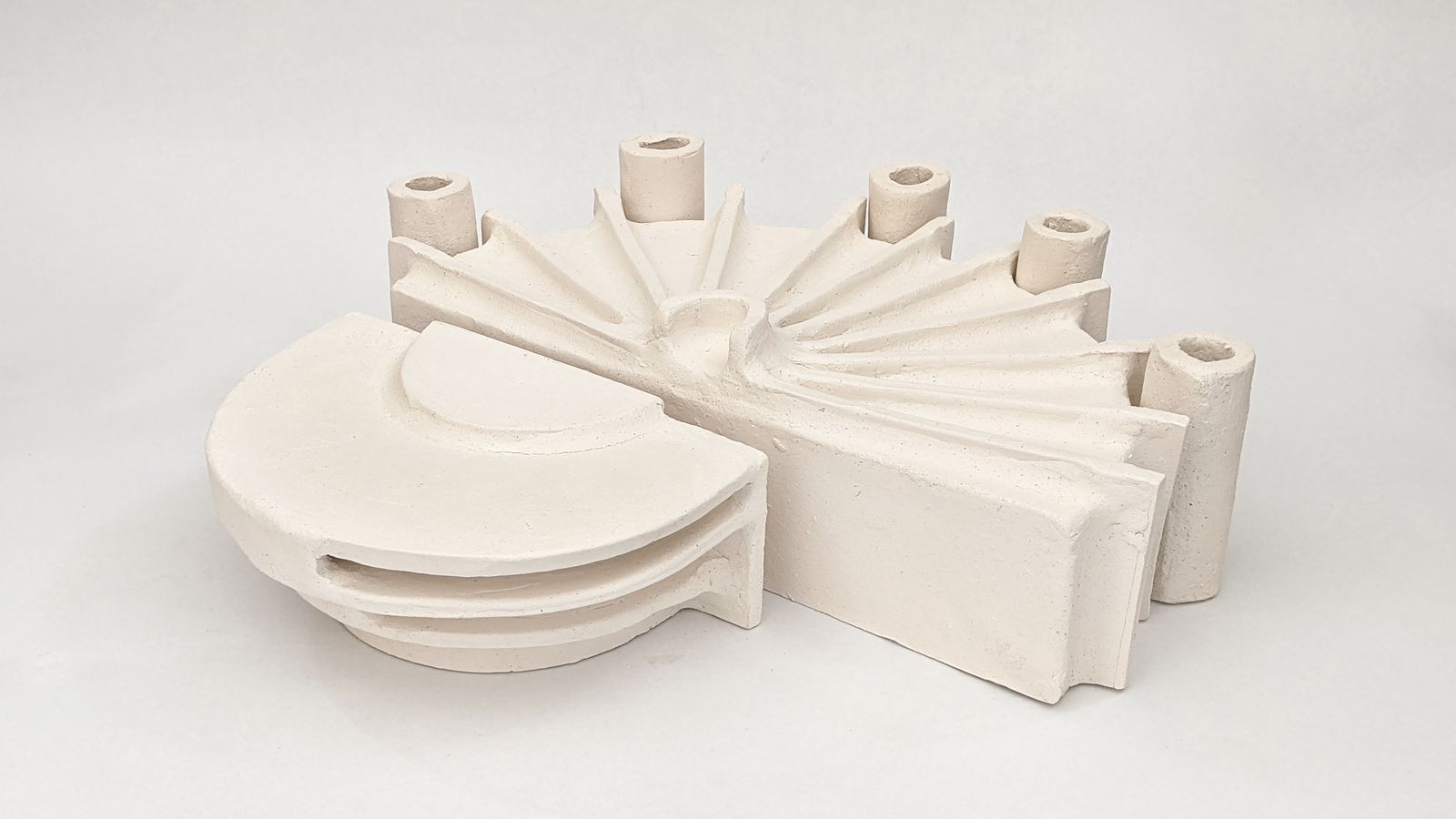 20 May – 31 July, 2021
Endangered + Extinct is an exhibition of ceramic sculptures exploring the form and design of buildings. These buildings are either under threat of demolition or have been demolished. Though varied in architectural style, period, function and location, all have in common the individuals and groups who want to maintain their existence or lament their loss. The exhibition's aim is to explore why certain buildings generate so much love, controversy, community support and interest.
Placemaking is when strong bonds are formed between a person or group and a setting; when a 'space' transforms into a 'place' of meaning to a person or a collective. The term 'place-taking,' a play on words to the idea of 'placemaking,' suggests the opposite can occur. This body of work aims to celebrate the sculptural properties observed in architecture while also introducing the concept of an 'endangered' or 'extinct' place. 
Three of the sculptures in Endangered + Extinct have been made by the artist twice including the Sirius, Gaden House Stair and the Turanga Building. While one version can be viewed in its entirety within the gallery, another version has been captured on film being destroyed, its fragments collected and displayed in glass vessels besides their intact counterparts. The act of devoting time and energy to forming a sculpture intended to be broken, followed by the eminent act of destruction is an unusual and challenging approach to art-making. This process mimics the act of building demolition on a smaller scale and reminds the audience of the fragility of our local architecture and the places we value.
Natalie Rosin is an architecture graduate and ceramicist practicing in Sydney, Australia. Her work involves the intersection, conflict and dialogue between these disciplines, forming sculptural handmade ceramic forms. Throughout her practice, Natalie's work explores form, either architectural model or ceramic sculpture, whose fluid properties and flexible structure are characteristic of neither discipline. Her sculptures aim to test invisible concepts, in search for the physical properties of a thought and its translation into a concrete image.
Natalie has worked in various architectural studios in addition to more recently practicing as a full time independent artist for private commissions, exhibitions and architectural installations. She was awarded an Australian Council Development Grant for an artist residency program in Europe at the Baltic Gallery of Contemporary Art in 2016, in addition to being shortlisted as a finalist for various Australian art awards.   
Natalie's work has been included in various group and solo exhibitions over the years at galleries such as the Australian Design Centre, Chinaclay, Dickerson Gallery, Gallery Klei, The Incinerator Gallery, May Space, M.Contemporary, Saint Cloche and Stanley Street Gallery among others. 

Read Dr Julie Batholomew's exhibition review here.

Events:
Artist Talk: Natalie Rosin, Endangered + Extinct
Join artist and architecture graduate Natalie Rosin as she discusses her work in the exhibition Endangered + Extinct, which explores themes of loss through the exploration of architectural structures and the medium of ceramics.
When: Saturday 29 May, 2:00pm - 3:00pm
Where: Australian Design Centre
Free event, booking required
Top Image: Natalie Rosin, Sydney Convention Centre, 2020 Photo: Courtesy of the artist.
Bottom Image: Natalie Rosin, portrait, 2019 Photo: Flore Vallery Radot