Review: Made / Worn: Australian Contemporary Jewellery
By Emma-Kate Wilson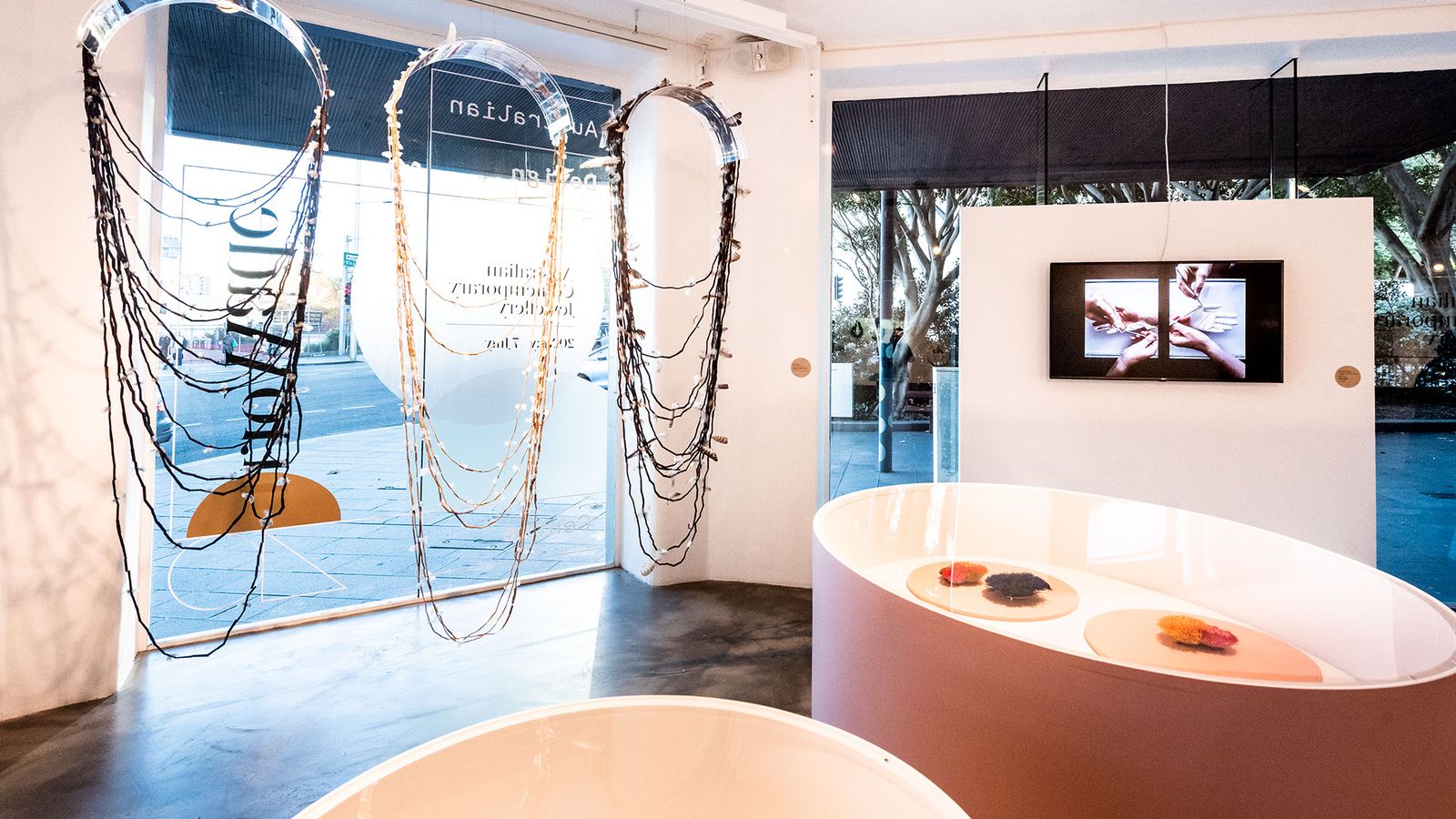 The Australian Design Centre touring exhibition Made / Worn: Australian Contemporary Jewellery sees 22 artists at nine venues across Australia who examine the role of jewellery, expanding on the notion of wearable art and the diversity it entails.
The curatorial team came together with Place & Adornment: A History of Contemporary Jewellery in Australia and New Zealand's author Kevin Murray, led by CEO and Artistic Director Lisa Cahill with Penny Craswell, Melinda Young and Margaret Hancock Davis. Looking at artists and designers across the country, the exhibition focuses on four key themes of place, identity, performance, and sustainability. The objects reference familiar motifs of heirlooms, questioning what is left behind after we are gone — indicators of who we were or the culture that we lived in.
The installation is presented as though peering into large contemporary jewellery boxes; the layers of intrigue builds from one display to the next, each an unveiling of excitement. Designed by Garbett Design, the presentation continues from graphic design into the physicality of the exhibition, soft organic curves in pinks, browns, and peach, evocative of skin — jewellery's original platform.
In the gallery's street-facing window, Mutti Mutti, Yorta Yorta, BoonWurrung artist Maree Clarke's three oversized necklaces adorn the first lens to view the exhibition. Made from river reed and feathers from native Australian birds, Clarke reconnects with stories of identity from south-eastern Australian cultural practices — ones almost lost through colonisation.
From this perspective, Made / Worn stretches beyond a simple highlighting of our love of wearables but the cultural relevance of these (and their making) to be passed down through generations. The objects are heritage pieces. Yet, there is also the question of wearables and adorning the body. As Cahill comments, most of the jewellery can be read under a political lens. Perhaps this could be read in turn, as a predominately women-based show, because of how politicised women's bodies are in contemporary culture.
Tiffany Parbs' work slope reveals this at play, almost literally, as she turns her body into a slide for her children — exposing the fraught commentary on mothers with its restrictions and criticism. Though in doing so, Parb also connects the other dimensionality of jewellery — the togetherness it can bring. Similarly, Jess Dare is inspired by the gumnuts, billy buttons, sticks and seedpods from her son in Making Time. Helena Bogucki captures her cocoon of safety with her daughter in Bird Island. And Tasmanian Indigenous artist Lola Greeno's art practice is developed with her mother and grandmother as they honour the knowledge and customs passed down through the maternal line.
While the viewer is invited to reflect on the past and the future's legacy in culture and family, themes of the environment also reveal themselves. For example, Pennie Jagiello uses discarded materials and a minimal impact technique for her jewellery; plaiting, binding, knotting, sewing and carving. Here she invites consideration for what the next generations are inheriting. Jagiello observes, "diamonds are forever, [but] so [are] anthropogenic debris which defines in our short existence the era and errors of the Anthropocene." [1]
As Margaret Hancock Davis writes in her essay Constructing Identity, "jewellery is a signifier."[2] They provide clues on the wearer, but as Made / Worn explores, jewellery can also go beyond this to expose how we respond to the world around us, to our culture and our families in lasting pieces.
Explore the exhibition website for Made/Worn: Australian Contemporary Jewellery here.

About Emma-Kate Wilson
Emma-Kate Wilson is a Sydney-based contemporary art and design writer who examines current trends in global art, interior design and architecture, focusing on the cultural impact of art and design. Her writing has appeared in art publications like Ocula, Art Almanac, Artist Profile, Mutual Art and design journals such as Hunter & Folk, Design Anthology, Inside, and Est Living. 
[1] https://australiandesigncentre.com/madeworncontemporaryjewellery/pennie-jagiello/
[2] https://australiandesigncentre.com/madeworncontemporaryjewellery/essays-made-worn/essay-constructing-identity/
This review was commissioned by Australian Design Centre with funding from the Create NSW Covid Restart Program.
Image: Maree Clarke, River Reed Necklaces, 2014. Installation view at Australian Design Centre, 2021. Photo: Rhiannon Hopley.