Apothecary Now!
Sassy Park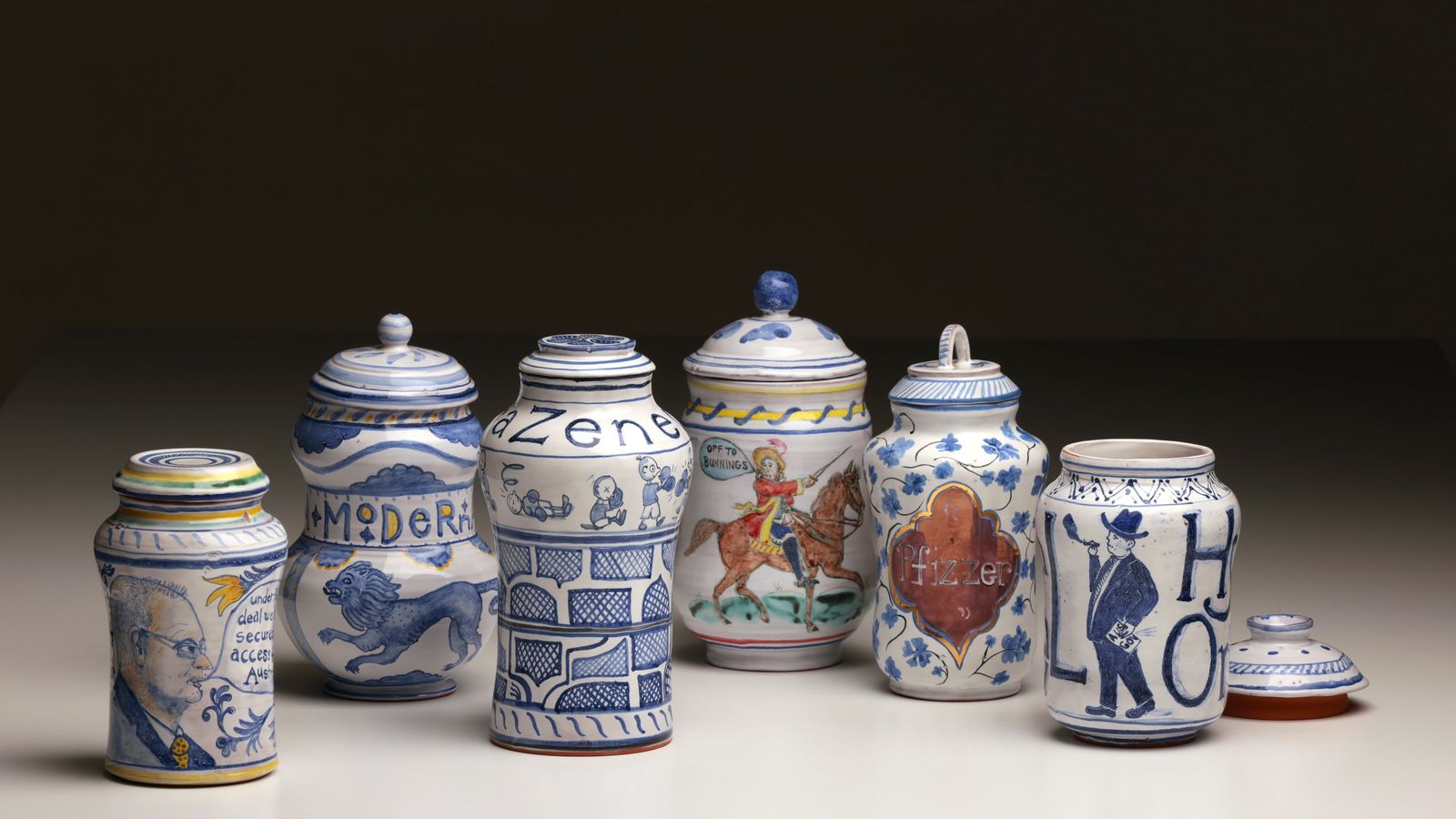 Australian Design Centre plays a critical role in celebrating the work of Australian artists who embrace the highest degree of skill and who continually explore material, process and ideas to advance contemporary craft and design practice.
Object Space is a window gallery located in the window of the Australian Design Centre HQ on William Street in Darlinghurst. The exhibition space has direct street frontage, is accessible to view 24 hours a day and is lit for viewing at night.
18 November 2021 - 2 February 2022
Inspired by Renaissance apothecary jars (or albarellos), Sassy Park's pots use similar maiolica glaze techniques and motifs, linking the current Covid-19 pandemic to history. The hand painted pots reflect the recent preoccupation with newly developed pharmaceutical vaccines, controversial cures and pandemic messaging. 
Astra Zeneca depicts computer game figures knocking each other out in an endless fight around the neck of the jar. Moderna shows a lion symbolising the company's reach into Africa to provide vaccines. Hydroxychloroquine shows a rotund business man in a large hat, smoking a cigar and holding Australian government documents. Snag and Jab portrays a sword-wielding rider journeying to Bunnings to be vaccinated and rewarded with a sausage sandwich. Pfizer is a 'Pfizzer' in the lustred lozenge on the alternate side and PM's Promise shows a portrait of Prime Minister espousing his 2020 statement for early access to the vaccine.

Italian maiolica apothecary jars, made in various shapes and sizes, were originally designed to store medicines and dried ingredients. These highly decorative pots communicated the quality and importance of their contents, asserting their cultural standing in a time of faith and superstition. In dominant cobalt blue and finely detailed design the apothecary jars intersect the past with the present, connecting the history of ceramics and medicine and highlighting humanity's quest for technological answers to our mortal vulnerability.
About Sassy Park
Sassy Park considers ceramics to be a medium especially suited to memorialising the intimacies of the everyday. Her work plays with the accepted ideas of ceramics and art genres to express ideas of vulnerability and fragility. Figures, painted with slips and underglazes, express an empathy inviting the viewer to look closely and engage with the object. Using scale and humour, Park's figures reflect both on questions of history and the small moments of contemporary life.
Sassy Park graduated from the National Art School with a Masters degree in ceramics. In 2020, Park received 2nd prize in the Meroogal Women's Art Prize with Garden Play Set and was a finalist in the Tom Bass Prize for Figurative Sculpture (2020 and 2018) and the McClelland National Small Sculpture Prize (2020).
Image top: Sassy Park, Apothecary Now!, 2021 Photo: Karl Schwerdtfeger