Object Space
William Street Window Gallery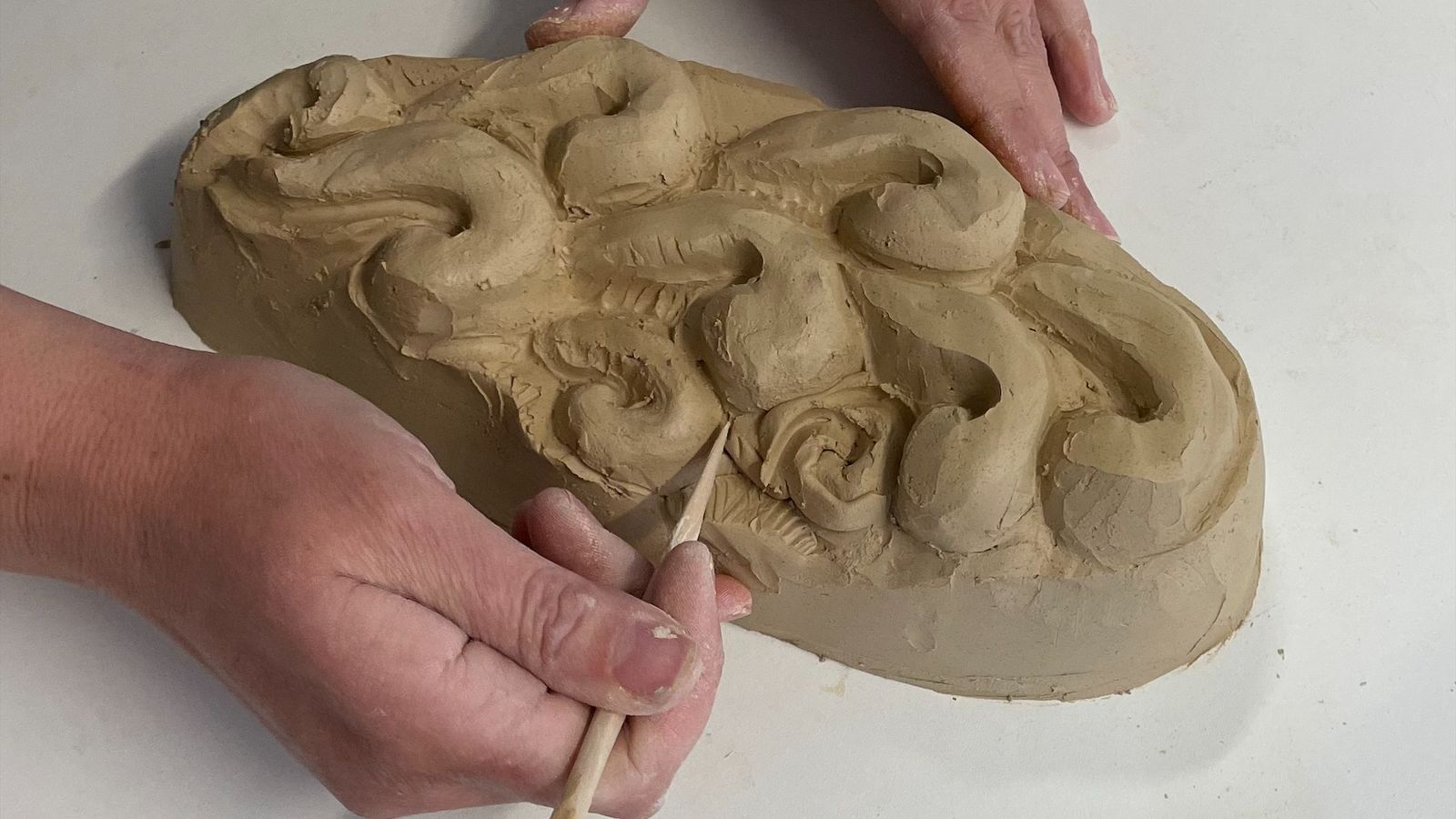 Australian Design Centre plays a critical role in celebrating the work of Australian artists who embrace the highest degree of skill and who continually explore material, process and ideas to advance contemporary craft and design practice.
Object Space is our window gallery located at the Australian Design Centre HQ on William Street, Darlinghurst, on view 24 hours a day.
Studio 63: Ebony Russell and Alexandra Standen
22 September–22 November 2023
Ebony Russell and Alexandra Standen are resident artists at Sydney's Kil.n.it Experimental Ceramic Studio.
As neighbours and friends, they have been pursuing an opportunity to work on a collaborative project since early 2020. Australian Design Centre's Object Space exhibition provided them with a perfect situation to develop and present their burgeoning ideas – to combine elements of art and design in a ceramics project that sits outside of their respective art practices.
Initially responding to their shared love of vintage Australian lustreware, this collaborative project focuses on a series of ceramic sconces and lamps, incorporating differing effects of light and shadow throughout the day and night.
"Working closely at Kil.n.it for the last few years, we have supported each other professionally and personally. We have come to appreciate each other's individual art practices and each other's distinct approach to working with clay", said Ebony and Alexandra.
"Many hours spent in the studio often leads to conversations discussing art, craft and design and how to cultivate and continue a successful art practice. We wanted to capture the importance of these conversations and the significant impact they have on our development and growth as artists".
"By working together three hours each week in the Kil.n.it Members Workshop, outside of our own studio spaces, allowed us to create in a neutral space. This framework led to open ended outcomes and true collaborative processes".
"We both made moulds based around organic shell-like forms. When the clay was pressed, we each selected different components to make our works – creating truly unique works, and a new artistic language for us to share".
About the Artists
Ebony Russell
Ebony Russell explores objects imbued with notions of nostalgia and desire. As a child Ebony was obsessed with ornaments and passionate about cake decorating. She believes these objects and decorative processes have the capacity to evoke memories and engender a return to childhood reverie in adult life.
Ebony received her Masters in Fine Arts (Ceramics) from the National Art School, Sydney and is now a sessional lecturer in the Ceramics Department. She is represented by Artereal Gallery and has been selected as a finalist in the annual Saint Cloche Gallery - Little Things Art Prize and the biannual Meroogal Women's Art Prize.
Alexandra Standen
Alexandra Standen is an Australian artist who explores the potential of clay as a ceramic form – subverting the long-held association between ceramics and utilitarian function.
With graduate and postgraduate degrees from The National Art School (2011) and University of NSW Art and Design (2018) respectively, Alexandra has also undertaken a number of artist residencies over the last 4 years at the Cité Internationale des Arts in Paris, Tel Aviv, Geneva, Istanbul, Great Britain and in rural New South Wales and Northern Territory. Winner of the Sidney Myer Award for Ceramics, Shepparton Art Museum 2012, Alexandra was also a finalist in awards including the Churchie National Emerging Art Prize, Gold Coast Ceramic Award and the Wynne Prize.
Image top: Studio 63, work in progress, 2023. Photo: courtesy the artists