Euphemia Bostock
Fashion Collection 1987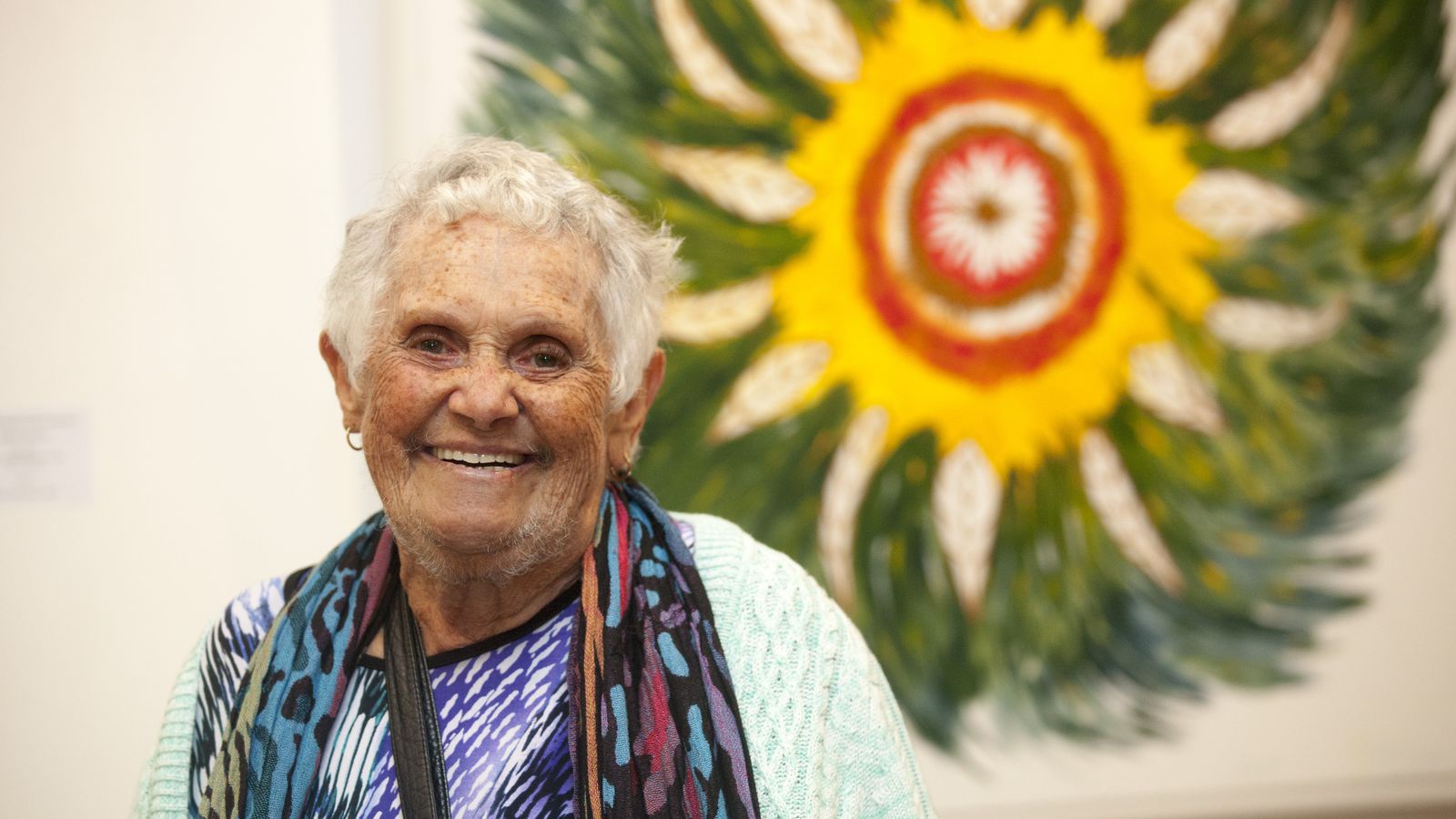 Object Space is a window gallery located on William Street in Darlinghurst. On display 21 June - 29 July, is the exhibition Fashion Collection 1987 by artist Euphemia Bostock.
Bundjalung-Munajali woman Euphemia Bostock was a founding member/chairperson and the logo designer of Boomalli Aboriginal Artists Co-operative. She has worked across a variety of media including textile, sculpture and printmaking since the 1960s. Euphemia is well known for her possum skin design, for which she cites as a lived experience when seeing an incised possum skin cloak from the 19th Century on display in the Museum of Victoria in Melbourne. Her experiences and knowledge has inspired her to reproduce her designs on other fabrics including blankets, designer sheets and women's clothing.
In 1986, Euphemia's designer garments were showcased in the Redfern Aboriginal Medical Service Fashion Show at the University of New South Wales. The following year, Bostock joined artists Bronwyn Bancroft and Mini Heath to showcase their collection of handprinted garments at the Au Printemps Department Store exhibition titled 'Australis down under' in Paris.
Euphemia's work is also held in the collections of the National Gallery of Australia, Powerhouse Museum, Sydney and the National Museum of Australia. In 2001 Euphemia produced a collaborative Reconciliation Sculpture with artist Jan Shaw for Macquarie University's Sculpture Garden.
ADC recognises the significant creative practice of Euphemia as the work and story of the artist is deeply connected to our history of Aboriginal art and design. As part of this years NAIDOC theme 'Because of Her We Can', we highlight the rich history of Euphemia for which she continues to inspire our future generations.
Works on display:
Euphemia Bostock: Fashion Collection 1987
A collection of handprinted garments featuring original designs created by Euphemia Bostock for the 1987 Au Printemps Department Store exhibition 'Australis down under' in Paris.
Object Space is a window gallery located in the window of the ADC Offices on William Street in Darlinghurst. The exhibition space has direct street frontage, is accessible to view 24 hours a day and is lit for viewing at night.

About NAIDOC Week
NAIDOC Week celebrations are held across Australia each July to celebrate the history, culture and achievements of Aboriginal and Torres Strait Islander peoples. This years theme, 'Because of her, we can!' celebrates the essential role that women have played - and continue to play - as active and significant role models at the community, local, state and national levels. 
Explore the Object Space gallery here
This project was curated by ADC's First Nations Creative Producers Lucy Simpson and Dennis Golding. The First Nations Creative Producer role is supported by Create NSW.
Images: Portrait of Euphemia Bostock. Photo by Sharon Hickey. 
Euphemia Bostock, Fashion Collection, 1987 (detail). Photo: ADC