For Our Elders
15 June - 27 July 2023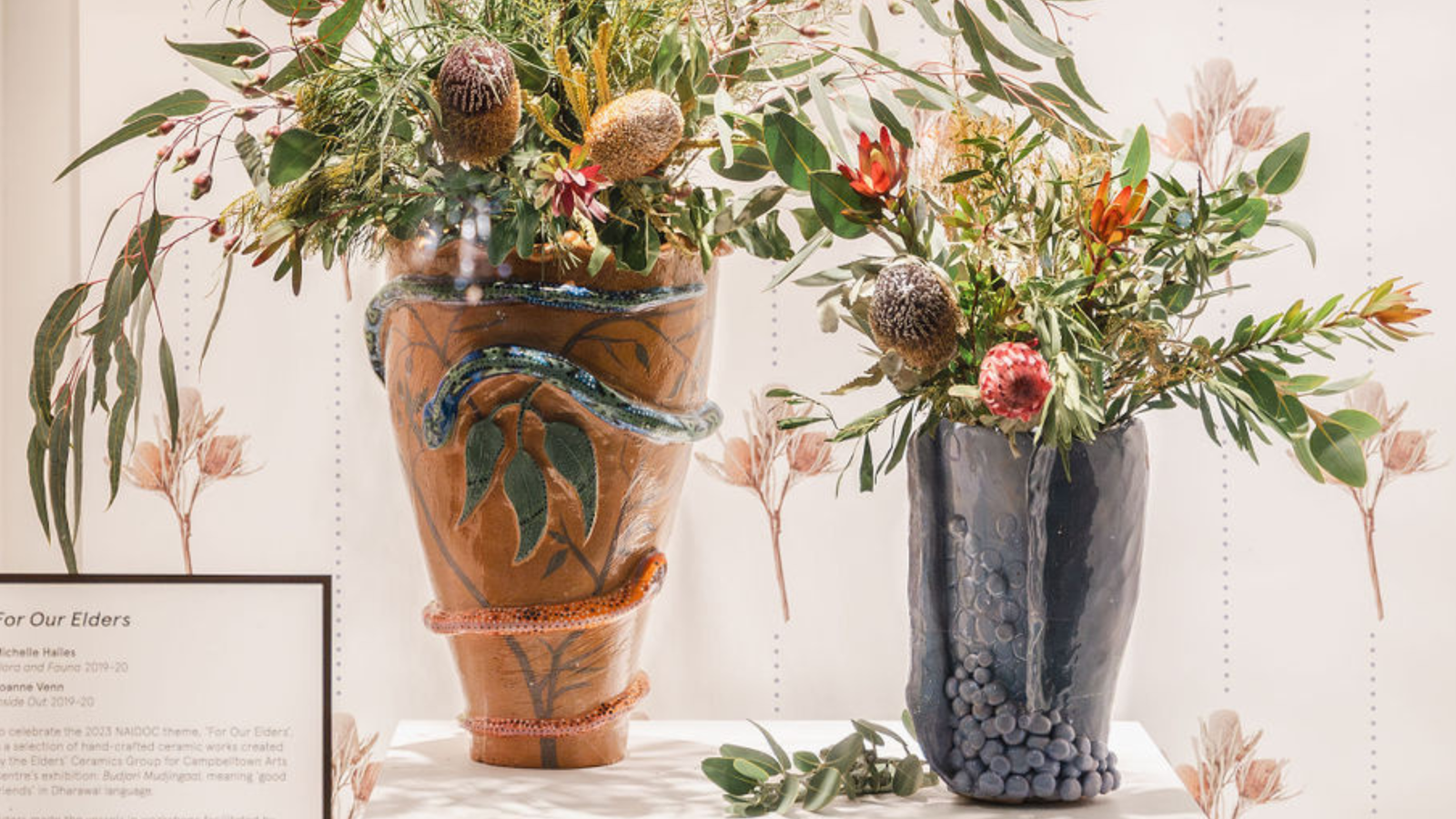 Australian Design Centre plays a critical role in celebrating the work of Australian artists who embrace the highest degree of skill and who continually explore material, process and ideas to advance contemporary craft and design practice.
Object Space is our window gallery located at the Australian Design Centre HQ on William Street, Darlinghurst, on view 24 hours a day.
15 June - 27 July 2023
For Our Elders is presented in partnership with Campbelltown Arts Centre (C-A-C) in celebration of the 2023 NAIDOC theme, and as a way for ADC to pay our respects to the cultural knowledge held by Elders in our community.
NAIDOC Week is an opportunity for everyone to learn about First Nations cultures and histories and participate in celebrations of the oldest, continuous living cultures on earth. Through the 2023 NAIDOC Week theme 'For Our Elders', people from all over the Country will celebrate our culture with, and for, our Elders.
Across every generation, our Elders play an important role and hold a special place in our hearts. This NAIDOC week is a tribute to our Elders from all families, cultures, communities and Nations.
The exhibition For Our Elders, has been drawn together to showcase a selection of hand-crafted ceramic vessels created by the Elders Ceramics Group for the C-A-C exhibition Budjari Mudjingaal (Dharawal for 'good friends'). The works selected for this showcase are by Aunty Michelle Hailes and Aunty Joanne Venn.
C-A-C developed the project with the Tharawal Aboriginal Corporation. The beautiful ceramic forms were made through a series of workshops facilitated by Aboriginal artist Natalie Valiente, and in response to conversations within the Group.
During the sessions, Elders discussed the increasing mortality rate of Aboriginal Elders and expressed their concern about resources for rituals surroundings Sorry Business becoming less affordable and unsustainable.
As a way of addressing this basic human right to mourn and remember, the project embraced practical and cultural solutions. In partnership with Campbelltown TAFE (Aboriginal Pathways Unit) and The Australian Botanic Garden Mount Annan, the Elders also developed their skills in floristry and created large floral arrangements from both native flora and introduced species.
The resulting ceramic vessels hold the traditional and contemporary stories of the Elders and their culture, capturing memories that will last generations. They are a symbol of strength, resilience and knowledge, and by sharing them with others we ensure the legacy of those who have gone before us is never forgotten.
Object Space featured works:
Michelle Hailes
Flora and Fauna 2019–20
Joanne Venn
Inside Out 2019–20
hand-built ceramic vessels, glazes
Artists featured in Budjari Mudjingaal at Campbelltown Arts Centre: Diane Andrewartha, Rhonda Banks, Christine Barton, Dianne Belgre, Kerry Dews, Susan Grant, Michelle Hailes, Natalie Valiente, Joanne Venn, Gail Vinter, Doris Williams, Bronwyn Wright.
For more information about Budjari Mudjingaal follow the link here and here.
For more information about NAIDOC follow the link here.
NAIDOC For Our Elders logo

Campbeltown Arts Centre