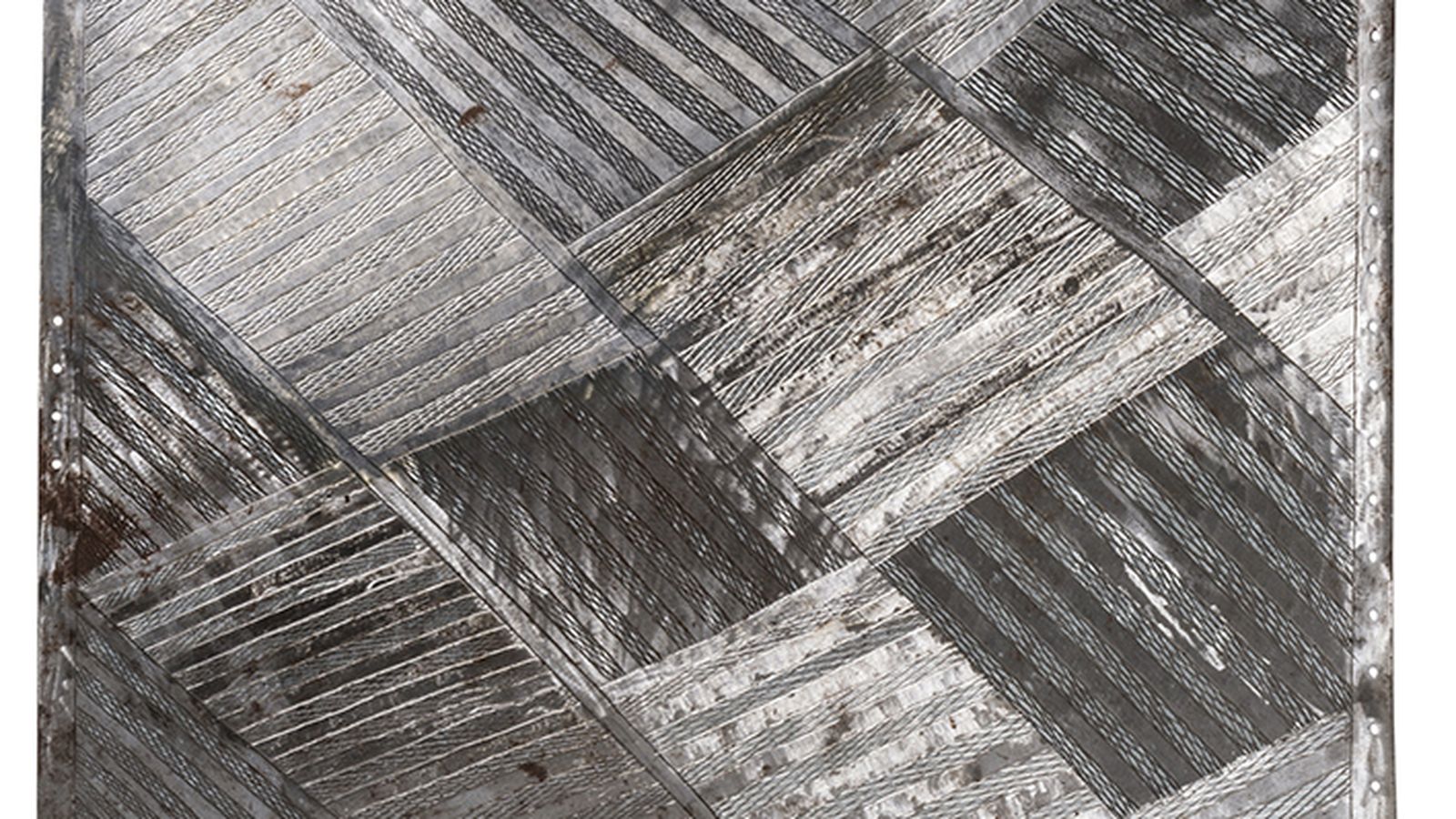 Australian Design Centre plays a critical role in celebrating the work of Australian artists who embrace the highest degree of skill and who continually explore material, process and ideas to advance contemporary craft and design practice.
Object Space is a window gallery located in the window of the Australian Design Centre HQ on William Street in Darlinghurst. The exhibition space has direct street frontage, is accessible to view 24 hours a day and is lit for viewing at night.
1 February - 3 April 2019
On display 1 February - 3 April 2019 is the work Ngalkan by artist Gunybi Ganambarr as part of the exhibition STEEL: art design architecture, which is a major JamFactory touring exhibition exploring innovative ways that steel is being used by artists, designers and architects in Australia in the 21st century.
Gunybi Ganambarr, Ngalkan (2013)
Materials: etched water tank
Collection of Ross Bonthorne
"Acclaimed artist Gunybi Ganambarr creates with steel like no other Yolngu artist has before and revolutionising the way that his culture is being creatively expressed. Gunybi is of the Dhuwa moiety and the Ngaymil clan of North East Arnhem Land. Mentored by many of the master artists of the region Gunybi began his artistic career in painting on bark and the Larrakitj.
Since these beginnings he has pushed his making in exploratory new directions. Transforming both mediums in completely new ways to his predecessors,  Gunybi's practice has also gone on to take new forms in found objects including galvanised water-tank, plastic piping, rubber and insulation panels, discarded across his lands. His practice resides somewhere between, embodying the traditions of Yolgnu art making and expressing it in a completely new way, resonating just as powerfully as the work of the elders who have taught him
The large-scale carved steel work, Ngaymil, 2012, represents an area called Ngalkan, on Ngaymil land and sea, which is the clan of artist Gunybi Ganambarr. Ngalkan is an area between the Cato and Gurrumurru Rivers that run into Arnhem Bay, which has a watercourse that takes you to a sacred fresh water Milngurr (spring) with special qualities called Balawurru.  The meeting and motion of where the saltwater meets the freshwater and where animals are swimming and dancing can be seen in this work – the herringbone pattern carved to represent the Darra (waterweed)  that Djanda (the goanna) swim through and the circular motion alluding to the movement of the waters.

Ngalkan, 2013, is also referencing this area on Ngaymil land, the galvanised iron from a watertank collected by Gunybi at Gangan where he lives, has been heavily incised with the designs of his heartlands. The works of Gunybi carry his clan markings however the material itself is integral to the message: caring for country is just as important as caring for culture, they are but one and the same. In recycling the steel and scrap-metals discarded across his homelands, Gunybi is also making a strong statement about caring for environment while at the same time, carrying the art traditions of the Yolngu into the future."
Text courtesy of JamFactory exhibition website. 
This Object Space exhibition is part of the exhibition to STEEL: art design architecture, a major touring exhibition from JamFactory featuring 29 artists, designers and architects on display 1 February - 3 April 2019.

Explore the exhibition STEEL: art design architecture here
Top Image: Gunybi Ganambarr, Ngalkan, 2013. Photo: Tom Bonthorne.