Intergradation: Taerim Claire Jeon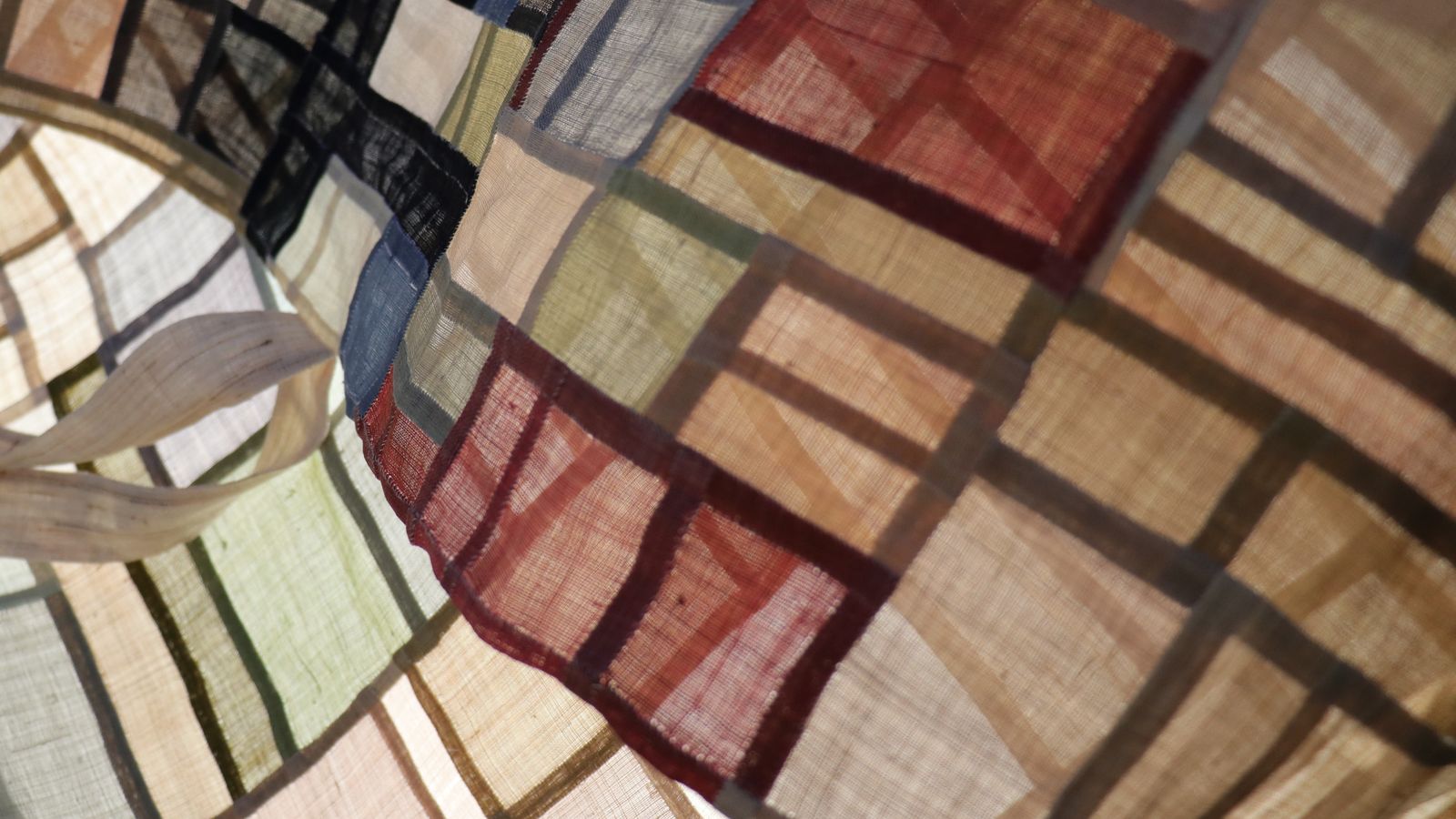 Australian Design Centre plays a critical role in celebrating the work of Australian artists who embrace the highest degree of skill and who continually explore material, process and ideas to advance contemporary craft and design practice.
Object Space is a window gallery located in the window of the Australian Design Centre HQ on William Street in Darlinghurst. The exhibition space has direct street frontage, is accessible to view 24 hours a day and is lit for viewing at night.
3 October to 13 November 2019
Intergradation is an exhibition of the Jogakbo (Traditional Korean patchwork) work of a Sydney based artist Taerim Claire Jeon who strongly identifies with her Korean heritage. To express the flora and fauna of both countries, Claire dyed Korean silks using the natural resources from Korea and Australia and connected the silk pieces in the way of Korean hand sewing techniques. The leftover silk pieces used to make Hanbok (traditional Korean costume) are arranged with naturally dyed silks to symbolise her efforts to adapt to Australian society. Claire re-interprets traditional methods and explores new forms of Jogakbo in dyed and sewn works.
This exhibition is presented in partnership with the Korean Cultural Centre, Australia. 
Claire will also be hosting Jogakbo making and Yeomsaek dyeing workshops at Australian Design Centre during the exhibition period.
Events
Jogakbo Patchwork Techniques with Taerim Claire Jeon
Learn the techniques of this traditional Korean textile art.
When: Saturday 26 October 2019, 12.30 - 3.30pm
Where: Australian Design Centre
Tickets: Free, book here

Traditional Korean Yeomsaek Cloth Dyeing Workshop
Learn how to make natural cloth dyes using traditional Korean methods and plants such as tea, saffron and gardenia.
When: Saturday 9 November 2019, 1 - 4pm
Where: Australian Design Centre
Tickets: Free, book here
Top Image: Taerim Claire Jeon, The Flash Spectrum of Light, 2018 Photo: courtesy of the artist
Bottom Image: Taerim Claire Jeon, Queen of Spring, 2019 Photo: courtesy of the artist