Windowsmiths: Murmuration
A Pliable Formation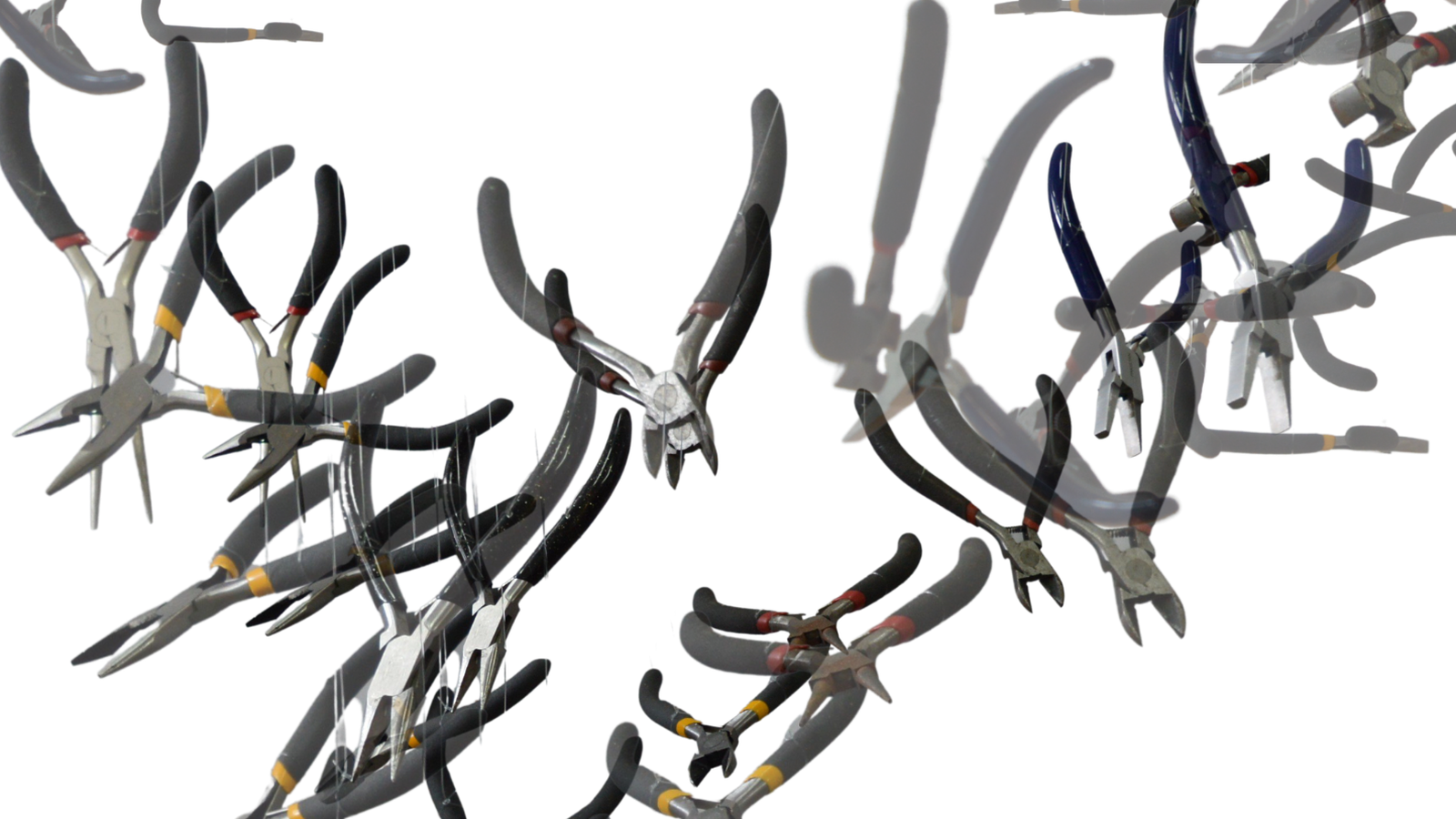 Australian Design Centre plays a critical role in celebrating the work of Australian artists who embrace the highest degree of skill and who continually explore material, process and ideas to advance contemporary craft and design practice.
Object Space is a window gallery located in the window of the ADC Offices on William Street in Darlinghurst. The exhibition space has direct street frontage, is accessible to view 24 hours a day and is lit for viewing at night.
20 May - 7 July, 2021
Murmuration - A Pliable Formation is a contemporary installation by the Windowsmiths.
A suspended necklace formation of silversmithing pliers encircles the space en masse, allowing the viewer to gaze, consider and appreciate this simple tool's beauty as an extension of the human hand. From a distance, the installation is a murmuration – a mass of birdlike forms, structured yet ephemeral.
The work brings focus to standard tools used by jewellers. It is also an improvisation on shape and function, reminding us of ordinary technologies driven by the body and their transformative nature.
At the same time, the phenomenon of this bird behaviour is worthy of reflection: how is it that birds can move seemingly as one? What control does any one bird have in determining the form and direction the flock undertakes? The artists themselves are singular actors in a larger process with their own limited control as each works with finesse and repetition towards an ultimately ephemeral grand realisation of their own.
"... lifting in a casual billow, the flock ascended as a lady's scarf, transparent, of grey..."
The Great Scarf of Birds - John Updike
October 27, 1962 issue of the New Yorker
Lighting design by Stage Light.
About the Windowsmiths
Windowsmiths are a collaborating group of three artists, Fiona Meller, Marcia Swaby and Helen Wyatt, who apply the traditional skills and tools of silversmithing to their artistic practice.
Individually, the artists work focuses on sculptural and textural qualities, connecting with contemporary cultural concerns. Collectively they have formed to specialise in small-scale, intimate installations.
With limited exhibition spaces available – and only digital shows possible during COVID 19, the artists tapped into available and empty shopfronts as an effective vehicle for public engagement with their art. In the process, 'Windowsmithing' has activated the streets of Rozelle and Balmain and contributed to an increasingly strong sense of place.
Events:
Artists' Talk: Murmuration - A Pliable Formation
Join the Windowsmiths as they discuss their exhibition. Hear about the work, its significance and how this collaboration of artists have adapted their practices to create collectively.
When: Saturday 5 June, 2pm - 2:30pm
Where: ADC
Free event, bookings required
Top Image: Windowsmiths, Murmuration, 2021 Photo: Courtesy of the Artists