Series 1 Episode 7: Robert Baines
Masters of Craft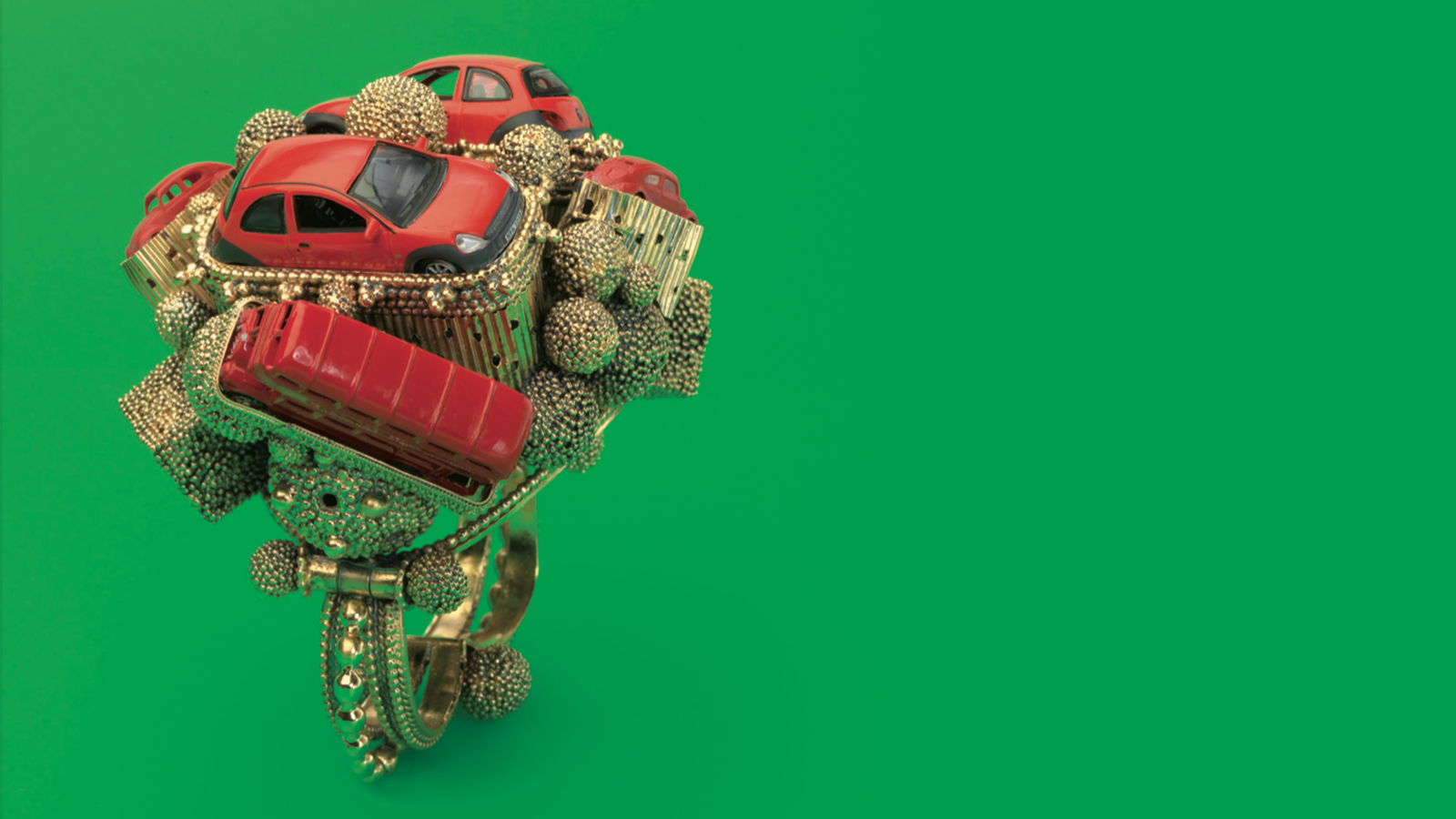 Series 1: Australia's Masters of Craft | Episode 7: Robert Baines
Show Notes
In a career spanning five decades, Robert Baines is one of Australia's leading gold and silversmiths. Robert's work can be found in all major public galleries, as well as internationally in significant museums like the Metropolitan Museum of Art in New York and the Victoria and Albert Museum in London.
The Australia Design Centre made Robert Baines a Living Treasure: Master of Australian Craft in 2010.
He makes intricately constructed jewellery and large-scale, sculptural, complex wire works that often combine gold and silver with plastic and powder-coated elements.
In this episode, you'll hear about how Robert researched high Classical Greek gold jewellery and remade it using those 2000 year old techniques, how colour takes on many meanings in his jewellery, and how a chance meeting in a gallery changed everything.
Robert Baines lives and works on Wurundjeri Country in Melbourne.
Transcripts
Word document: Robert Baines Object podcast transcript
PDF: Robert Baines Object podcast transcript
Guests
John McPhee is an art historian, and was the first Curator of Australian Decorative Arts at the National Gallery of Australia.
Diane Soumilas is the curator and gallery coordinator at Glen Eira City Council gallery in Melbourne, where in 2011 she curated a survey exhibition of Robert Baines work.
Show highlights and takeaways
Goldsmithing of Ancient Greece has never been surpassed [6:20 mins]
Robert was drawn to working with gold because of the history of its use and historical goldsmithing techniques. He says that Bronze Age goldsmithing techniques, such as in the Etruscan period in Ancient Greece, was "the culmination of a great deal of skill, sensibilities and sensitivities to the gold." He describes the refinement of this era  as 'wondrous' and says that its quality has never been met since.
Archaeometallurgy research [8:10 mins]
Starting with a Churchill Fellowship in 1979, Robert Baines has researched archaeometallurgy (archaeological metal work) for many years. Much of the this research, including his PHD, was centred around the technical joining process commonly called granulation.
Making copies of ancient jewellery using 2000 year old techniques [8:25 mins]
As part of his research, Robert made copies of ancient jewellery using the known technology of the era. He worked with a charcoal fire and used flat stones, tongs or tweezers, and a blow pipe to charge the oxygen in the fire. Robert expains that the ancient system of gold joining - the goldsmith prepares the flat shape, applies these granules or wires then paints it with a copper salt - copper carbonate. Then the goldsmith would use the tweezers to place it into a charged fire. "And that was the work of the Ancients!"
Change in direction to the 'crinkle and crankle' of wire [10:28 mins]
After working with ancient jewellery for many years, Robert began researching and making jewellery and sculptural objects with linear construction using wire. He describes a typical as being "a network of wire. Within this network of wire, is a straight wire and a crinkled wire straight wire and crinkled wire. And this builds a surface.  Now these surfaces build structures. They could be cylinders, they could be cubes that could be arches. They could be zigzags. And that's the crankle of the wire that the wire, these wire structures that are open, they meet, there are networks that meet. There are intersections where they meet and where they converge or where they leave each other."
Inspiration of René Lalique – as a goldsmith 'working on another scale' [13:20 mins]
One of Robert's inspirations to work on a larger scale is French glassmaker and goldsmith René Lalique. Robert describes seeing a collection of René Lalique pieces at the Calouste Gulbenkian Museum in Lisbon, Portugal. He says, "You would not believe it, there's about six or seven pieces and these pieces are larger than life. This was the goldsmith working on another scale. They have such a dexterity and virtuosity in their making. And still using the jewellery processes of that goldsmith, but on a grand scale."
Colour and Claes Oldenburg [14:19 mins]
Colour did not appear in Robert's work until the 1990s. He primarily uses colour for its symbolism, and attributes a quote by Swedish-born American sculptor Claes Oldenburg as making a profound impact on his use of colour: Red is redder than green, meaner than yellow and bloodier than black.
Working with collectors over decades [18:33 mins]
Robert Baines talks about the privilege for working with collectors who have commissioned work from him: "Two families in particular over many decades, like going back into the seventies, eighties. I've had a wonderful sort of relationship with them. I really feel it, that relationship I've had with the husband and the wife and them buying pieces for each other. It's been a wonderful time and experience and quite a privilege."
Work from the Living Treasures exhibition touring internationally [24:10 mins]
His 2010 Living Treasures: Masters of Australian Craft touring exhibition was a 'springboard' to get this work exhibited internationally, Robert says. The work went to Europe and the United States and returned to Australia in 2021.