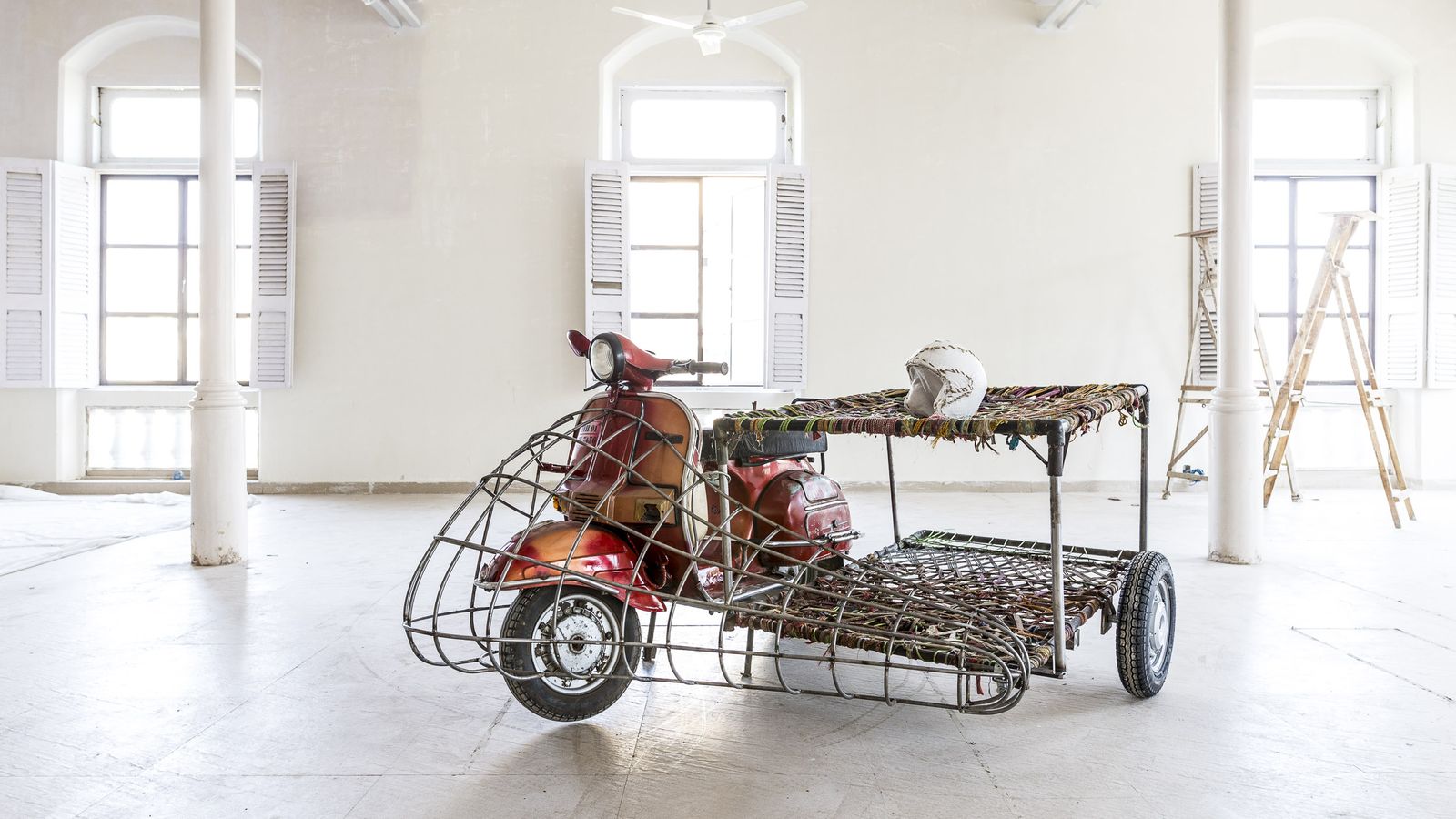 Positioning the work of Australian designers and craftspeople in the context of global design trends and conversations has been an important part of ADC's history. So too has been the promotion of international design practice here in Australia.
In 2002, ADC presented the major UK exhibition Home Sweet Home, curated by Lesley Jackson with support from the British Council. This exhibition explored 'the creativity of contemporary designers in Britain in relation to the home' and featured furniture and homewares in a series of household settings that sought to challenge traditional presentations of design. This curatorial conceit set it apart from previous touring exhibitions and foresaw a shift in conversations about how to best position and promote local design around the world. 2002 was also the year that ADC staged Dinosaur Designs and in 2003, Kathryn Hunyor at the Australian Embassy in Japan invited the Dinosaur Designs show to participate in the year long Ancient Future – Australian Arts Festival, for which she was the Manager. Because the exhibition was already touring Australia, Hunyor commissioned a second version of the show that subsequently toured South East Asia throughout 2004 and 2005. When Hunyor returned to Australia two years later she went on to work as the Head of Creative Programs at ADC.
That same year, in 2005, the work of 12 Australian designers was presented at London's Victoria and Albert Museum as part of ADC's exhibition Global Local. ADC's contribution to the V&A show was one of five from different countries around the world. Each component focused on designers who were practising in a country they were not originally from and the exhibition examined the influences of their direct cultural heritage alongside that of their country of residence.
An ongoing feature of ADC's international program, particularly over the last fifteen years, has been a close relationship with the craft and design coming from Japan. In addition to sending both designers and exhibitions to the country, ADC has exhibited a number of projects from Japan, including a long-term collaboration with innovative architects Atelier Bow Wow.
In 2005, when ADC was at St Margaret's in Surry Hills, Atelier Bow Wow created Manga Pod, a versatile downstairs space that responded to the dynamics of the room. On loan to ADC for a number of years, the Manga Pod not only served its initial function, literally as a pod housing Manga, but also operated as a small exhibition and display space, and formed an architectural feature of other exhibitions.
Other Japanese exhibitions included the 2005 show Bedazzled: Jewellery from Australia, the UK and Japan in collaboration with the Japan Jewellery Design Association and Yuken Teruya in 2006, a solo exhibition of Teruya's meticulously cut treescapes in paper bags and traditional Okinawan Kimonos.
Also in 2006, at its satellite venue at the Sydney Opera House, ADC presented Droog: A Human Touch, an internationally touring exhibition from the iconic conceptual Dutch design studio. At this time, Droog was collaborating broadly, across disciplines and without regard for distance or political boundaries. Designers from all corners of the world were designing for the 'Droog' line, and it was these works that were shown to Australian audiences as a major feature of Sydney Design that year.
In 2008, following its national tour, Freestyle: new Australian design for living travelled to Europe, appearing at Milan's Triennale Museum. This major collaboration with the Melbourne Museum saw the entire exhibition travel to Milan, the first comprehensive Australian design exhibition to open in Italy, the home of many major international industrial design and manufacture brands. It featured the work of 40 different designers and practices, including fashion designer, Indigenous artists, jewellers and homeware designers, mostly focusing on objects for the home or body and all made within the last two years.
In 2013, ADC's focus was again on Japan, with an invitation to curate the Australian component of the 2nd International Triennale of Craft at the 21st Century Museum of Contemporary Art in Kanazawa, Japan. The Triennale also included work from the USA and Taiwan, as well as the host country and ADC's contribution; 36 artworks by 20 Indigenous craftspeople, was curated by ADC's Director Steven Pozel together with Adjunct Curator Lisa Cahill.
In 2017, the Local Milan exhibition showcased the work of Australian designers who had exhibited their work at the historic Oratorio della Passione at Piazza Sant'Ambrogio within the 5 Vie district during the Milan Furniture Fair that year. Local Milan is run by designer, stylist, creative director and curator Emma Elizabeth.
In 2018, ADC presented the work of 17 exhibitors, designers and brands in a showcase of Taiwanese design in Let's Tea Party: Taiwan Design Now, an exhibition organised by Taiwan External Trade Development Council (TAITRA) and led by Taipei-based Australian curator Annie Ivanova. Designs on display, from fashion to electronics, kitchenware to bicycles, show how Taiwan has shifted from a post-war manufacturing powerhouse to a design-led culture producing original, high-value products. The project offers an unprecedented opportunity for Australian and Taiwanese design cultures to learn from each other and exchange ideas.
Also in 2018, Porosity Kabari was an interdisciplinary, cross-cultural, collaborative project by Australian object designer Trent Jansen, Australian artist/architect Richard Goodwin and Indian design thinker Ishan Khosla. The exhibition featured works made from materials and craftsmanship sourced solely from the 'Chor Bazaar' (thieves market) and 'Kabari Bazaars' (junk markets) in Mumbai, India. Porosity Kabari was presented by Mumbai's Studio X in 2016 and by Hotel Hotel's Nishi Gallery in 2017 before being exhibited at ADC.
ADC continues to look for opportunities to tour Australian work internationally and to promote the best of international design to local audiences here. Positioning Australian craft and design practice as part of the global conversation about design ensures its ongoing relevance and significant contribution.
Image: Porosity Kabari, Richard Goodwin, 1-√2 charpai for mumbai 2016. Photo: Neville Sukhia