Article: Glass in Australia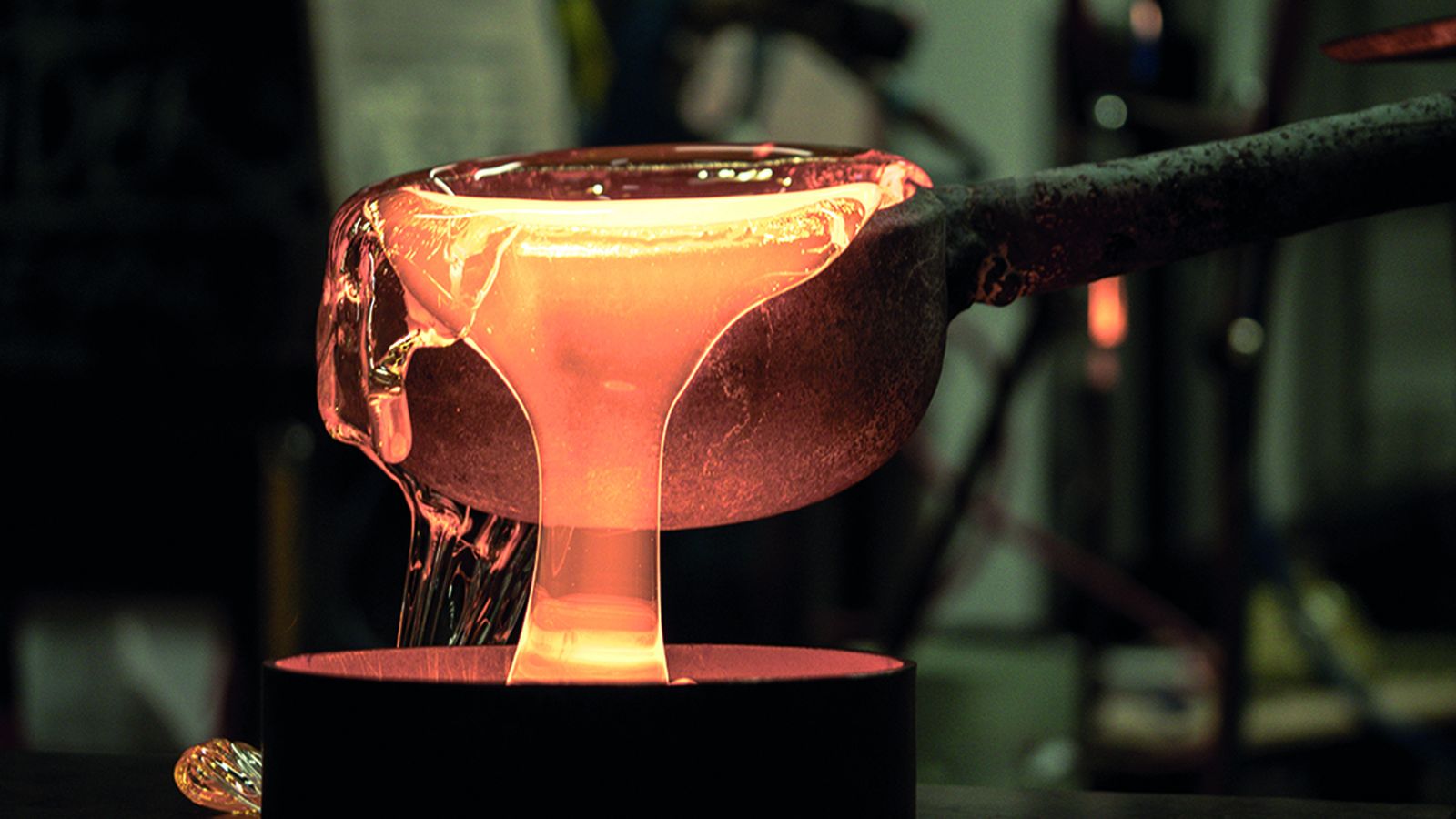 ADC Creative Strategy Associate Penny Craswell explores contemporary glass in Australia.
Studio glass emerged as a handmade art practice (as opposed to industrial glass) in the 1950s and 1960s in North America. By the 1970s, a dialogue between North America and Europe had been established, with glass artists travelling back and forth and learning, and developing new techniques and practices. Seminal to this development was Dale Chihuly, who learnt from glass artists in Murano, Italy and the former Czechoslovakia and brought this knowledge to his own practice in Washington, USA.
In Australia, one of the most important figures in contemporary glass was the late Klaus Moje, who in 1982 moved to Australia from Germany where he was a student of the Rheinbach and Hadamar glass schools. Moje brought his expertise to Australia and became the founding workshop head of the Australian National University (ANU) School of Art Glass Workshop in Canberra, where he taught a whole generation of glass artists. (Read more about Moje in the ADC exhibition and catalogue Living Treasures: Master of Australian Craft from 2006).
However, while Moje is one of Australia's glass superheroes, it should be said that the JamFactory in Adelaide had been operating its glass studio since 1974 and Ausglass started in December 1978, many years before Moje arrived in Australia. In her book The Crafts Movement in Australia, Grace Cochrane writes that hot glass-blowing was first practised in Australia by Stephen Skillitzi "and a few others"1 in 1972–3. According to Skillitzi himself, there were roughly 38 glass artists who had already been working as a full time glass artist or who had completed a major glass commission before Ausglass was formed in 1978.2
Nick Mount was one of the first glass-blowers in Australia and has been a leading figure in the Australian glass since the early 1970s. With decades of experience making, learning, teaching and collaborating with other glass artists all over the world, he was head of the Glass Studio at the JamFactory from 1994–7. In 2012, Nick was named ADC's seventh Living Treasure in the Masters of Australian Craft series. His sculptural pieces, now held in art collections around the world are "intricately blown and assembled… [and] reference the glass artists of Murano, Italy."3
In the 1990s, groups of glass artists came together in collaborative glass studios to make their own work while sharing facilities. Denizen Glass Studio opened in 1991 in Sydney and Blue Pony Studio opened in 1997 in Adelaide – both provided opportunities not only to make and learn about making glass, but also to discuss ideas. In an article of Object magazine from 2006, several of the glass artists involved describe these studios as vital in the development of their practice. 4
The opening of the Canberra Glassworks, a workshop and gallery in the former Kingston Powerhouse in 2007, created a new space for the celebration of this artform. As well as creating a workshop for glass artists and learning opportunities for students of all levels, Canberra Glassworks holds exhibitions of contemporary glass and has a shop, and runs innovative programs that give non-glass artists the opportunity to work with glass for the first time.
Awards and Collections
In 2016, JamFactory established the FUSE Glass Prize, a non-acquisitive biennial prize for outstanding Australian and New Zealand glass artists. The prize was established in 2016 by founding donors for the prize, Jim and Helen Carreker who recognised the lack of an equivalent glass prize after the Ranomok Glass prize was discontinued in 2014. Ranomok had run since 1994 as an annual acquisitive award for glass artists residing in Australia and New Zealand.
Canberra Glassworks has the Klaus Moje Award and other prizes include the Tom Malone Prize presented by the Art Gallery of Western Australia, the National Emerging Art Glass Prize presented by Wagga Wagga Art Gallery and the Vicki Torr Memorial Prize.
Contemporary glass is also increasingly being acquired by national, state and regional galleries and museums, and shown in art biennales. The Museum of Applied Arts and Sciences has received two major bequests of glass art in its history – once in 1984 when it purchased the collection of Judith Cooke, and again in 2017, when they received a large bequest from Barry John Willoughby, including his extensive collection of Australian glass art.
Contemporary Glass on Show
In 2020, Sabbia Gallery in Sydney presented new work by Nick Mount in an exhibition titled This Spring (until 4 November 2020) as well as a new body of work in glass and paper by Indigenous artists at Ninuku Arts in far northwest South Australia (until 21 November 2020).
Wagga Wagga Art Gallery has their glass collection on show with the exhibition 'Forms and Echoes: from the National Art Glass Collection' until 7 February 2021.
Also in 2020, as part of the Icon series, JamFactory presents the exhibition Tom Moore: Abundant Wonder until 22 November 2020 and accompanying book co-published by Wakefield Press. The previous Icon exhibition Clare Belfrage is also still travelling to two venues.
ADC's history of supporting the work of glass artists continues. You can see the work of jeweller and glass artist Blanche Tilden in the ADC exhibition Made / Worn: Australian Contemporary Jewellery, which is on at Cairns Art Gallery until 31 January 2021 and then touring to five more venues around Australia. And the work of glass artist Gabriella Bisetto can be seen in the ADC exhibition Obsessed: Compelled to make, which is on at JamFactory, Adelaide until 6 December 2020 and then touring to three more venues.
Works by the following artists are currently available for purchase from ADC's Object Shop:
Lisa Cahill - Earrings and brooches
Edols Elliot - Vases, Bowls, Jugs with Stirrers
Katie-Ann Houghton - Carafes
Kristel Britcher - Carafes and Tumblers
JamFactory - Oil/Vinegar Bottles, Jugs
Harriet Schwarzrock - Vases
The FUSE Glass Prize is at Australian Design Centre, Sydney from 9 October – 18 November 2020.
[1] Grace Cochrane, The Crafts Movement in Australia, New South Wales University Press, 1992, p.110.
[2] Stephen Skillitzi, 'Australian Glass pioneers: the paper…: A wander down memory lane with Stephen Skillitzi'  accessed  29 October 2020 https://glasscentralcanberra.com/2009/03/22/australian-glass-pioneers-the-paper/
[3] Pozel, Steven, Nick Mount: The Fabric of Work, Object and Wakefield Press, 2012, p.1
[4] Meredith Hinchcliffe, 'Team Glass', Object magazine, Issue 51, 2006, accessed 29 October 2020 https://australiandesigncentre...
Image: Hot Glass, Gabriella Bisetto's Studio, 'Obsessed: Compelled to make' curated by Australian Design Centre. Photo: Angus Lee Forbes