Essay: The meeting of two rivers
The Walgett Jewellery Project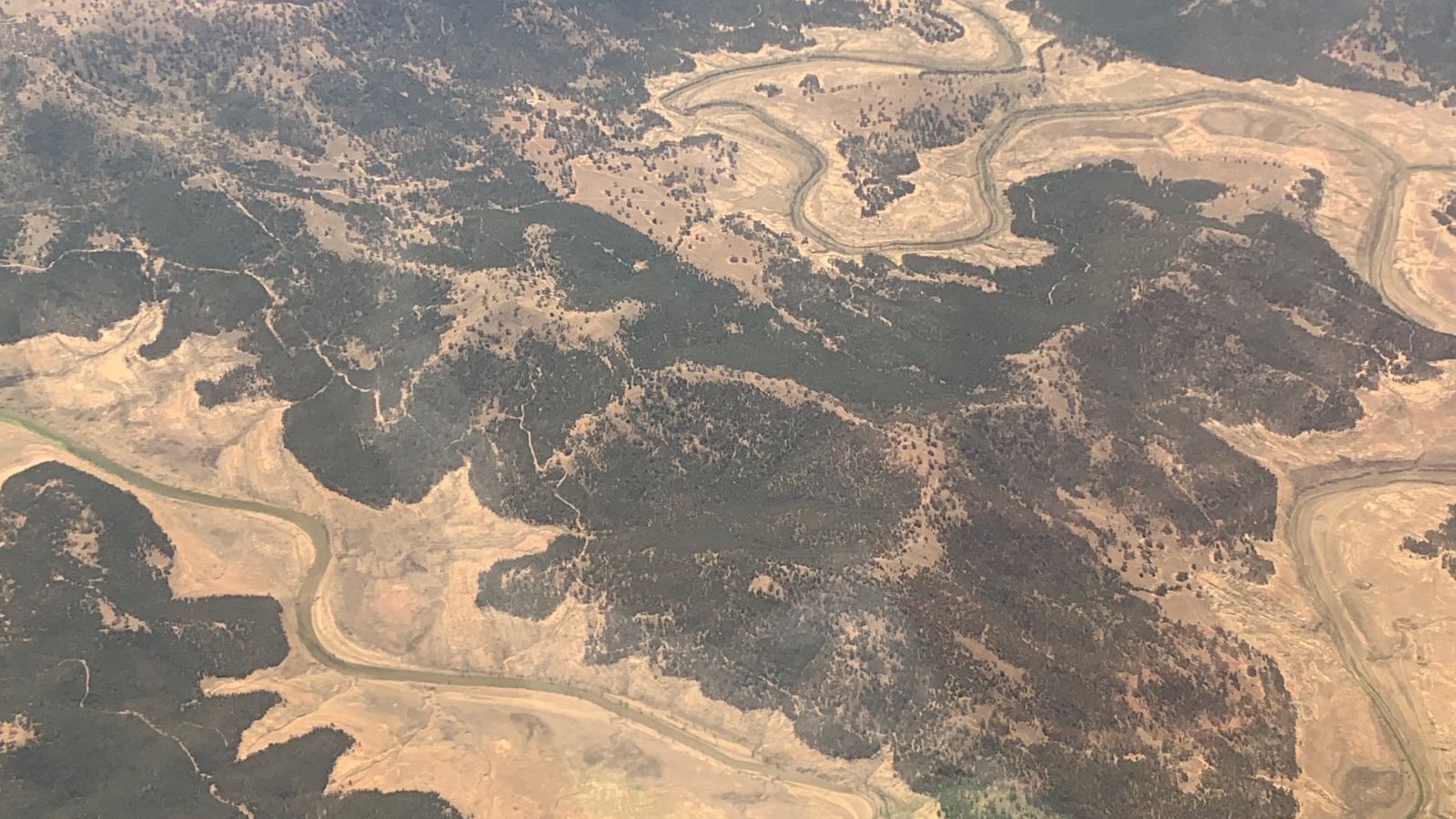 Australian Design Centre partnered with The Indigenous Jewellery Project's Emily McCulloch Childs and contemporary jeweller, Melinda Young, Yuwaalaraay sisters Lucy and Nardi Simpson on a week of workshops in the regional NSW town of Walgett. The seeds of this project were sewn in 2016 and 2017 in other related Australian Design Centre partnership projects.
This project was funded by Create NSW to introduce local artists and makers to jewellery making techniques with a focus on building skills, learning and making.
Walgett Wirringaa, Yinnar and Miyay local women and girls were invited to participate in four days of jewellery making and 21 people attended and worked with natural materials to learn techniques including; weaving and coiling, bush string making, air-dry clay bead making, working with ochre to paint clay, using seed or nut beads, beading with quandong, using casuarina or flowering gum to make earrings, necklaces and bracelets, working with emu feathers, wood, opal chips and scale. The group was intergenerational, including young women to elders with a group of local school children participating in a weaving and necklace making workshop.
These workshops created a meeting place for many women to reconnect and catch up. The community is suffering with the drought and other hardships. This workshop offered a positive opportunity for local women to learn new skills and support the community at large. Interest in future workshops and a continuation of the project was expressed by many of the artists involved. Watch this space!
This essay by Emily McCulloch Childs captures that joy and cultural connection that the project created.
---
The meeting of two rivers: Walgett Jewellery Project
Emily McCulloch Childs
In October this year, Australian Design Centre collaborated with artist, designer Lucy Simpson and her sister, writer, researcher, musician and sound artist Nardi Simpson, and The Indigenous Jewellery Project (IJP), consisting of contemporary jeweller and UNSW lecturer Melinda Young, and myself, its founding curator, to create a workshop for women and girls in Walgett, north-western NSW. Through the generous support of the Dharriwaa Elder's Group, an association created by the Walgett Elder's Group, who lent their wonderful support to this project, a location space was provided, and local materials were gathered and given for the women and girls to work with.
Prior to the workshop, the Simpson sisters had met with Mel Young at Australian Design Centre and looked at the materiality of the local craft traditions. Lucy Simpson's work as an artist, a 'Yuwaalaraay woman belonging to the freshwater, red sand, black soil and flat plain country of the Walgett Angledool and Lightning Ridge region of north-western NSW'1, investigating and maintaining her Yuwaalaraay culture through a sustainable, natural material practice, provided a great insight for preparing the workshop.
Together with Lucy and Nardi's knowledge of the local materials, Mel was able to complement this with her own knowledge of skills and materials such as weaving and jewellery making using both natural and found objects.
This was the first project IJP has undertaken in NSW, although we have worked with NSW artists who are Canberra residents. We were very excited about the potential to work with a different cultural group of women and girls (language groups of the region and workshop participants included Gamalaraay, Yuwaalaraay, Ngunnawal and Wiradjuri), and to be able to hopefully provide a positive, connective workshop to a community which has experienced a great deal of hardship through drought and a history of impactful agriculture. Many of the region's Aboriginal people have been forced to leave the town, to live off country, due to the lack of water (the two once mighty rivers, the Barwon and the Namoi, which once ran wide and strong, are now dry) and resulting unemployment. Several of these women were back home in Walgett during our workshop, and the space that was created was one of reconnection and we hope, some healing, as well as artistic expression and development, and cultural maintenance.
Origins
During the Bulayi: Buku-Larrnggay Mulka & The Indigenous Jewellery Project exhibition at Australian Design Centre in 20172 , Lucy (First Nations Creative Producer at Australian Design Centre) assisted me in organising the dozens of very fine seed bead, fish and shark vertebrae bead, and shell bead girring'girring (necklaces) for installation in the exhibition.
She was moved by them, and particularly by Marrnyula Mununggurr's immensely popular and significant Djapu Clan bark painting girring'girring, a series of fifty finely executed ochre painted bark necklaces, the first of their kind. It was then that the idea for this project originated, when she suggested to me that she would love to see such a project in her hometown. Walgett has no official space for artists to work, no Aboriginal owned art centre, no community hall offering workshops, or even a local community art resource. Yet there are skilled and knowledgeable artisans in this town, there are traditional artforms that are still practiced, there is cultural knowledge to be imparted onto the young generations. ADC CEO and Artistic Director Lisa Cahill then lent her support to the idea and applied to Create NSW for funding for this project.
Up the Kamilaroi Highway
Mel Young and I meet, as we often do, in an airport. This time it's Sydney Airport; we are to fly into Dubbo, the capital of the Western Plains, and home to an exceptional regional gallery. From Dubbo it's a three-hour drive north, up the Kamilaroi Highway (so named after one of the major Aboriginal language groups of the region, now spelt Gamalaraay), through increasingly outback country, to Walgett. As we drive, we are struck by the changing landscape. The heat haze becomes stronger the further north we go, making the vast plains with dead eucalypts dotting the horizon look like an Australian Gothic interpretation of a frozen landscape. Yet it isn't frozen: it's the opposite.
Once we arrive in Walgett, we head straight to the Walgett RSL Hall, famous for the Freedom Rides of the 1960s3, where we will be running the workshop, and where Lucy and Nardi have already arrived with tools and materials and are setting up in preparation. The RSL Hall is a fantastic space for the workshop: it is spacious, with lots of tables and a nice big wooden floor for us to work on. Local artist Rhonda Ashby has supplied us with some wonderful natural materials: white and yellow ochre, a huge basket of native seed beads, including the biggest flowering gum seeds I have ever seen, emu feathers, and local wood craftsman Tom Barker kindly donated offcuts from his boomerangs and clapsticks, in local hardwood.
Mel has brought Italian air-dry clay for artists to make beads, and a variety of jewellery tools and materials. Unlike previous IJP workshops, we won't be working in lost wax for metals. Instead the focus will be on weaving, bush string, using these native seed beads and the clay beads, and upskilling to make hand-made earring findings, necklace and bracelet clasps, and other skilled jewellery techniques. The techniques reflect the land we are on.
The Workshop
Our first day sees us beginning with a weaving circle. Many women arrive, and some of the local men also, who are supportive of the project and keen to see what we do in the workshop. We have tables set up with materials, jewellery examples of previous IJP projects, and Mel's teaching examples of jewellery, as well as the books on contemporary jewellery and working with natural materials we always bring with us. We begin on the wooden floor: Mel instructs coil weaving technique, which some of the artists are familiar with. Those who haven't learnt it before pick it up quickly. The artists work towards the idea of making a woven pendant for a necklace, and also learn to make their own bush string. This is useful as it can be applied for environmentally sustainable weaving: using plastic bags, for example. We also work with creating seed beads from the Eucalyptus seeds so jewellers can start making necklaces, earrings and bracelets. This first day sees around 16 participants, a great turn out.
As with all IJP projects, I know the talent will be impressive, but I don't arrive with any expectations. The beauty of this particular workshop is its lack of pressure, there is no essential exhibition outcome: the project is the workshop itself. If people are interested, there will be scope to continue working here. But as with all IJP projects, I am overwhelmed by the inherent skills and talent of the artists. Several women enthusiastically weave beautiful pieces in a very short space of time. One young woman weaves a piece in a lovely palette, incorporating beads, and continues that night after work, until the next day it begins to resemble a small sculpture; a tortoise she says, a local freshwater totem.
During the four days of the workshop Mel, Lucy, Nardi and the artists cover an impressive amount of skills, techniques and mediums. Artists learn or develop their skills in: weaving using coiling techniques to create pendants (materials – raffia, cotton thread, wool, emu feathers), making Bush String using raffia (some of which is dyed using native stringybark), necklace making using coiled pendants and bush string, making air-dry clay beads, working with ochre to paint clay and seed/nut beads, working with beads made from natural seeds & nuts including quandong, casuarina, flowering gum to make earrings, necklaces and bracelets, learning to make hand-made earring findings, necklace and bracelet clasps, working with emu feathers to make earrings and pendants, working with wood to create pendants, and working with local opal chips from Lightning Ridge, part of local cultural lore related to a Dreamtime crocodile creation figure, to create experimental stone setting in wood.
During the week, the Simpson sisters take Mel and I on an evening excursion to their Yuwaalaraay Country of Lightning Ridge. It is here that I begin to more fully comprehend the origins of Lucy Simpson's sophisticated art and design aesthetic, with its earthy palette and motif of white ochre. I have never seen such white land before; it is as though the land is made of white ochre. Many of the artists I work with from around Aboriginal Australia prize white ochre: it is used in ceremony, it is sacred, it symbolises the shifting of our mortal coils from this world into the next. It 'pops' as a costume for theatre at night: painted on brown skin, it highlights design and makes the dancers become embodiments of the Dreamtime creation beings: powerful, sacred, magical creators.
The sisters take us on a tour of the town, we visit opal mine sites and a lookout to watch the sunset. Everywhere on the ground are incredible sorts of stones. I try not to pick them all up, but some end up in my pocket, as they are want to do. I can see so much potential for the artists here in working with their rich land's materials.
I am also beginning to understand the Simpson's and their people's philosophy, in a deeper way, by being here and watching the artists work. "Most often created from the earth and returning to the earth, Aboriginal design is a vehicle for communication or knowledge transfer, and story, in the form of oral traditions and life teachings."Lucy has said4. She tells me of the source of some river mussel shells she has brought to the workshop, that the drought has brought them up from the riverbed, and they may be many thousands of years old. The mussels are special to these people, during the workshop artists tell me of their significance as a source of food, but also with a deeper, more profound spiritual and cultural meaning. There are several conversations like this during the workshop, with women reminiscing about their childhoods swimming in the rivers, about the families eating good tucker like these mussels.
By workshops end, we have worked with around 21 adults and 13 school children, who have made some very special work, ranging from weavings, necklaces, earrings and bracelets. There is much enthusiasm and talk of continuing the project, with many women expressing interest in future workshops and perhaps a long-term goal of creating a dedicated jewellery studio in the town. We are hopeful that we can return to this town and continue to work with these talented women and others from neighbouring towns. Much beauty and knowledge come from this land and its people. We hope we can continue to help it rise up, from the earth, and survive despite harsh odds, just as the people of Walgett have.
[1] https://thedesignwriter.com.au/design-indigenous-australia/
[2] https://australiandesigncentre.com/past-exhibitions-and-events/bulayi/
[3] https://www.theguardian.com/au...
[4] https://thedesignwriter.com.au/design-indigenous-australia/
Explore the exhibition Bulayi: Buku-Larrnggay Mulka & The Indigenous Jewellery Project
Explore Indigenous Design here 
Read the news story here
Images: Aerial view flying to Dubbo. Photo: Melinda Young.
IJP Walgett workshop groups and town views 2019. Photo: courtesty of Emily McCulloch Childs.