Australian Design Centre partnered with Indigenous Jewellery Project's Emily McCulloch Childs and contemporary jeweller, Melinda Young and Yuwaalaraay sisters Lucy and Nardi Simpson on a week of workshops in the regional NSW town of Walgett. 
This project was funded by Create NSW to introduce local artists and makers to jewellery making techniques with a focus on building skills, learning and making.
 Walgett Wirringaa, Yinnar and Miyay local women and girls were invited to participate in four days of jewellery making and 21 people attended and worked with natural materials to learn techniques including; weaving and coiling, bush string making, air-dry clay bead making, working with ochre to paint clay, using seed or nut beads, beading with quandong, using casuarina or flowering gum to make earrings, necklaces and bracelets, working with emu feathers, wood, opal chips and scale. The group was intergenerational, including young women to elders with a group of local school children participating in a weaving and necklace making workshop.
These workshops created a meeting place for many women to reconnect and catch up. The community is suffering with the drought and other hardships. This workshop offered a positive opportunity for local women to learn new skills and support the community at large. Interest in future workshops and a continuation of the project was expressed by many of the artists involved.
More about the Indigenous Jewellery Project

Founded in 2013, the Indigenous Jewellery Project (IJP) is the first nation-wide Indigenous Australian contemporary jewellery project. IJP works with Aboriginal and Torres Strait Islander-owned art centres across Australia, running workshops on country with traditional Indigenous jewellers, founding curator Emily McCulloch Childs and leading contemporary jewellers.
Part art project, part social enterprise, the aim of the Indigenous Jewellery Project is to strengthen and continue existing traditions and facilitate artists to develop a career as exhibiting contemporary artist jewellers through upskilling, involving developing practice and the use of professional jewellery materials. It is focused on developing and maintaining Aboriginal jewellery and small object tradition and practice, reinforcing the connection to traditional lands and the natural world and developing a sophisticated contemporary art craft practice, in which works are created that both sit on the body and outside it.
Image top: Walgett Indigenous Jewellery Project Group, Photo: Emily McCulloch Childs
Image bottom:  Natural beads, Photo: Melinda Young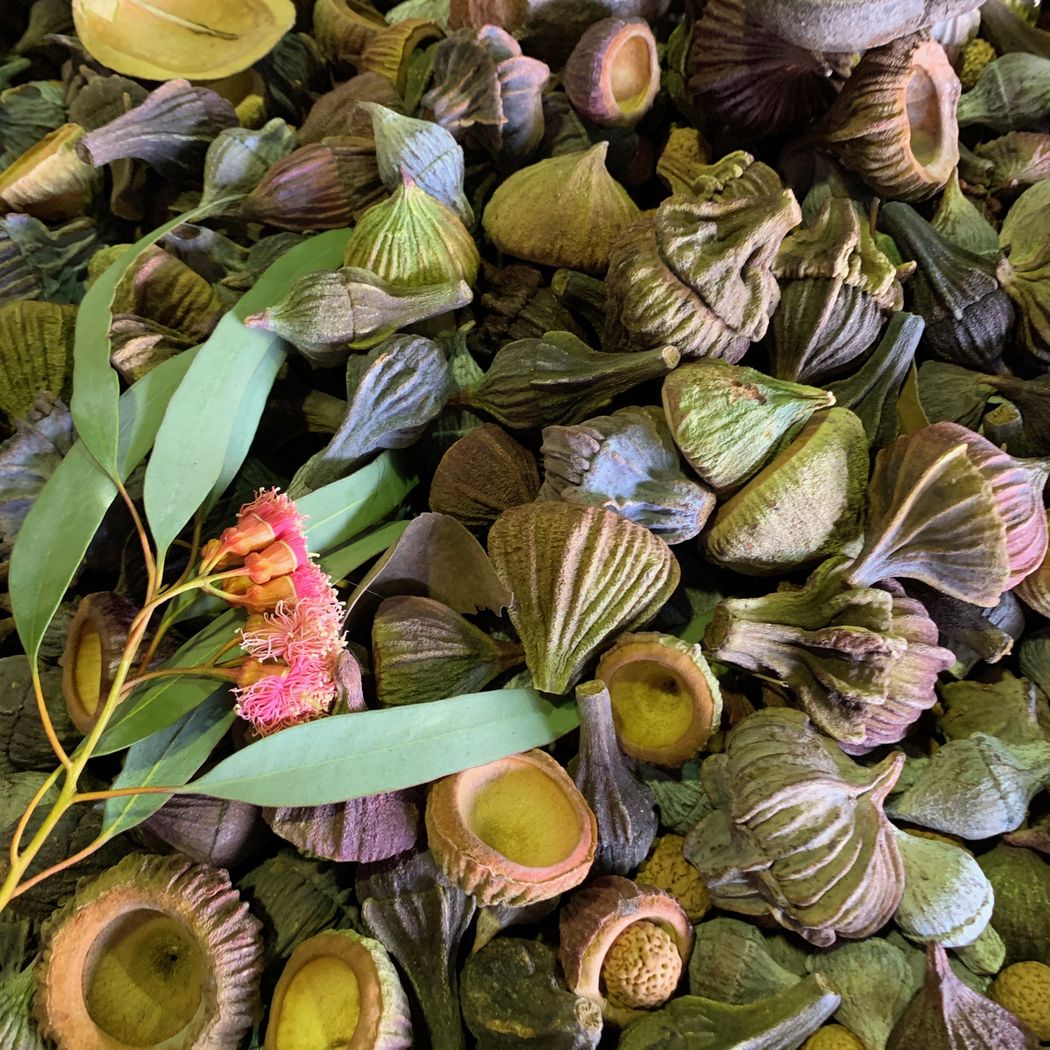 End of article.