With our Elders: The coolamon as a form for storytelling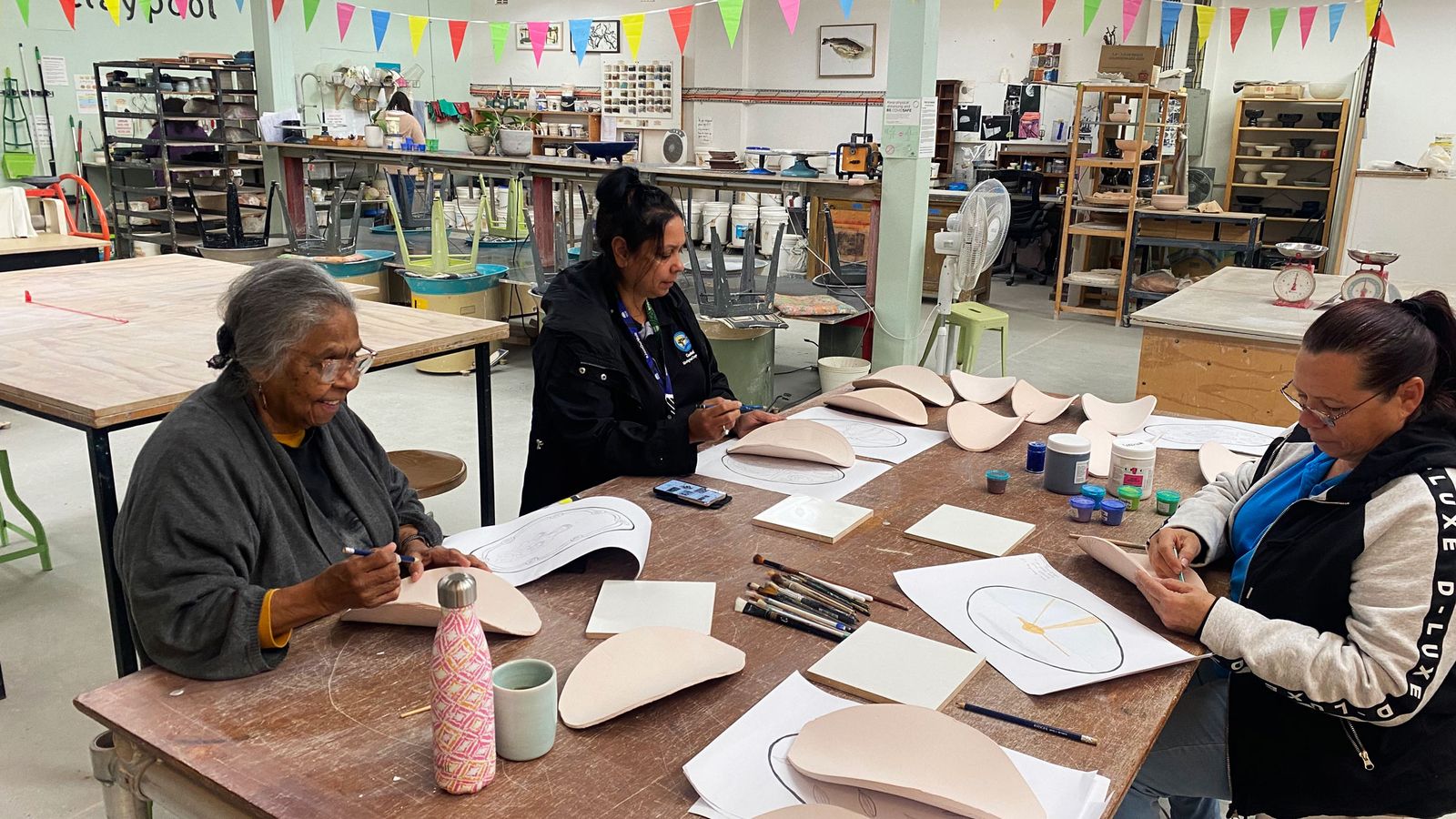 To reinforce the 2023 NAIDOC theme 'For our Elders' and continue to pay our respects to Elders past and present, ADC developed the project With our Elders.
The project was inspired by two significant projects: the first was the coolamons created by Bundjalung-Mununjali woman and Elder, Euphemia Bostock, Boomalli Founding Members Coolamons (2012), originally exhibited in Ripple Effect (2013). The second was the Campbelltown Arts Centre project Budjari Mudjingaal (Dharawal for 'good friends') in which members of the Tharawal Elders' Ceramic Group made ceramic vessels to hold floral arrangements for Sorry Business, some of which were displayed in ADC's Object Space mid 2023.
After a meeting at Boomalli Aboriginal Artist Co-operative, First Nations Creative Producer Dakota Dixon, conceived the idea to exhibit Euphemia's coolamons alongside new coolamons made by Elders in her community – La Perouse Guriwal Elders Group. A third partner, Claypool, came on board to facilitate the ceramic workshops.
The Boomalli Founding Members Coolamons tell not only a significant story about the history of Boomalli and the ten founding artists, but also about the wider recognition of Aboriginal contemporary art practice and the deep cultural connection, skill and talent of the artist, Euphemia Bostock.
Taking one of its cues from this significant work, the project became about the possibilities of storytelling and capturing key cultural events through the form of the coolamon. Traditionally carved from tree trunks and used to carry water, food and fire for smoking ceremonies, for this project the coolamons are made of the earth – of clay.
The practical component of the project kicked off in earnest with a design workshop at ADC. The women Elders gathered to talk about family and growing up on Country. Many stories were told, amazing coolamon designs created, and of course, scones and tea consumed.
"Guriwal Elders visited us at ADC to yarn about the stories they told their kids and grandkids around growing up in La Perouse, and then to draw some of them up as designs for ceramic coolamons," explained Dakota.
"It was so beautiful to see the women draw stories about their family connections and their animal totems – all different and all an important part of their life and community," she continued.
Dakota worked with Brett Stone at Claypool to make the ceramic coolamon forms for the Elders to decorate. The following workshop sessions were held at Claypool studios, with the team there assisting with the technical side of the process.
During the project the Elders commented that they were excited about learning the process and seeing their designs translated onto the ceramic coolamons with underglazes. When they saw them finished at the exhibition opening at ADC, they were thrilled.
By gathering the two groups of ceramic coolamons together, the resulting exhibition beautifully captures stories proudly and generously shared by Elders, ensuring they are passed down to generations of family and community through continuous cultural practices and material objects.
It was also a project where all partners generously brought their unique skills to the table to ensure the project happened in a respectful and worthwhile way for everyone involved, particularly the artists.
With our Elders artists: Euphemia Bostock, Rene Campbell, Ali Golding, Honie Golding and Dorothy Taaffe, with Dakota Dixon as artist and First Nations creative producer.
With our Elders
3 August – 16 September 2023
Australian Design Centre
101-115 William Street, Darlinghurst NSW
Gadigal Land
Free Entry
Australian Design Centre joins First Nations communities in paying our respects to Elders past and present.