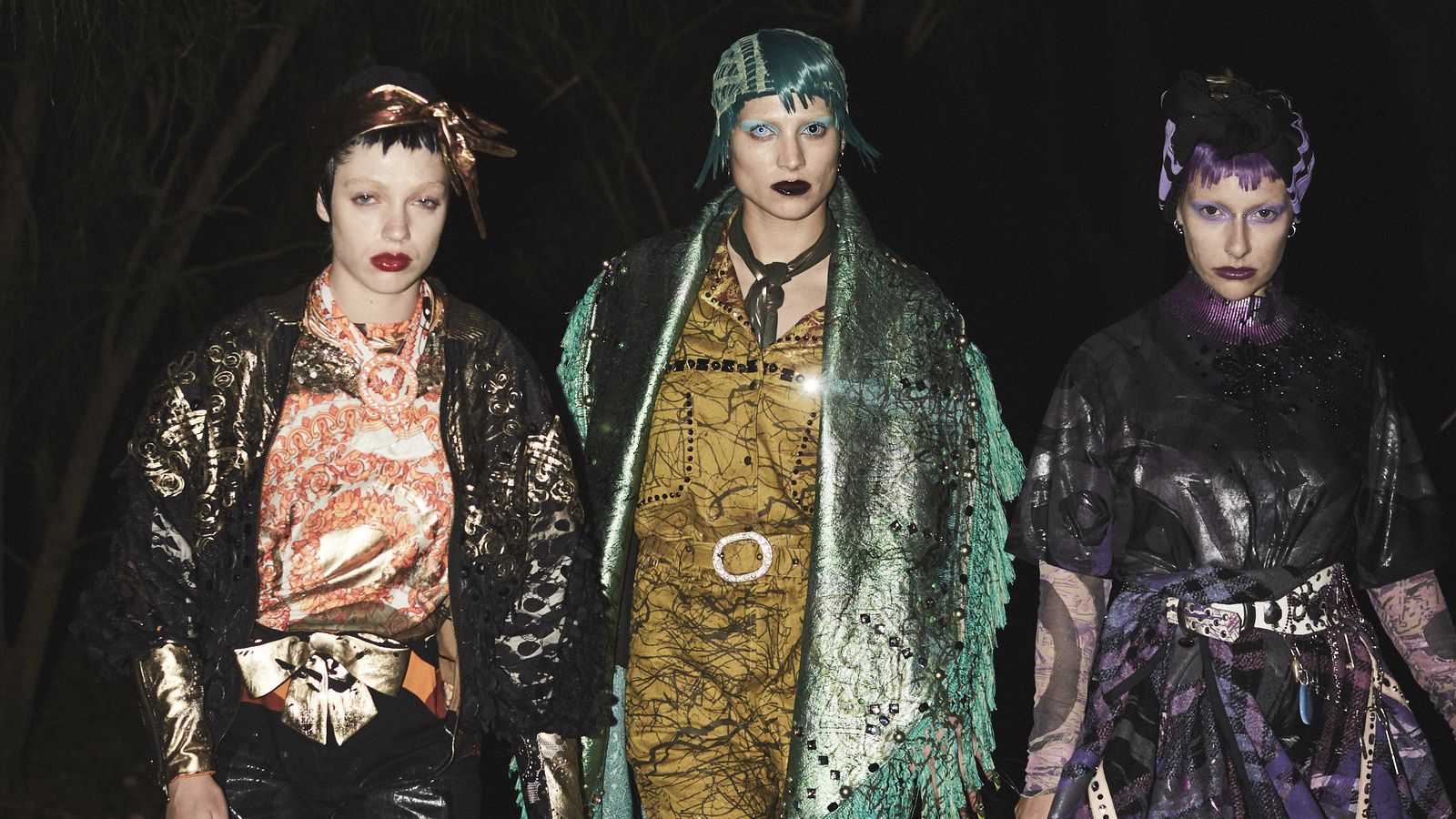 Australian Design Centre plays a critical role in celebrating the work of Australian artists who embrace the highest degree of skill and who continually explore material, process and ideas to advance contemporary craft and design practice.
Object Space is a window gallery located in the window of the ADC Offices on William Street in Darlinghurst. The exhibition space has direct street frontage, is accessible to view 24 hours a day and is lit for viewing at night
4 February - 20 March 2021
In partnership with UTS Fashion & Textiles, we present a selection of work by the 2020 graduates.
Three designers will be featured in our William Street window gallery for two weeks each between 4 February - 20 March. The designers are: Joshua Saacks, Kerry Brack and Sally Jackson. Each of the three designers are focussed on sustainable design practices, featuring diverted waste, natural dyes and reclaimed materials in their collections.
We are experiencing a fundamental shift in attitudes to the way that design engages with the world around us, and after a devastating summer of bush fires, the students were asked not what they wanted to do, but why? This way, the year was framed around enacting change, addressing environmental and societal issues, and making an impact on the world around them - UTS Fashion & Textiles
Fashion and the Future of the Planet
What do sustainability, social justice and wellbeing have to do with fashion? Come along and find out! Join fashion design icon Frida Las Vegas and exhibiting designers Kerry Brack, Sally Jackson and Joshua Saacks, and fashion and textile designer and academic, Donna Sgro in a discussion about these issues.
When: Thursday 11 March, 6:30pm - 8:00pm
Where: ADC
Ticketed event: SOLD OUT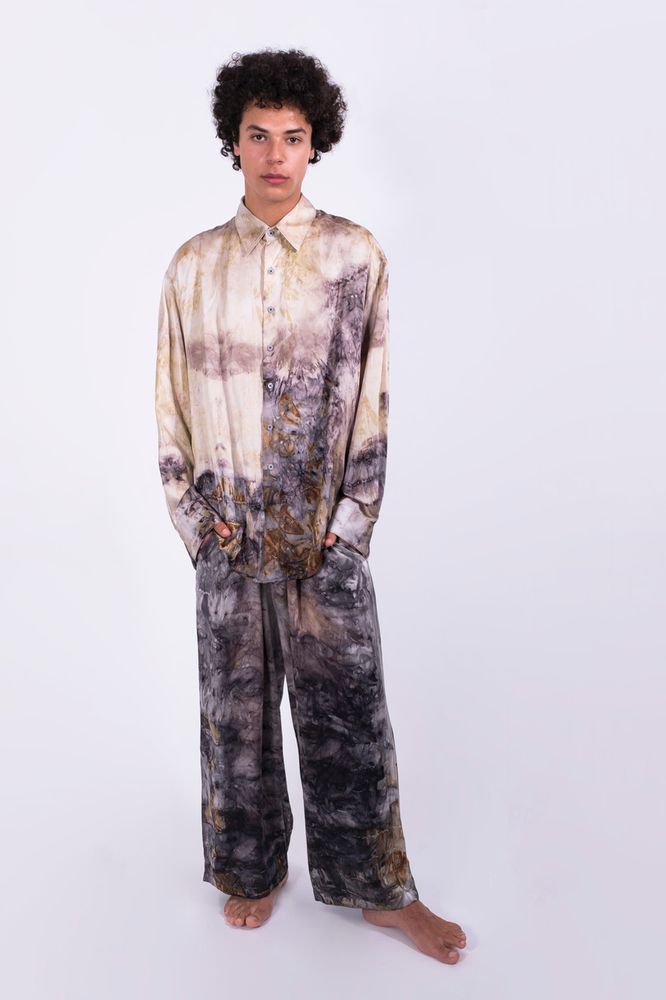 4 – 16 February
Joshua Saacks
Salvage, Look 5
Joshua Saacks is a menswear designer specialising in waste-derived natural dye.
Eucalyptus has over seven hundred species of trees, shrubs or mallees. Fast growing they produce large quantities of leaves that are high in oils and tannins. This makes them a highly abundant dye source.
The Salvage collection is wearable and relaxed, constituting menswear staples and soft silhouettes. The work exhibited Look 5 is silk satin, dyed with eucalyptus leaves. The mordanting method, with scrap rusted steel and iron, and high tannins in the eucalyptus leaves, bonds the colour to the fabric and will not fade.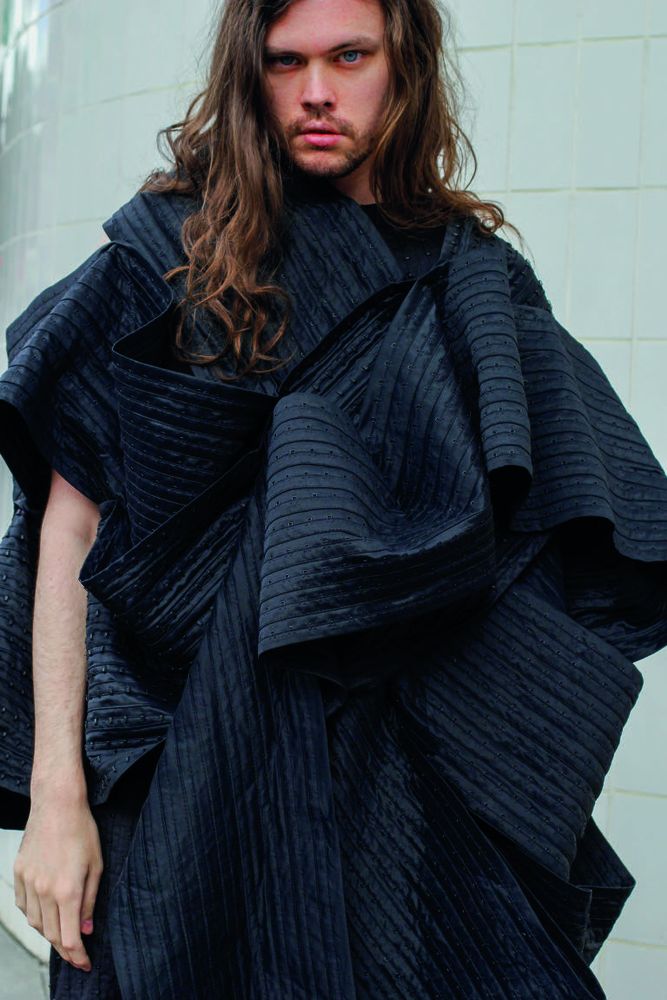 18 February – 3 March
Kerry Brack
Objet Trouvé , Look 1
Kerry Brack is a practicing designer and artist. Kerry uses an experimental and intuitive approach incorporating fashion, art, installation and performance to comment on social issues. She champions sustainability and questions a rethinking of waste as a precious commodity.
Objet Trouvé is sculptural work using found objects and referencing the work of the surrealist female painter and poet Kay Sage. The objects are neither male nor female and reflect the Surrealists' fascination with robots and mechanised humanity.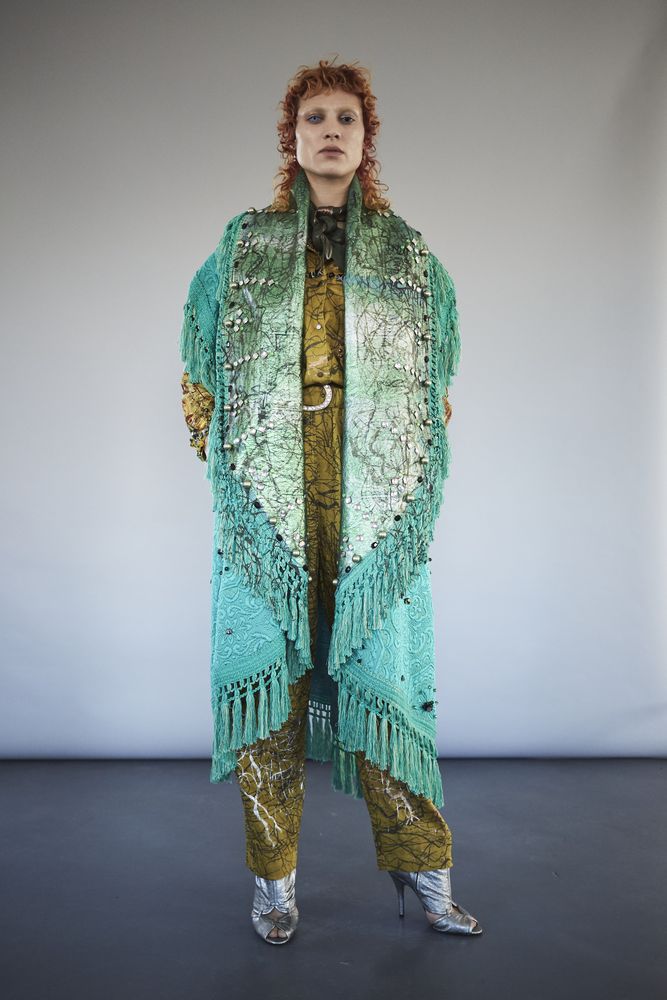 4 March – 20 March
Sally Jackson
The Bowerbirds, Green Look
Sally Jackson is a Sydney based couture designer. Starting her career at Collette Dinnigan as a sample cutter, Sally moved into costume design and production roles in Europe and the US. She has been a practitioner, researcher and teacher exploring sustainable fashion for more than a decade.
Bowerbirds transform their nests into beautiful ritualistic spaces collecting the shiny and bright rubbish that humans throw away - a metaphor for Sally's process in this collection. The Bowerbirds collection explores the process of deconstructing preloved garments and reclaimed materials and combining with new textile treatments to create unique wearable forms. It imagines a world where all the forgotten, vintage and waste textiles are re-used and re-imagined into a new design language.
Presenting Partner:
UTS horizontal lock up