Series 1 Episode 5: Liz Williamson
Masters of Craft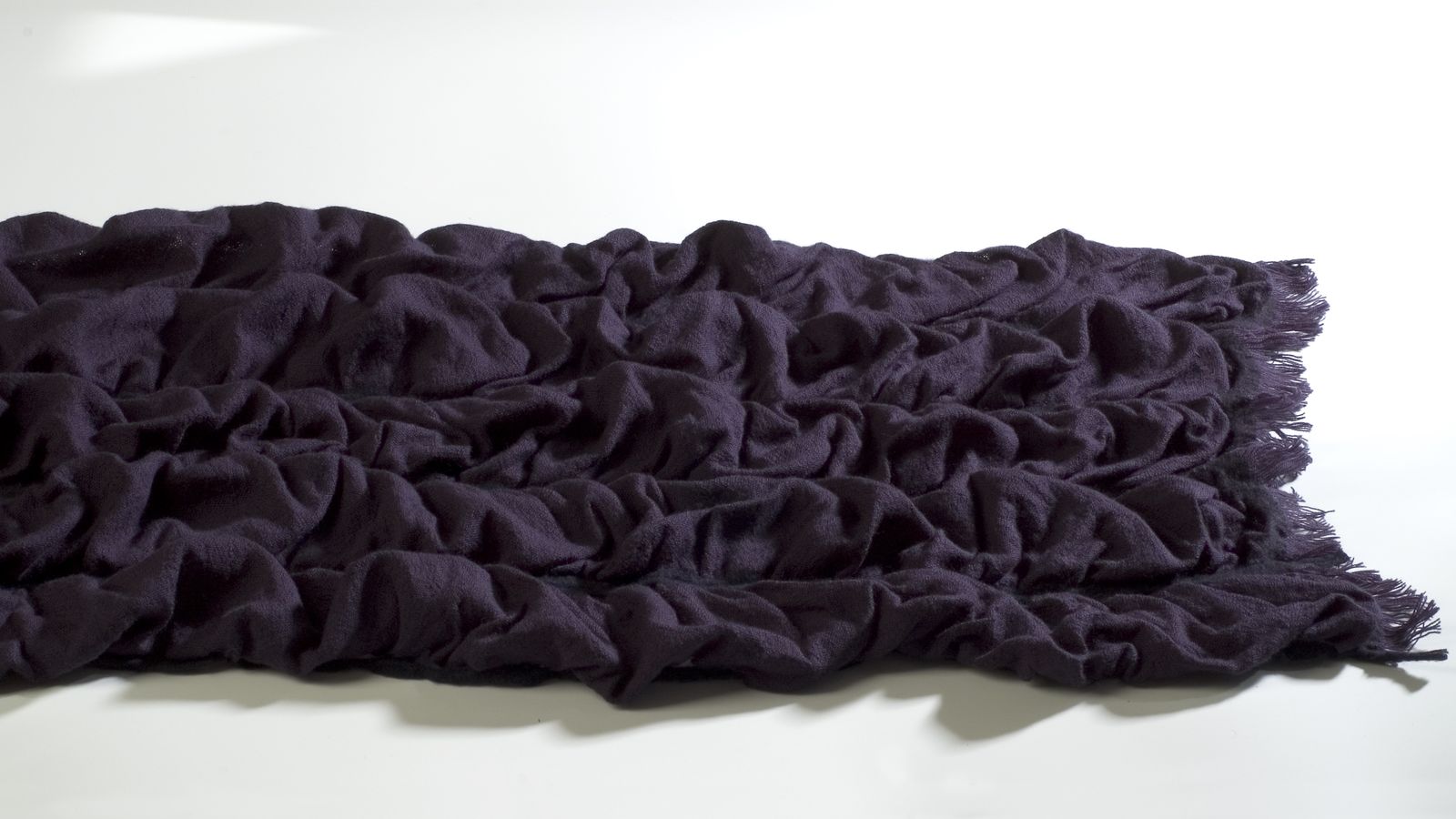 Series 1: Australia's Masters of Craft | Episode 5: Liz Williamson
Show Notes:
Liz Williamson is known as a 'matriarch of Australian weaving'. Hear what Liz's favourite 'magical' material is, how darning and repair informs her work, and how she works with weavers around the world.
Liz Williamson is an internationally respected textile artist who specialises in hand-woven textiles.
Sometimes wearable and sometimes for display, the texture of Liz's work is distinctive. It's woven flat, and the materials she uses create crushed, crinkled surfaces and three dimensional shapes like loops and sacks.
Australia Design Centre made Liz Williamson a Living Treasure in 2007, and her Living Treasures exhibition toured nationally until 2011.
Liz lives and works on Gadigal and Wongal country in inner west Sydney.
Transcripts
Word document: Liz Williamson Object podcast transcript
PDF: Liz Williamson Object podcast transcript
Guests
Ilka White is an artist whose practice spans textiles, teaching, cross-disciplinary collaboration and art-in-community. ilkawhite.com.au
Anna Waldman is a former curator at the Art Gallery of New South Wales and was the director of the Australia Council's Visual Arts and Craft board.
Jon Goulder is an award winning, fourth generation furniture maker and is an Australian Design Honouree. jongoulder.com
Show highlights and takeaways
How long does it take to weave something? [3:50 mins]
People often ask Liz Williamson how long it takes to weave something. She weaves panels that are about 16cm x 1.2m long in three to four hours.
Why fine worsted wool is 'magical' [4:40 mins]
Fine worsted wool is material that Liz worked with a lot in the 1980s and 1990s, to weave wraps and scarves. She calls it 'magical' because she says it can respond to different treatments. You can wash it, you can felt it, or you can combine it with materials that felt. The worsted wool doesn't felt that much by itself but combined with other wool that does felt, you can create interesting textured surfaces.
Australia's Indigenous fibre tradition is one of the most amazing in the world [6:25 mins]
Liz feels very privileged to live in a country that has such a wonderful, rich fibre tradition, saying, "The Indigenous fibre art tradition is one of the most amazing in the world. It's been wonderful to see that tradition come to fore with artists representing Australia, internationally with Yvonne Koolmatrie."  Australian Indigenous weaving traditions have broadened our thinking around weaving, she says, to include many shapes and forms.
Woven loops and sacks [7:35 mins]
Liz's work includes three-dimensional structures like woven loops and sacks. "The woven loops came from a project sitting at the loom, trying to work out how I could explore this idea of protection. I was creating a three-dimensional structure," she explains. Some of the loops are made just with plain weave, with their shape and texture coming from how she's combined different materials.
Experimentation with the material leading [7:50 mins]
Liz often experiments in her work, and she gives an example of 'playing around with leather lacing." She said it was "the material that gave her the structure", and allowed her to create, in this case, tubular structures. Liz believes experimentation is vital to develop different approaches to your work.
'Great Craft Revolution' in Victoria [12:00 mins]
When Liz Williamson returned to Australia from overseas in 1976, the craft movement had started in Victoria. The Victorian Tapestry Workshop  and Craft Victoria had been set up. Arts writer and contemporary craft historian Grace Cochrane describes the emergence of many new craft organisations in Victoria in the 1970s, as part of the Australian crafts movement of the time.
Learning rag rug weaving from Bavarian master weaver Gerlinde Binning [12.25]
Gerlinde Binning was Liz' teacher at the Melbourne College of Textiles. Gerlinde was the master weaver at the College, and her practice was rag rug weaving because her family's business had been rag rug weaving in Bavaria in Germany.
In Bavaria, Gerlinde's family had a weaving mill that wove rag rugs for people mainly in farming communities. Families collected their old clothes, cut them into strips and the strips were woven into a set of three 60cm rugs, which were given as a trousseau. The strips of old clothes were the weft of these rugs. Gerlinde Binning lives in Melbourne and teaches weaving workshops through the Handweavers and Spinners Guild of Victoria.
Darning plays a really interesting place in Australian history [15:24 mins]
Research into the history of darning was part of Liz Williamson's Masters degree. Liz found that the skill of darning was an acquired expertise for a lot of women in the 1700s and 1800s, because it allowed them to get a job. The way that they learned was by doing darning samplers. Liz says that a lot of the women in the First Fleet and who arrived in Australia as convicts got opportunities in the colonies because they knew how to darn and could repair household textiles and clothing.
UNESCO's Vital Traditions conference [18:25 mins]
The 2001 UNESCO Vital Traditions conference in Vietnam was a turning point for Liz. The conference brought together artisans from 14 different Asian countries, to assist those artisans to develop new, more marketable design that referenced their traditions. Liz worked as a weaving teacher at this conference and she said it made her realise how she could contribute to weaving more widely.
Cultural Textiles [19:45 mins]
Her experience of visiting India in the early 2000s and engaging with artisans there led Liz to develop an elective course at the University of NSW called Cultural Textiles, which took students to Gujarat and West Bengal in India. The purpose of the course was for students to engage in handmade textiles, study and research the rich traditions of the area.