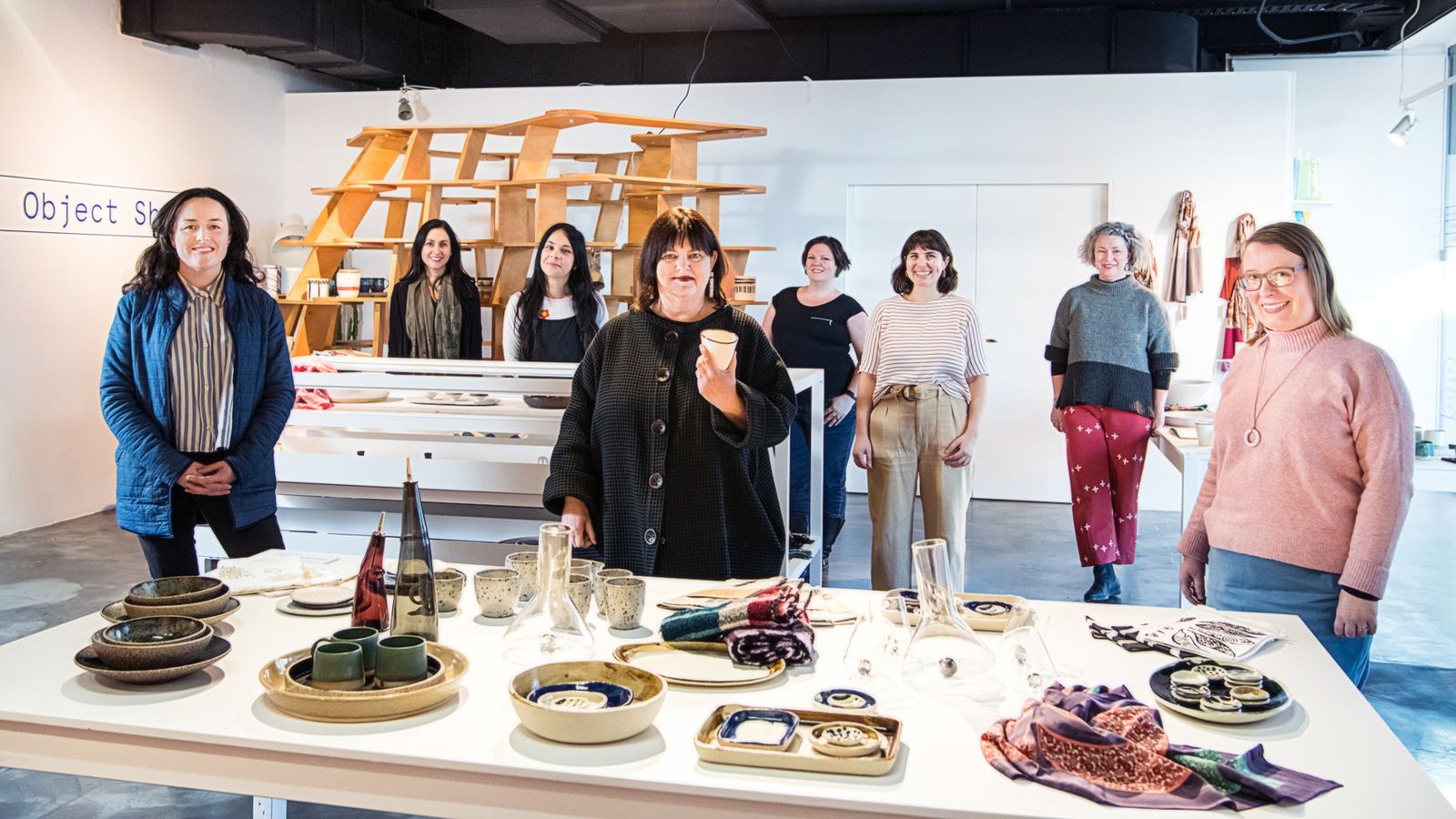 ADC Board Selection Process
Board vacancies are filled from time to time to ensure that there is a good mix of skills and experience amongst the directors to oversee the governance of the organisation and support the CEO and the team. 
Directors are required to attend a minimum of six meetings a year as well as participate in board committees and attend ADC events.  Directors are also required to actively contribute to the ADC fundraising program and be regular donors.  
If you are interested in becoming a volunteer director on the ADC Board please contact ADC's CEO and Artistic Director Lisa Cahill at lisa@australiandesigncentre.com or 02 9361 4555 to discuss your interest and the application process.
ADC Board 
The ADC Board has eight volunteer directors led by the Chair Elizabeth Espinosa. Board members are appointed for a two-year term, with a possible two further terms of two years each. 
Greg Dean Greg is Director of Finance and Accounting at Event Hospitality and Entertainment Limited. Greg is a chartered accountant, a chartered company secretary and is interested in the arts, contemporary design, tourism, innovation and cultural philanthropy and supports a number of organisations in Sydney. Greg joined the ADC Board in January 2020.  
Elizabeth Espinosa Elizabeth is Commissioner of the Land and Environment Court at Department of Justice NSW. Her extensive legal experience includes previous roles as President of the Law Society of NSW and General Council, Manager Governance, Legal Services and Procurement at the Liverpool City Council and before that she was President of St George and Sutherland Shire Law Society. Elizabeth is committed to mentoring young lawyers working in the legal profession. Elizabeth joined the ADC Board in January 2020 and was appointed as Chair in March 2020.
Jenny Green Following her four-year term as an Independent Councillor on the City of Sydney (2012-2016) chairing the Cultural and Community committee and representing Council on the Public Art and the Design advisory panels, Jenny continues her support of the arts via her non executive director roles.  She is a Council member on the Art Gallery of NSW Society and a board member with the Sydney Community Foundation and Trade Winds a not for profit, fair trade organisation. Jenny was the Academic Director of the National Judicial College of Australia for five years and now operates her own consultancy.  Jenny joined the ADC Board in 2017.  
Frank Howarth Director of the Australian Museum from 2004 to 2014, Frank Howarth was President of Museums Galleries Australia from 2013 to 2017. He was founder and co-chair of the national peak body alliance of galleries, libraries, archives, and museums, GLAM Peak, established in 2015. Since leaving the Australian Museum, Frank has pursued interests in philanthropy, cultural leadership, tourism and innovation. Frank Howarth joined the ADC Board in 2018.  
Louise Ingram
Louise Ingram is a chartered accountant with over 25 years' financial management experience, specialising in not-for-profit cultural organisations.  Louise is currently Financial Controller at Sydney Opera House where she leads a team focused on process improvement and providing excellent business support services. Previous experience includes 14 years with Australian Design Centre, several commercial businesses and PwC (Audit). Louise joined the ADC Board in January 2020.
Bridget Kennedy
Bridget Kennedy is highly regarded contemporary jeweller and director of Bridget Kennedy Project Space in North Sydney. Since 2017 she has been a board member of the World Crafts Council of Australia. Bridget is also the initiator and co-founder of The Sydney Edible Garden Trail and a founding member of the Repair Café Sydney North. She was previously Co-director, Studio 20/17 in Dank Street Waterloo curating exhibitions, events and workshops between 2008 -2017. Bridget joined the ADC Board in 2019.
Andrew Simpson
Andrew Simpson is the founder and director of Sydney-based design house Vert and has designed a huge range of products over its ten years of operation, from the intimately hand-crafted through to mass-produced industrial products. Andrew's approach to design is open and honest, with the act of designing, prototyping and making core to his practice. Andrew graduated in Industrial Design from the University of Technology in Sydney in 2005 and his work has appeared in over 20 exhibitions in Australia, Europe, North America and Asia. Andrew teaches design at UNSW Art and Design and speaks regularly about design at events across the world. Andrew Simpson joined the ADC Board in 2016.
Staff
The Australian Design Centre has a core team led by CEO and Artistic Director Lisa Cahill. During the year the team expands as we work with partners, makers, designers, interns, curators and exhibition installers on various projects. 
Lisa Cahill - CEO and Artistic Director
Lisa Cahill joined the Australian Design Centre team as Associate Director in 2015 and in 2016 she was appointed as CEO and Artistic Director. In that time she has developed and presented six annual creative programs, founded and directed the Sydney Craft Week Festival which has been produced annually since 2017, restarted the organisation's commitment to supporting makers and designers with a retail shop and twice yearly outdoor markets, curated more than 30 exhibitions, written and produced both print and content for digital platforms and has successfully lead the team through a challenging financial period.
With more than 25 years experience, just prior to joining ADC, she was the founding CEO of the Australian Design Alliance. She has held various government roles in Canberra and Melbourne, a stint as a ministerial adviser, SBS, the Australia Council for the Arts and the City of Sydney. She was also research manager for the International Federation of Arts Councils and Culture Agencies. Working variously as a curator, writer and creative producer in the visual and performing arts, Lisa co-curated the Australian exhibition for the Triennale of Craft in Kanazawa, Japan in 2013 and New Weave: Contemporary Approaches to the Traditions of Weaving at ADC in 2014.
Currently Lisa is co-chair of the Australian Craft and Design Centre Network and is a member of the Council of the Sydney Culture Network
Lisa holds a Bachelor of Communications in Professional Writing at the University of Canberra and a Masters of Arts Administration from the University of New South Wales. She is a Fellow of the Gordon Darling Foundation Museum Leadership Program.  

FINANCIAL CONTROLLER AND COMPANY SECRETARY - Laila Bazzi 
PARTNERSHIPS AND COMMUNICATIONS MANAGER - Alix Fiveash
PROGRAMS MANAGERS - Fiona Pulford and Rhadi Bryant
CREATIVE EVENTS PRODUCER - Joni Taylor
PROGRAMS COORDINATOR - Felicity Brading 
PROGRAMS ASSISTANT -
ADMINISTRATION & EVENT COORDINATOR - Susannah Boothroyd

Image:  ADC Team August 2020. Photo: Rhiannon Hopley.