Sydney Contemporary, Australasia's largest art fair, returns from 7 - 10 September with 90+ galleries from around the globe at the Carriageworks. The Fair offers visitors access to curated exhibitions alongside ambitious programs that includes groundbreaking installations, engaging panel discussions and experimental video from some of the worlds most respected artists.
We spoke to Anna Grigson from Sabbia Gallery who will be exhibiting for the first time to find out what she is showing and what she is looking forward to seeing.
Who is Sabbia Gallery showing at the Sydney Contemporary this year?
This is the first year that we are exhibiting at Sydney Contemporary, and we are very pleased to be presenting Mel Douglas, Pippin Drysdale, Honor Freeman & Kirstie Rea. These are artists who we represent at our gallery and have had long associations with. They work within ceramics & glass mediums and often present their work in an installation based format. They are just a taste of the phenomenal artists who we represent and we hope that many people who visit Sydney Contemporary, who may not know our gallery will be inspired by these unique artists. We are also simultaneously presenting solo exhibitions at our gallery space for both Mel Douglas & Honor Freeman.
What's the best thing about the Sydney Contemporary experience?
We are hoping to encourage more people to view art within a broader context, giving access to mediums such as glass and ceramics they wouldn't normally have viewed before. We are excited about exhibiting with other amazing artists and gallerists, and the great opportunities that can be made with creating new networks. And the performances, talks and events look amazing! It's a really thoughtful curation of the best of the Sydney art scene and a great way for people to see a lot of art all in one venue.
What are you looking forward to seeing?
We're looking forward to seeing Installation Contemporary, with large scale artworks presented throughout the Carriageworks Precinct, which promises to be amazing. We are also hosting two events, one at our gallery and one at a client's house who has an amazing & eclectic contemporary art collection. Sydney Contemporary allows a format to give people a real behind the scenes experience.
Often these big shows are overwhelming with so much on display – what tips do you have for people attending to get the best experience?
I have a few tips from some of our clients – go several times. Do one first trip, a walk around and come back fresh with a list of what you want to see again. Go to the talks and see what events are on. Talk to lots of people and be open minded.
What's on next for Sabbia Gallery after this?
After Sydney Contemporary we have a solo exhibition of Jeffrey Mincham AM, a prominent ceramist with over 40 years experience. He has an enormous following and will have many eager collectors waiting to view the new work. We then present a solo exhibition of Clare Belfrage who has just been announced as the SALA artist for 2018, a huge accomplishment. October also sees the start of our touring exhibition Clay Stories – Contemporary Indigenous Ceramics from Remote Australia at the JamFactory at Seppeltsfield. This exhibition is part of the prestigious Tarnanthi Festival. These exhibitions round out another busy year for Sabbia Gallery.
Visit sabbiagallery.com & claystories.com.au for further information.

Jeff Mincham is an ADC Living Treasure: Master of Australian Craft and we toured his solo exhibition in 2009 find out more about him here and Australian Design Honouree glass artist Mel Douglas here.
Sydney Contemporary is offering ADC audiences 20% off tickets click here for more information.
Image Credit Anna Grigson, Director, Sabbia Gallery Sydney. Image courtesy Sabbia Gallery.
Below: Honor Freeman, 656 soaps (detail). Image courtesy of Sabbia Gallery.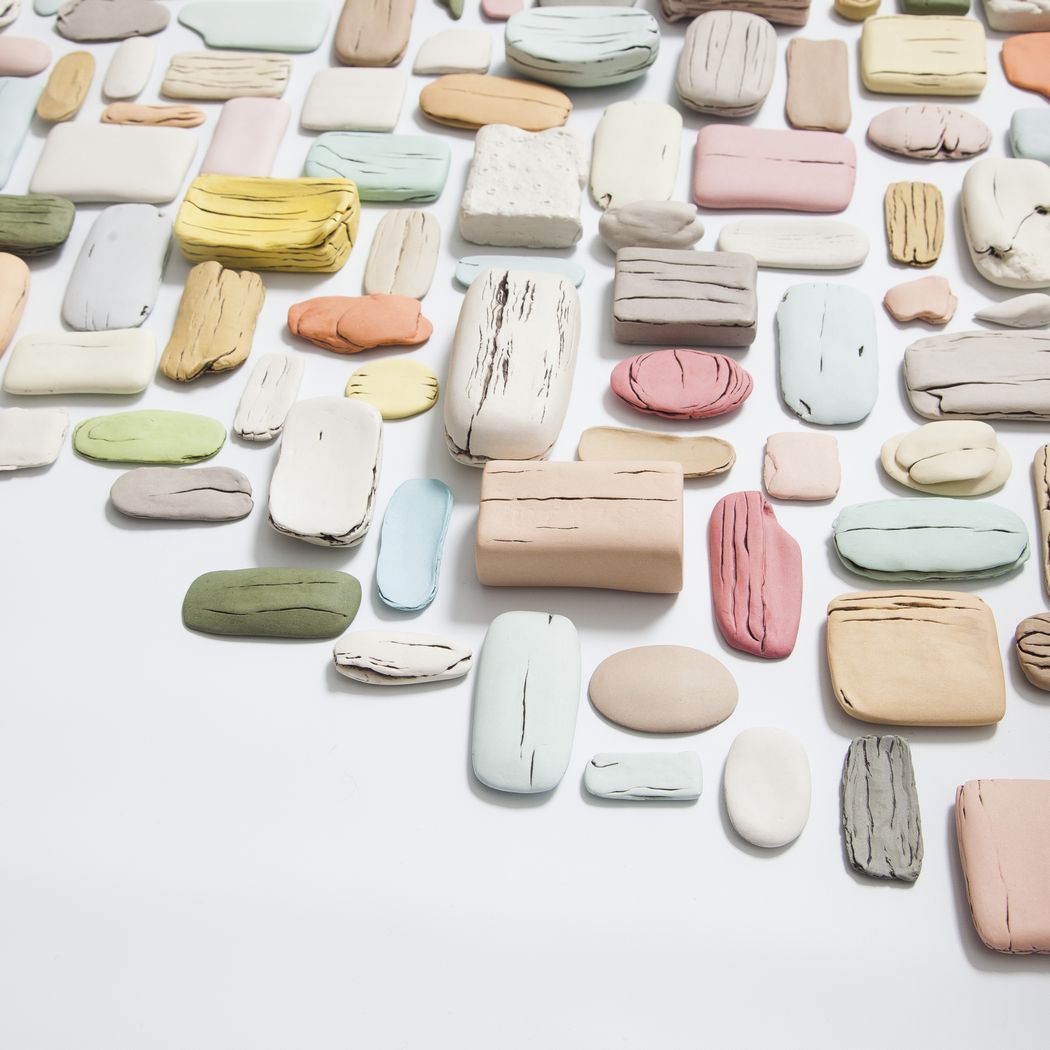 End of article.