Lisa Cahill, Director ADC spent time with Dan Honey, Director of Special Projects and Cultural Programs, Hotel Hotel talking about the upcoming exhibition Object Therapy, design-led business practice and collecting objects.
The exhibition Object Therapy was developed in 2016 by Hotel Hotel as part of their Fix and Make program in partnership with UNSW Art & Design and Australian National University. ADC is partnering with Hotel Hotel for the first time to deliver this exhibition and eight venue national tour.
Lisa Cahill: Dan, Hotel Hotel is a fantastic example of a design-led business. Can you tell me a bit about the philosophy behind the hotel? Where did this focus on design come from?
Dan Honey: Hotel Hotel is a place of collaborative craftsmanship. It was conceived of by our parent company, Molonglo Group, an artisan led property development and creative production house. I just want to point this out before we start because when I say 'we' I'm referring to all the beautiful brains that worked on this project… There were and continue to be so many.
From the very beginning, having design embedded throughout every aspect of the project was a very natural process for us, never something we questioned. And yes, design is everywhere at Hotel Hotel, most visibly in our architecture and interiors but also right through our internal systems and digital interfaces.
Our goal was to create a place that was habitable and so Hotel Hotel is a series of nested spaces that provide many nooks for people to colonise. We worked closely alongside more than 70 designer-makers, artists, architects, thinkers and curators to choreograph and implement its quirks, thoughts and designs. What's different about our approach is that we see the design process as non-linear and we embrace a messy, collaborative and cross-disciplinary design approach. Our process is always a little bit forward, right back to the start, a little bit to the left, forward, right back, to the right, forward, and so on… We also see design as continuously unfolding and perpetually unfinished. Like any domestic space, Hotel Hotel continues to change by adding new spaces, remaking old spaces and reusing in-between spaces.
LC: There are so many designers that HH has commissioned to make work for the interiors of the hotel. What are some of your favourite pieces?
DH: Our interiors are made up of commissioned and collected work. The vast majority of our furniture collection is mid-century Australian and it serves as an archive of Australia's design history, but not the familiar history that we all know. We have some interesting pieces by George Korody, Steven Kalmar and Paul Kafka, designers who immigrated to Australia post WW2. These designers are modernists, but their work is very human – imbued with folk and organic qualities.
In terms of commissions some of my favourite pieces are ones conceived by Don Cameron, Ken Neale and Nectar Efkarpidis – things like the little brass tables, rag stools, taps and handrails. These pieces make up the almost everyday items in the hotel and for me, make our spaces feel just right.
LC: Fix and Make was a program HH ran with the local community. What was this about?
DH: As well as being a physical place, Hotel Hotel was always conceived as a vessel for ongoing artistic and cultural creation. We make projects and programs in order to explore our interests, support creative endeavours and have conversations with others about things that are important to us. Fix and Make was an especially important conversation for us to have. The program was designed to encourage people to learn from one another – empowering people to use their own hands. We hope it makes people rethink their own consumption patterns and communicates some of the broader benefits of fixing and making. All in all Fix and Make was a program that helped us bring all kinds of people together.
LC: Asking Canberrans to bring in broken items and designers to 'repair' them is the central premise of Object Therapy. What are some of the highlights of this project for you? Does it make you look at your own possessions a little differently?
DH: The study of humans and the objects they own and use is simply fascinating. In abstract terms it's bizarre that we attach objects with such meaningful narratives – narratives that can make us cry, laugh, remember. As part of Object Therapy, object owners were video interviewed when they dropped off their objects. They were asked a series of questions including how they came to acquire the object, how it broke and how they would like to see it repaired. In many cases these simple, straightforward questions drew out incredibly personal stories highlighting the power that objects have to connect us to people, places and the past. Watching these videos and the emotion that was drawn out was captivating.
Personally, I choose to live with few possessions. A decade ago my husband's mother passed away. Her house was filled to the brim with objects and ephemera and it was very confusing to deal with once she was gone. Without her, the majority of the objects she owned no longer had any meaning to us. We didn't know the stories attached to them. From this experience I'm very conscious of what I decide to hold on to. What will happen to these things when I'm gone… It doesn't mean I don't love objects. I absolutely do, and I have found a job that allows me to study them day in day out, but I am particular about the ones I let into my life.
Dan Honey: I'm curious to know about your relationship with objects. Do you collect them, hoard them, festishise them…
LC: I have such an eclectic collection of art and objects that have amassed over the years. I try very hard to keep only those objects that I really love but often that is hard to achieve because objects for me are about memories. The ceramic dish that reminds me of a cold winter drive to Braidwood many years ago. A wooden cat that has followed me from home to home and always finds a place. German pottery that my 96 year old mother-in-law picked up from the opshop knowing that I loved it.
DH: ADC is looking at exhibitions all day every day. What was it about Object Therapy that captured your interest?
LC: Object Therapy is so rich with stories. The stories of the owners and what the broken objects mean to them; the stories of the designers and their process to repair the objects; and the broader story that is relevant to all of us in terms of how we value objects and how we can live in a better world simply by reusing what we have rather than throwing away and buying new.
DH: Was there a particular object and repair from the project that you found especially interesting? What stood out for you?
LC: Teena's washing trolley would have to be my favourite. I remember my mother and grandmothers having these trolleys and pushing them outside to the Hills Hoist with a heavy basket of wet washing. I remember bringing in the washing that smelt so beautiful after drying in the sun. Teena's story is reflective of that. I love how she has reused the trolley over the years. Trent Jansen's 'repair' turning the trolley into a set of clothes pegs is genius.
DH: Repair is something that our grandparents did, but something we are doing less and less, and in today's society repaired objects are often perceived as having lesser value. It feels like there is something bubbling broadly - fixpert programs are on the rise. When it comes to repair what role could design and designers take?
LC: There is definitely a movement to reuse, recycle and value items that last running counter to fast fashion in clothing and objects. As part of our presentation of Object Therapy in Sydney and on tour, I'm keen to explore the places where designers are getting into the fix and repair space and letting our audiences know about these opportunities. The North Sydney Repair Café is one such place that comes to mind. I think it's critical that designers are promoting a culture of repair as it's often very good design that we don't want to throw away and if it can be repaired it can live on.
DH: What was the last thing you repaired?
LC: I'm not much of a repairer but last week our dishwasher seemed like it was on its last legs so my partner spent hours trying to figure out the workings and managed to make it work. At the same time my neighbour also managed to repair his washing machine. We were all pretty impressed and relieved!
Object Therapy opens at Australian Design Centre 6 April - 3 July.
Object Therapy was developed in 2016 by Hotel Hotel as part of their Fix and Make program in partnership with UNSW Art & Design and Australian National University.
ADC is partnering with Hotel Hotel to deliver this exhibition with significant funding from the Commonwealth Government's Visions of Australia program, touring to eight venues nationally.
Read more about Object Therapy here
Images: (above) Hotel Hotel, GF library. Photo: Ross Honeysett. (below) Hotel Hotel, Nishi's Grand Staircase. Photo: Tom Roe.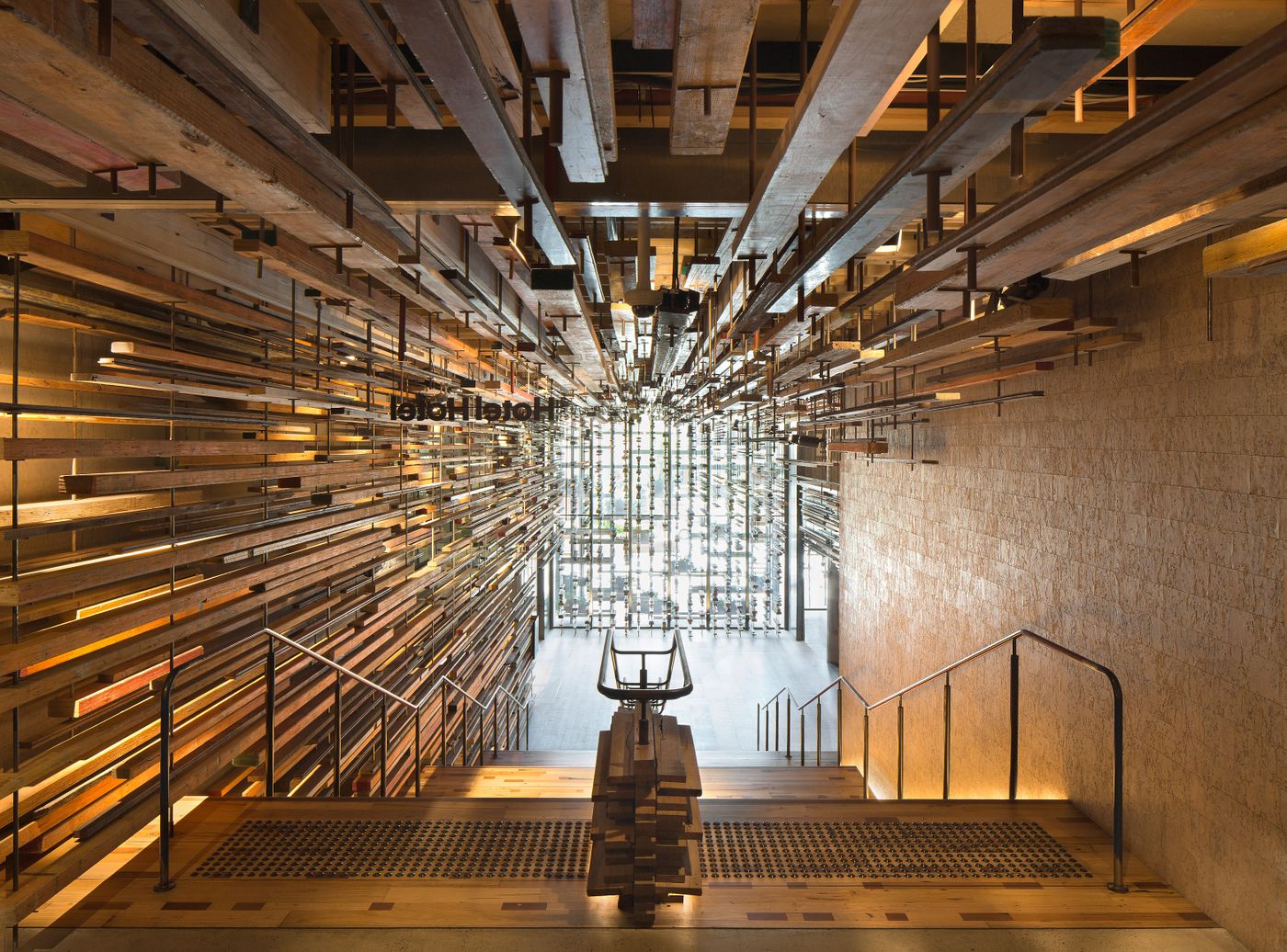 End of article.