Australian Design Centre is presenting Real to Reel: The Craft Film Festival in the lead up to Sydney Craft Week. Fresh from the UK to Sydney for two screenings on Thursday 5 September 2019 at the Chauvel Cinemas Paddington and Casula Powerhouse Arts Centre, Liverpool on Saturday 21 September 2019. 

Real to Reel is a short film festival that celebrates craft and making in all its facets: traditional, contemporary, subversive and diverse. Featuring an eclectic programme of shorts exploring our relationship with materials and making, the films have been selected from around the globe. Discover documentaries, maker profiles, music videos and hand-crafted animations that celebrate craft in all its facets.
Film offers makers unique possibilities of expression. It can capture transformations; material, time-based and otherwise, it can present singular and multiple narratives, it can enable the representation of the temporal and performative, and it can take a micro or macro view. In Real to Reel the films are grouped into three thematic sections – material narratives, performative making and animated craft – each immersing us in new environments and providing a different experience of craft.
Themes are at times playful or meditative, some highlight social impact projects. The 28 films selected feature contemporary weaving, woodwork, ceramics, glassblowing and metalsmithing, offering a unique opportunity to witness craft in action and the narratives, passion and skill inherent in the creation of works. The program also unites some unusual and perhaps unexpected tales of making – from miniatures, to replica birds' eggs, to a human powered bakery – along with animations that bring to life fibre, wool, clay and found objects.
AUSTRALIAN DESIGN CENTRE
When: Thursday 5 September, 6.30pm 
Where: Chauvel Cinema, 249 Oxford St (Cnr Oxford st & Oatley Rd), Paddington.
Tickets:  General admission, $30.00 Concession: $25.00 ADC Friends: $25.00
Times Part one: 6.30pm-8.00pm | Part Two: 8.15-9.30pm
Seating is unreserved and limited. Theatre doors open at 6:15pm
CASULA POWERHOUSE ARTS CENTRE
When: Saturday 21 September 
Where: Casula Powerhouse Arts Centre, 1 Powerhouse Road, Casula.
Explore Real to Reel at Casula HERE
Tickets available soon
MAKER & SMITH - Western Australia
When: Friday 2 August, 6.00pm 
Where: The Backlot, 21 Simpson Street, West Perth
Tickets available HERE
MAKER & SMITH - Western Australia
When: Friday 9 August, 6pm
Where: Camelot Indoor Theatre, Mosman Park, Perth
Tickets available HERE
Explore Maker & Smith HERE
CRAFT VICTORIA - Melbourne
When: Thursday 22 August, 7pm | Friday 23 August, 7pm
Where: Nova Cinema, Carlton, Melbourne
Explore Craft Victoria HERE
Tickets available soon

Preview the program HERE
Part One: 
Witness the spectacle of scrap metal transforming into intricate eyewear, puppets coming to life in a BAFTA award-winning stop-motion animation, interwoven histories of a blacksmith and gardener and documentaries covering British chair making, Mexican luthiers and much more in this varied selection of shorts. Includes Australian animated entry from Tjanpi Desert Weavers Ngayuka Papa: Bluey and Big Boy.

Part Two: 
Discover a world in miniature, performance that intertwines clay and dance, the beneficial impact of creativity on health, an outdoor gym that makes bread, animation celebrating the special role that dogs play in remote community life and documentaries about making, from giant pots to replica birds' eggs, and more, in this diverse range of shorts.

Real to Reel: The Craft Film Festival 2019 from Crafts Council on YouTube
Real to Reel: The Craft Film Festival is co-produced by the UK Crafts Council UK and Crafts magazine. The Australian tour is made possible by Maker&Smith and is presented in Sydney by Australian Design Centre and Casula Powerhouse Arts Centre.

Image (top): Still from Lives of Clay, 2018. Photo: Zoe Manders
Image (bottom): Still from Nyayuku Papa, 2018. Photo: Tjipani Desert Weavers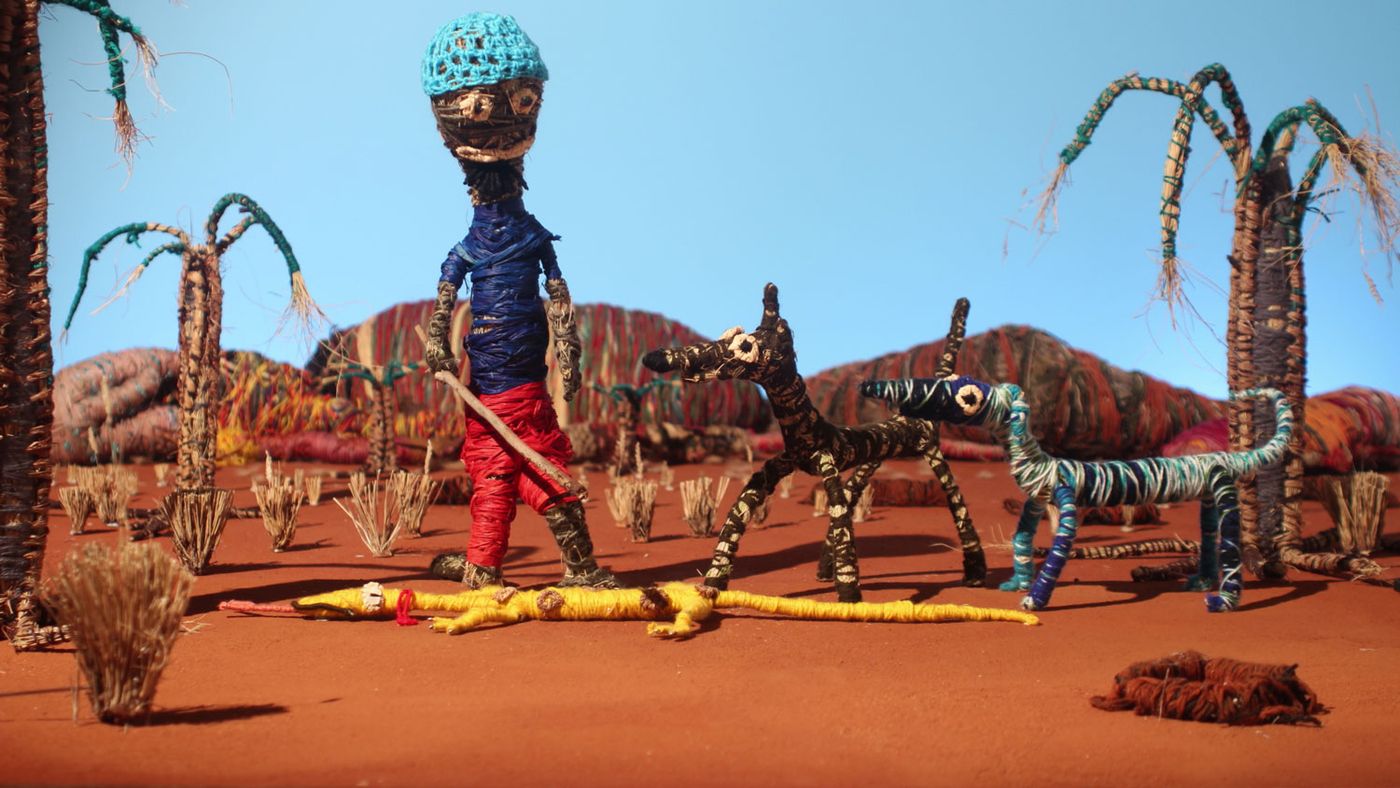 End of article.