Studio A is a supported studio based in Sydney Australia that tackles the barriers that artists living with intellectual disability face in accessing conventional education, professional development pathways and opportunities needed to be successful and renowned visual artists. Studio A and Australian Design Centre have collaborated on many opportunities for their artists. Artists are represented in ADC's Object Shop and have participated in Meet the Maker events and ADC's Makers Markets.  
Six artists from Studio A feature in a series of short films Arts Bites: Studio A Series currently showing on ABC iView. ADC hosted a one night exhibition of textile artist Lisa Scott's work and the event was filmed at the Centre. 
Lisa Cahill spoke to Studio A's CEO and Artistic Director Gabrielle Mordy about the experience making the films. 
Lisa: What is the Arts Bites: Studio Series all about? 

Gabrielle: The series involves six short documentaries, each episode profiling a different Studio A artist as they pursue a professional arts goal. Studio A is a Sydney based arts company that makes great art and specifically supports artists with intellectual disability. The Art Bites series gives a rare and compelling insight into the each artists personal and professional life, we meet the artists families & partners and get a broad and very entertaining perspective into the diverse paths each artist has taken to achieve recognition as a contemporary artist - a challenge for any artist, regardless of disability.
Lisa: How did Studio A come to be involved? 

Gabrielle: Studio A was approached by emerging filmmaker Georgia Quinn, the Art Bites: Studio A Series Director. Georgia was passionate about the need to raise awareness about Studio A artists experience and achievements. She pitched the concept to the ABC and Screen Australia. In a very competitive landscape, Georgia was successful and won the funding necessary to realise the Art Bite Series. Working with Georgia has been a joy, she is a very talented and dedicated filmmaker!
Lisa: How have the artists reacted to seeing themselves on film? 

Gabrielle: Each artist loved the experience of being filmed. Artists welcomed Georgia and her crew into their homes, social lives and of course professional arts world. I think some artists are now missing the regular attention of the camera. The artists response to the screening of each documentary has been diverse. Some have laughed, others cried but all have glowed with pride. The series has imbued each artist with an incredible sense of self confidence, but the impact extends well beyond each individual artist. For friends and family members it has been powerful to see their child/sibling honoured and celebrated by the Art Bite series. Artists' parents speak about being told by doctors etc that their child would never achieve anything in life. The Studio A Art Bite Series is an important testamount to the talent and potential of people with intellectual disability.
Lisa: What's next for Studio A? 

Gabrielle: So much! We have an exciting exhibition series programmed for the second half of 2019. We are presenting work with Peacock Gallery in Auburn, Sydney Contemporary at Carriageworks and Sub Base Playtpus (Harbour Trust site) in North Sydney. We also have a series of yet to be announced public artworks in the pipeline. To keep updated and receive updates follow Studio A on social media. All the links are available on our website www.studioa.org.au
Watch the series Arts Bites: Studio A on iView here
Find out more about Studio A here
Studio A Teaser - ABC Art Bites from Georgia Quinn on Vimeo.
Image: Above: Studio A for Art Bites. Photo: Tanja Bruckner. Below: Lisa Scott, One night only, Studio A. Photo: Tanja Bruckner.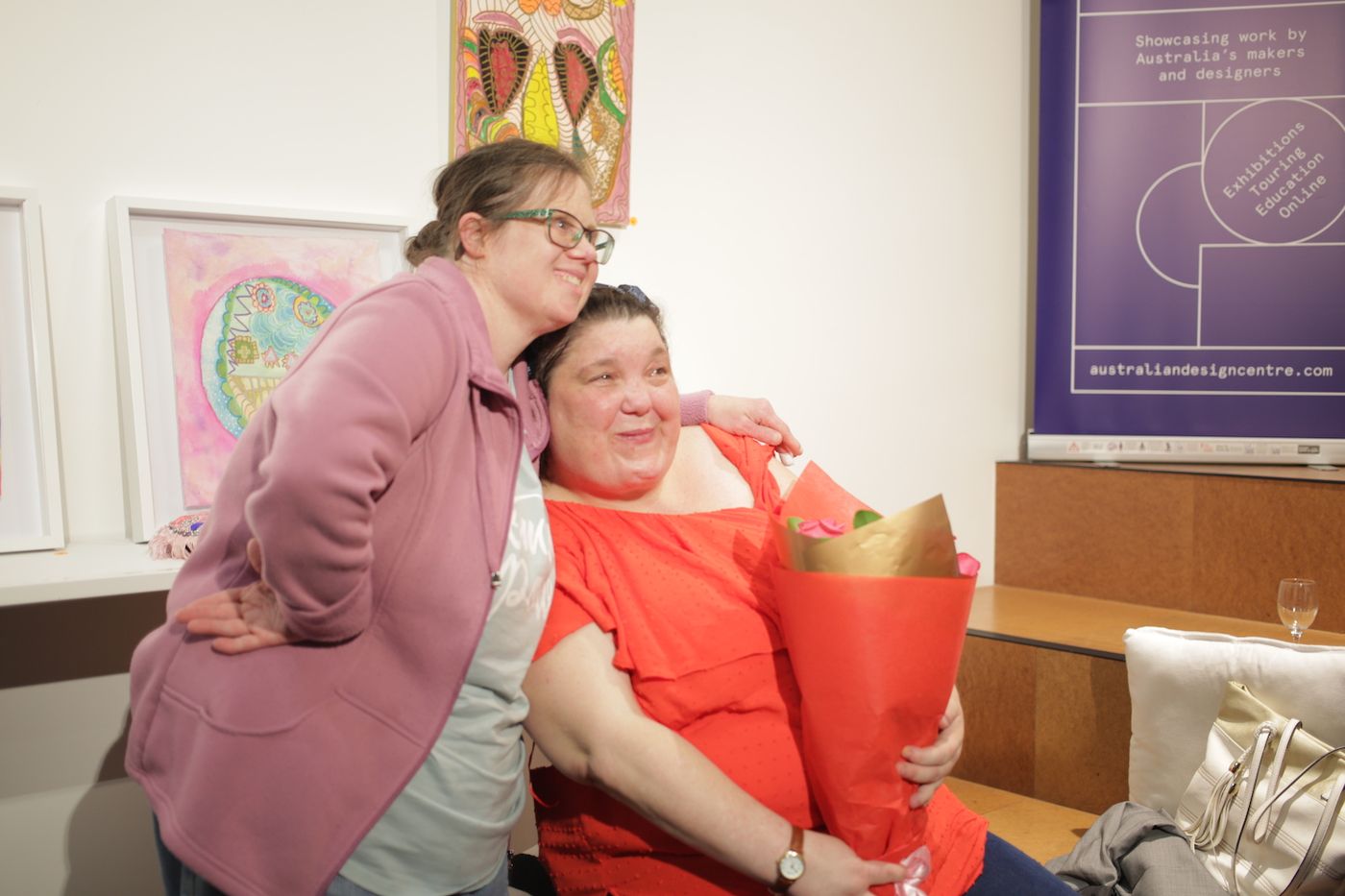 End of article.