It's a wrap. This year, over 90 organisations across Sydney took part in the inaugural Sydney Craft Week. Working in a myriad of mediums across 45 suburbs of Sydney, this year's festival was an overwhelmingly positive experience, which was embraced wholeheartedly by the craft community and lovers of handmade. An initiative of the Australian Design Centre, the ten-day festival (6-15 October) celebrated the beauty of the handmade and the pleasure of making. The program featured a range of exhibitions, workshops, talks, open studios, retail events and live demonstrations. This year's theme was Handmade in a Digital Age. Advances in manufacturing and technology have reduced our reliance on handmade artisanship in the 21st Century. But instead of dying out, craft is growing from strength to strength, both as an antidote to a fast, digital lifestyle and as a practice that can integrate new technologies in increasingly creative ways. Craft teaches us to slow down and provides a sense of connectedness.
Many events in this year's program have been inspired by our digital age and showcased the evolution of craft practice, through the aid of new technologies. The retail pop up event Vintage Meets High-Tech by Anna-Lisa Backlund featured homewares and jewellery that were 3D printed, yet inspired from retro designs. The installation Data Lace at UTS Library by Cecilia Heffer (on exhibition until 3 November), reimagined shredded office paper into beautiful paper lace. And we also saw science and math meet craft, with workshops such as Electrocraft! at Bobbin and Ink and STEAMpop's Lumifold: Mindful Math Making. At the Australian Design Centre, Professor Melissa Knothe Tate's exhibition Biotextilogy: The Cellular Catwalk, explores the relationships between textiles and the natural cellular weaves of living tissues (on until 15 November).
The resurgence of craft in an age of the experience economy inspired some thoroughly unique events, creating sell out interest and enthusiasm. We had clay dating, a walking craft and dining tour and an interactive talk about what makes a good cup! There were over 50+ workshops listed, truly highlighting the insatiable interest in getting our hands dirty and using craft as the tool for us to 'meditate' and reconnect with creativity and each other.
The festival also managed to capture the breadth of craft, from the modern to the traditional. We saw beautiful handcraft demonstrations daily at the Society of Arts and Crafts NSW, we learnt how to whittle and weave at Koskela, we witnessed Indigenous craft practice at MAAS and we also experienced knitting reframed as a form of activism (craftivism) thanks to Shared Threads.
The feedback from participants and creative organisations has been backed with great support, especially from the makers who have been leading and inspiring the way.
The enthusiasm for 2018 is already starting. Save the Date: 5 – 14 October 2018!
Explore the Sydney Craft Week website here
Image: Gunjan Aylawadi, making of HAKK, 2015, Archival safe, curled papers on card. Photo: courtesy of the artist. 
ADC Makers Market 2017. Photo Simon Cardwell.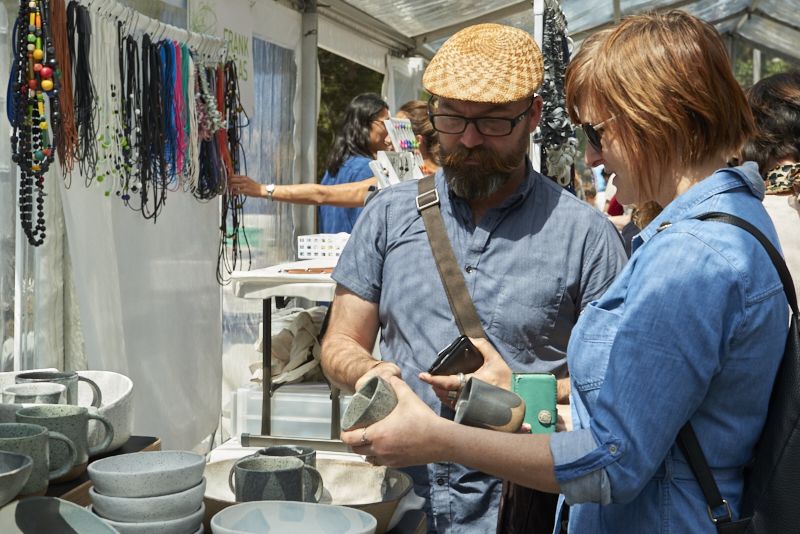 End of article.