This is the third year of Women in Design, a conference with an all-female line-up of speakers held in Launceston by Design Tasmania
This is the third year of Women in Design, a conference with an all-female line-up of speakers held in Launceston by Design Tasmania. Attending for the first time this year, my expectations were high – those I'd spoken to who attended previous years had given glowing reports. And I was not disappointed – this conference is inspirational and empowering in a profound way. This year's theme – design for social engagement – may have added to the overall sense that this group of women are not only inspirational, but also highly authentic, hard-working and intelligent. Each shared her research, design practice, business or personal experience with a level of truth and dedication to the subject that was outstanding.
The whole event began with a beautiful welcome to country by Tasmanian Aboriginal Elder Aunty Patsy Cameron who led a smoking ceremony – the coals from the fire warmed the cold Tasmanian air and sent up clouds of smoke from the burnt eucalyptus leaves. Cameron then prepared a bowl of ochre, painting a moon and two stars on the hand of each woman present, while the men were asked to dip their thumb in the ochre. After moving back inside and a presentation on local produce from Kim Seagram from Fermentasmania and Harvest Market Tastings, a panel discussion was led by Karina Clark, CEO of Design Tasmania and mastermind of this year's Women in Design. Clark interviewed two of the makers who worked with Kirsha Kaechele on the Pro Paradox exhibition currently on show in Design Tasmania's gallery. Sabrina Evans (Sabia) discussed her textile and fashion work including the kimonos she made for the project, while Nana Bayer shared the story of her ceramics, including a series with shapes inspired by the vulva. Kirsha Kaechele, artist and art curator, wife of David Walsh of MONA fame and larger-than-life personality around Tassie, was on hand to describe how the pieces fit into the puzzle – a performative feast-as-installation that evolved from her fertility-themed wedding feast.
The next day, the conference began in earnest. The speakers in the morning session, facilitated by Pippa Dickson, Chair of Design Tasmania, spoke on the topic of Transformational Space/Place/Messages. Janet Carding from the Tasmanian Museum and Art Gallery discussed museums as places for engagement not temples for quiet adoration; Ceridwen Owen from the School of Architecture and Design at the University of Tasmania talked about designing educational spaces for a range of needs, including visually quiet spaces for children on the autism spectrum; graphic designer Jane Connory discussed the gender gap in graphic design and Genevieve Murray from Future Method Studio talked about how housing for capital gain is eroding community and leading to social problems.
In the afternoon, Helen Norrie, Lecturer in the School of Architecture and Design at the University of Tasmania, led the session with an insight into her research into narratives of architecture, followed by Annalise De Lorenzo's inspirational story of establishing a warehouse and workshop in Sydney's Marrickville called Makerspace for makers, designers and craftspeople. Bianca Welsh, the manager and part owner of Stillwater and Black Cow restaurants, spoke about the importance of emotional intelligence in her work managing staff and the mental health issues that young people are facing. And textile artist Liz Williamson from UNSW Art and Design shared her experiences sharing, teaching and making together with artisans in India, including The Rug Project.
In the evening over the delicious Harvest Dinner held at the Tamar Ridge Cellar Door, Kirsha Kaechele gave a rip-roaring account of her life, including the chance encounters, outrageous acts and philanthropic projects that make her art practice so unique, including an account of her post-Hurricane Katrina project in New Orleans' 8th Ward and her Tasmanian school kitchen gardens program 24 Carrot Gardens. This was followed by an original song on the topic of gardens from Tasmanian artist and musician Deborah Wace who shared how her creative work is intertwined with botany, Tasmanian history and activism. She was joined by Madeline Wells, a 21-year-old trawlwoolway and Wemba Wemba woman from Wynyard in Tasmania, who told us about her advocacy and human rights work on topics such as Aboriginal incarceration and women's empowerment, including what it's like to speak at the UN on your 21st birthday.
The following day was the final session of Women Design, focusing on Philanthropy and Entrepreneurship, facilitated by me. Sarah Naarden of Design Think Lab spoke about her work as an architect, place-maker and social impact entrepreneur, including Hughaus, her start up addressing social isolation in ageing through a prefabricated co-housing solution. Jane Hutchinson shared her views on the changing nature of philanthropy in regard to her work at the Tasmanian Land Conservancy. And Vanessa Cox told her incredible life story – from being told after a horse-riding accident at nine that she would never walk again to being the CEO of an ASX listed company and philanthropist, all under the age of 40. My own reflections on philanthropy and entrepreneurship focused on the fact that, while philanthropy is often thought of in the larger sense – those high net individuals able to build museums or contribute in a substantial way – there is also philanthropy that is smaller, but just as important. Every time you give advice to a young person in your field, or buy a work from a local maker or advocate for ethical, social or environmental causes, you are contributing to philanthropic work.
All in all, Women in Design was again a huge achievement for Design Tasmania – long let it continue into a fourth, fifth and sixth year and beyond.
Penny Craswell, ADC Creative Strategy Associate
Photos: Bruce Moyle, Joffre Street Productions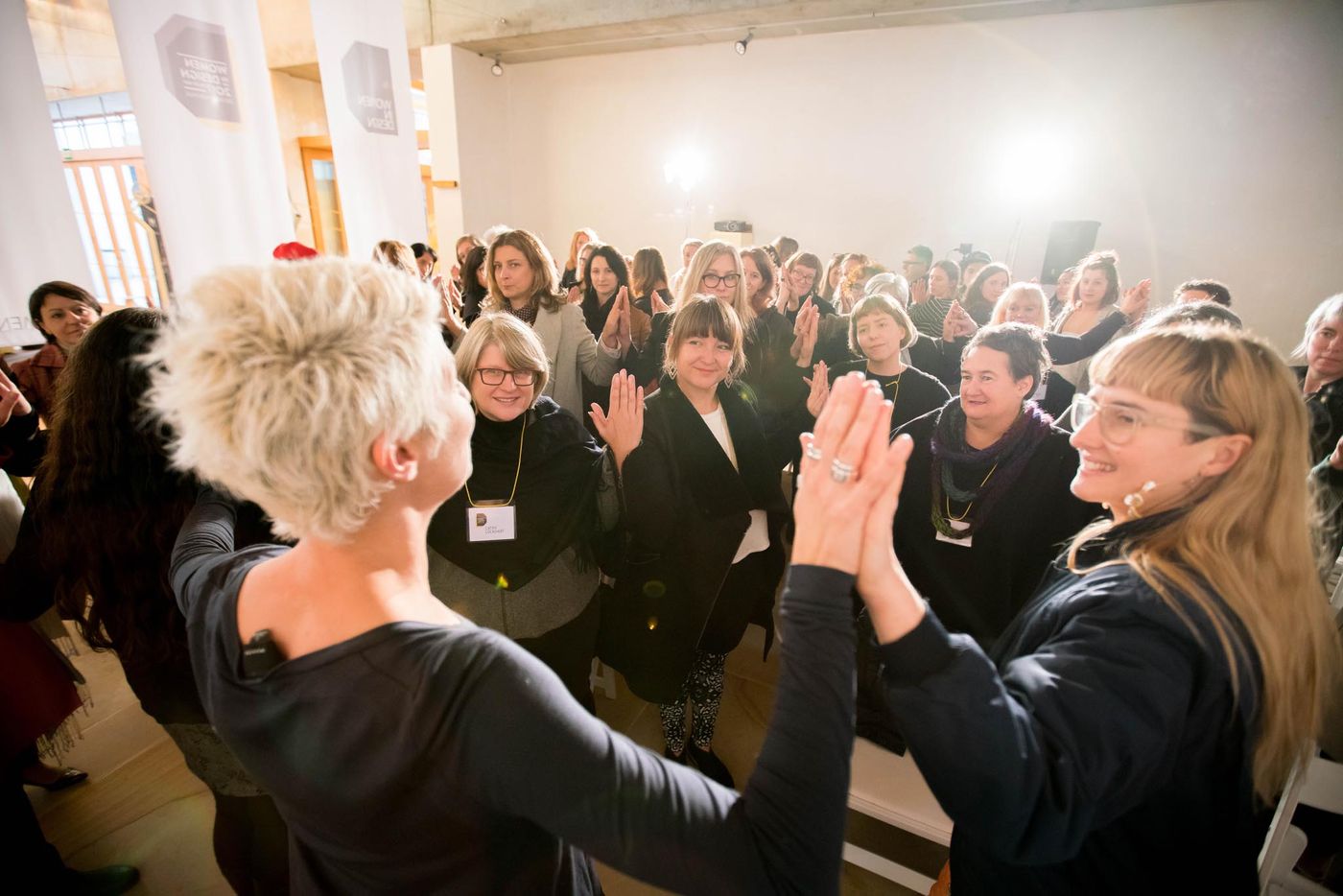 End of article.