The Australian craft and design community is mourning the unexpected loss of internationally acclaimed artist and designer Robert Foster, who died yesterday, 13 July 2016.
Foster trained initially as a silversmith but is best known for his iconic and wildly successful F!NK Water Jug (1993), which reintroduced aluminium object design to the modern masses.
The continued success of the F!NK Jug reflects what was Foster's innate ability to merge distinctive design with a rethinking of function and technical innovation, while remaining distinctly Australian.
Foster himself said, "Many of the forms and contours of my work are derived from Australia's extraordinary natural environment – the unique flora and fauna and the weathered features of the landscape that have been shaped by the unrelenting elements."
Foster and his partner Gretal Harrison were also responsible for the creation of F!NK & Co. – the ACT-based studio and workshop space that produces high-end homewares, lighting and accessories made almost exclusively from aluminium, titanium and stainless steel.
In 2009 the Australian Design Centre, then as Object, presented F!NK: Fostering Design, curated by Merryn Gates for Craft ACT. This retrospective exhibition of F!NK & Co. highlighted Foster's role as the creative force behind the company and the many partnerships he fostered with other emerging Australian designers, including Elizabeth Kelly, Sean Booth, Bronwyn Riddiford, Rachel Bowak, Oliver Smith, Rohan Nicol and Remi Verchot.
As well as his commercial endeavours, Foster maintained an artistic practice and regularly exhibited his one-off conceptual objects both in Australia and overseas. Most recently his collaboration with artist Marie Hegarty was shown at Karen Woodbury Gallery in Melbourne, and then here at ADC in March this year. In 2015 Foster was recognised as one 50 Australian Design Honourees.
ADC Board Member and friend and contemporary of Robert Foster, Oliver Smith writes:
The death of Robert Foster leaves a huge hole in the Australian cultural landscape and in the hearts of all who knew this inspiring man. As an artist, Robert's groundbreaking work embodies so many of his remarkable qualities - his vibrant aesthetic sensibilities, his wealth of material knowledge, his technical virtuosity, his appetite for invention, his verve and dynamism. As an innovative metalsmith applying gold & silversmithing techniques, in combination with other industrial production methods, to an expanded material vocabulary he is without peer. Anyone who witnessed Robert shaping metal, either with a hammer or more complicated technology, knew they were seeing something very special. In this way he was a craftsperson to the core, someone who could think inside the capabilities of the material. Collectively his output moves beyond craft conventions in the sense that he caused the context to advance and evolve.
As a person Robert possessed a prodigious energy and a warmth and generosity that enabled him to share his many gifts as a pioneering designer to build a truly creative community. His union with his wonderful partner Gretel Harrison gave us F!NK & Co. and the success and integrity of this venture locally and globally sets the bar for design and entrepreneurship. Many noteworthy artists, designers and craftspeople came to Queanbeyan to collaborate and learn from Robert. I consider myself very fortunate to have been a part of this. Since receiving the shocking news of his passing everyone I speak to expresses their love for Robbie and their deepest sympathies for his family and Gretel, Nessy and Mischa in particular.
Goodbye Robbie you were a great friend to many, an artist of the highest calibre and a real life hero.
- Oliver Smith | Head of Department, Contemporary Art | Lecturer, Jewellery & Object, Sydney College of the Arts
Images:
Top: Marie Hagerty & Robert Foster, small mirror 2015. Courtesy of Karen Woodbury Gallery. Photo Credit, Boaz Nothman
Lower: Marie Hagerty & Robert Foster, Blue, Red, 2015. Courtesy of Karen Woodbury Gallery.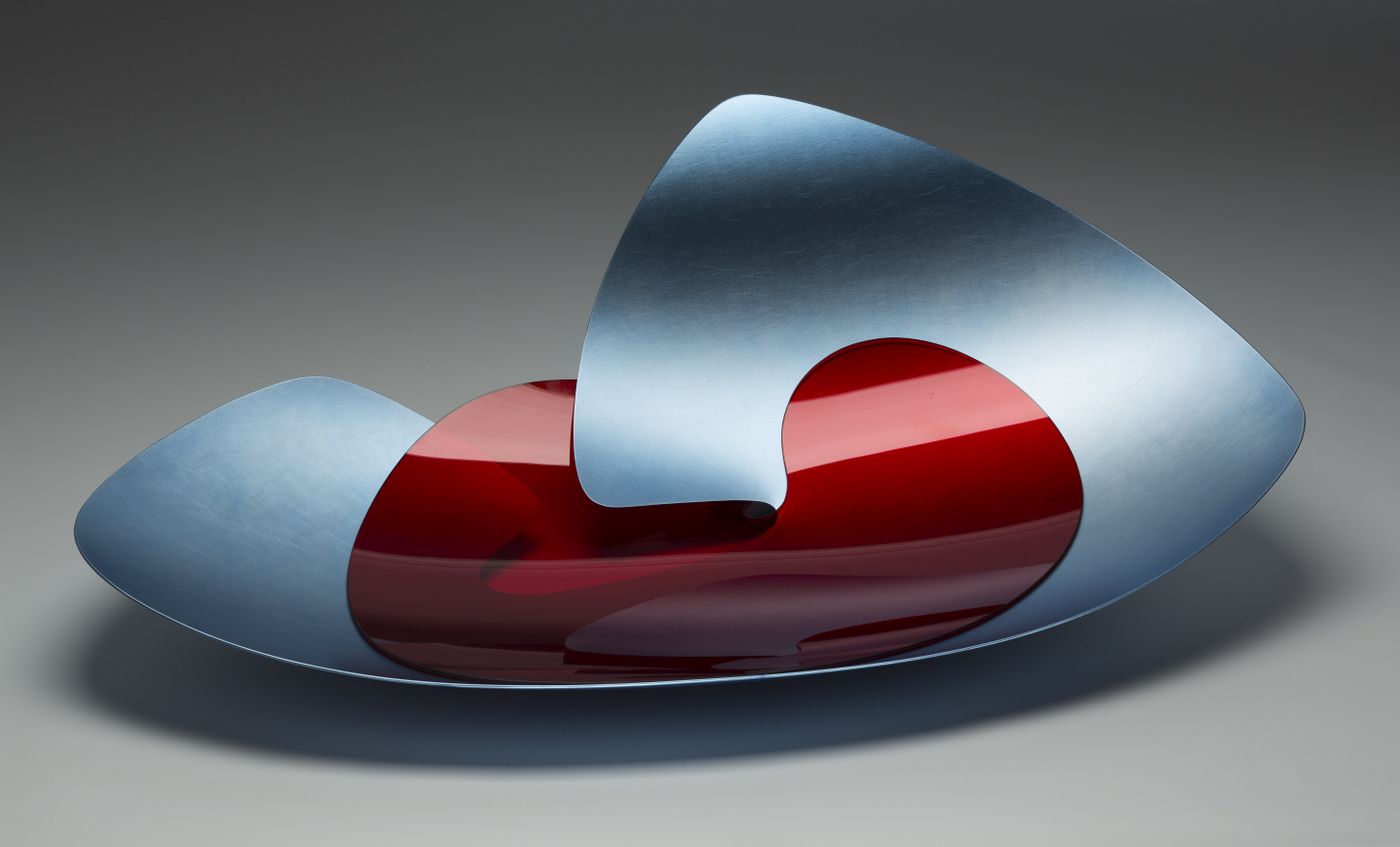 End of article.