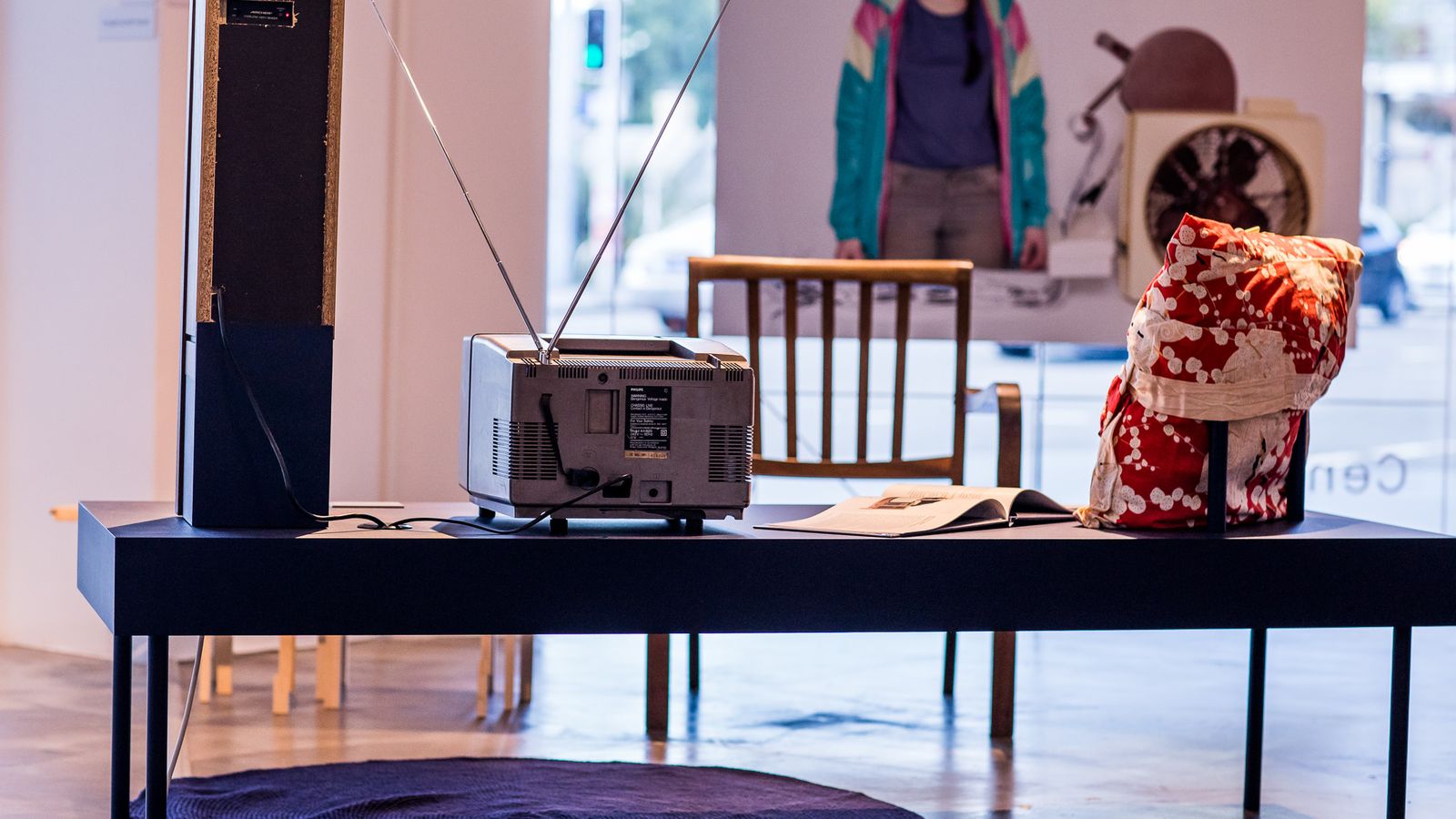 Collaboration and touring have been an integral part of the Australian Design Centre's programs throughout its 50+ year history. As early as 1977, it toured the exhibition Design For Living and a year later, in 1978, Crafts on the Move, an exhibition dedicated to regional areas was also presented.
Almost every major ADC exhibition that is produced includes a national tour that incorporates the regions but since the early 2000s, the scale of ADC's ambitious programming has also meant an increasing number of meaningful collaborations with institutions around the country.
In 2004, ADC (then known as Object – Australian Centre for Craft and Design) collaborated with Arts Tasmania to present Design Island, a spotlight on the work of 20 leading Tasmanian designers. Curated by ADC's Brian Parkes and Pippa Dickson, the Project Officer – Design for Arts Tasmania, the exhibition opened at the Sydney Opera House before travelling to the Tasmanian Museum and Art Gallery and the Design Centre Launceston. 'Design Island' went on to become the name for Arts Tasmania's five-year strategy for growing and inspiring the state's design sector, arguably a reflection on the exhibition's own ambition and success.
Two years later, in 2006, ADC collaborated with the Melbourne Museum to present the large-scale exhibition Freestyle: New Australian Design for Living. The largest design exhibition of its type ever shown in Australia at the time, Freestyle involved a lengthy study tour across Australia and drew on the works of 40 different designers and practices. Curated by Brian Parkes, Freestyle focused largely on objects for the body or home and included work from fashion designers and Indigenous artists alongside jewellery and homewares. Highlighting the most interesting and current design practices from around the country, Freestyle opened at the Melbourne Museum before a six venue national tour that culminated with a two-site show in Sydney at ADC (then at St Margaret's) and the National Art School. It later toured to the Milan Triennale Museum in Italy.
From 2006-2008 ADC collaborated with the Bombay Sapphire Design Discovery Awards to present an exhibition of the finalist's work. The annual Award, which was established in 2003, had no means of showing the work before joining with ADC to present the first in a series of exhibitions. Recognised locally and internationally as the most prestigious award in Australian Design, the Bombay Sapphire aimed to reward and promote excellence in functional design and to uncover the most original and inventive designers working in the field. The Award toured nationally and was presented annually at the Melbourne Museum also.
Menagerie: Contemporary Indigenous Sculpture, in 2009 was the biggest and most significant exploration of Indigenous craft and design at that time in ADC's history with an 11 venue national tour that included stops at Araluen Art Centre in Alice Springs, Cairns Regional Art Gallery, the Melbourne Museum, Queen Victoria Museum & Gallery in Launceston, Tandanya: National Aboriginal Cultural Institute in Adelaide and the National Museum of Australia, Canberra. Importantly, Menagarie was also the first time ADC collaborated with the Australian Museum to produce a major exhibition together. Both ADC and the Australian Museum jointly exhibited the show before the Museum purchased Menagerie for its permanent collection at the conclusion of the tour.
In 2014, ADC collaborated with local design retailer and manufacturer Workshopped to present Resolved: Journeys Into Australian Design. Since 2001, Workshopped have held an annual design competition celebrating emerging designers and their work, and helping them take their concept to market. Resolved presented the work of the previous 12 winners, exploring ideas of inspiration and process with 2013 winners Kink responsible for the exhibition design. Like Menagerie and Freestyle before it, Resolved travelled to eight venues as part of a national tour.
An important part of Resolved's tour was the 'animateur' program that accompanied the exhibition. Two years before Resolved opened, in 2012, ADC partnered with the University of Wollongong and Dubbo's Western Plains Cultural Centre on a research project testing new models for developing regional audiences for touring exhibitions and design projects. The 'animateur' program was developed as a consequence of this research and involved a specialist, or animateur, accompanying the exhibition to each venue. They then worked with the galleries to create bespoke programs for engaging local audiences who might not have had a great deal of exposure to design exhibitions of this nature before. Resolve's national tour concluded in 2016.
CUSP: Designing into the Next Decade was presented in collaboration with Casula Powerhouse Arts Centre in 2013 before a six-venue national tour that ran until April 2016. A major survey of the work of 12 designers working across a range of disciplines, including data visualisation, fashion, architecture and social robotics, CUSP considered how the future of design might look and how it might continue to impact our lives in the coming decades. In researching the exhibition, ADC and curator Danielle Robson worked with a Curatorial Advisory Group including academics from RMIT Design Hub and the Schools of Design and Architecture at UTS, ensuring that design expertise was again central to the discussions surrounding the exhibition.
ADC's Living Treasures: Masters of Australian Craft is a series of touring exhibitions that aims to celebrate the achievements of Australia's most iconic crafts practitioners. The series was conceived in 2004 and has profiled the work of eight of Australia's finest crafts people across ceramics, glass, jewellery, textiles and more. Lola Greeno: Cultural Jewels was the 8th Living Treasures exhibition, which first was exhibited in 2014 and toured to a record 17 venues around Australia ending in 2018. With stops in NSW, SA, WA, Queensland, Victoria and Tasmania, this is the largest and most significant tour of Indigenous work presented in ADC's history. Lola Greeno was ADC's first Indigenous Living Treasure and her exhibition was purchased by the Tasmanian Museum and Gallery at the end of its tour.
Cloth: From Seeds to Bloom was an exhibition of the work of Blue Mountains-based textile designer Julie Paterson, exploring 20 years of stunning colour. After opening at ADC in 2015, the exhibition went on to tour five regional NSW locations.
In 2016, Shapeshifters: 3D Printing the Future was a joint exhibition presentation between ADC and the Western Plains Cultural Centre, exploring imagination, innovation and new methods of making, drawing on the high-tech and rapidly evolving world of 3D printing and fluid extrusion methodology. Shapeshifters was exhibited at 10 venues in total, with its national tour finishing in 2018, when ADC published a print publication 3D Printing the Future exploring innovations in 3D printing since the exhibition began in 2016.
Also launching in 2016 and touring until 2018 is Clay Intersections, an exhibition that presents the work of eight contemporary makers who take a range of innovative approaches to making and working with clay, exploring the different intersections of its sculptural and functional qualities. This exhibition toured to four locations as well as being shown at ADC and may continue on to new venues in 2019.
ADC currently has two projects on tour, with two more in planning for 2019 and 2020. Object Therapy is an exhibition presented by ADC and Hotel Hotel in partnership with UNSW Art & Design and ANU School of Art and Design. The project began when 29 broken objects were submitted by members of the public to a team of repair researchers in Canberra before undergoing 'therapy'. Items of furniture, ceramics, household appliances, textiles, jewellery, sentimental objects and even one human, were all treated and reimagined by noted Australian and international designers and artists including Trent Jansen, Liam Mugavin, Henry Wilson and Alison Jackson. Between 2017 and 2019, this exhibition will tour to eight locations across Australia.
Obsessed: Compelled to Make was ADC's major exhibition of 2018, featuring the work of 14 artists from across Australia, delving beyond the finished object, beyond the personality of the maker, into the fundamental conceptual framework of their creations. This ADC on Tour exhibition is currently touring to 12 venues across Australia until 2021, and is accompanied by a series of films and a full-length catalogue.
Exhibitions as part of ADC on Tour are currently under development at ADC, including Made/Worn: Australian Contemporary Jewellery, which will showcase the work of 20+ contemporary jewellery artists from intimate pieces to large-scale works. 
Also under development is the ninth Living Treasures exhibition showcasing the work of ceramicist Prue Venables, which launches at ADC in August 2019 before commencing its national tour. More information on the development of this upcoming project can be found here. 
Image: Object Therapy installed at ADC. Photo: Boaz Nothman