Series 1 Episode 8: The Making of Living Treasures
Object: stories of design and craft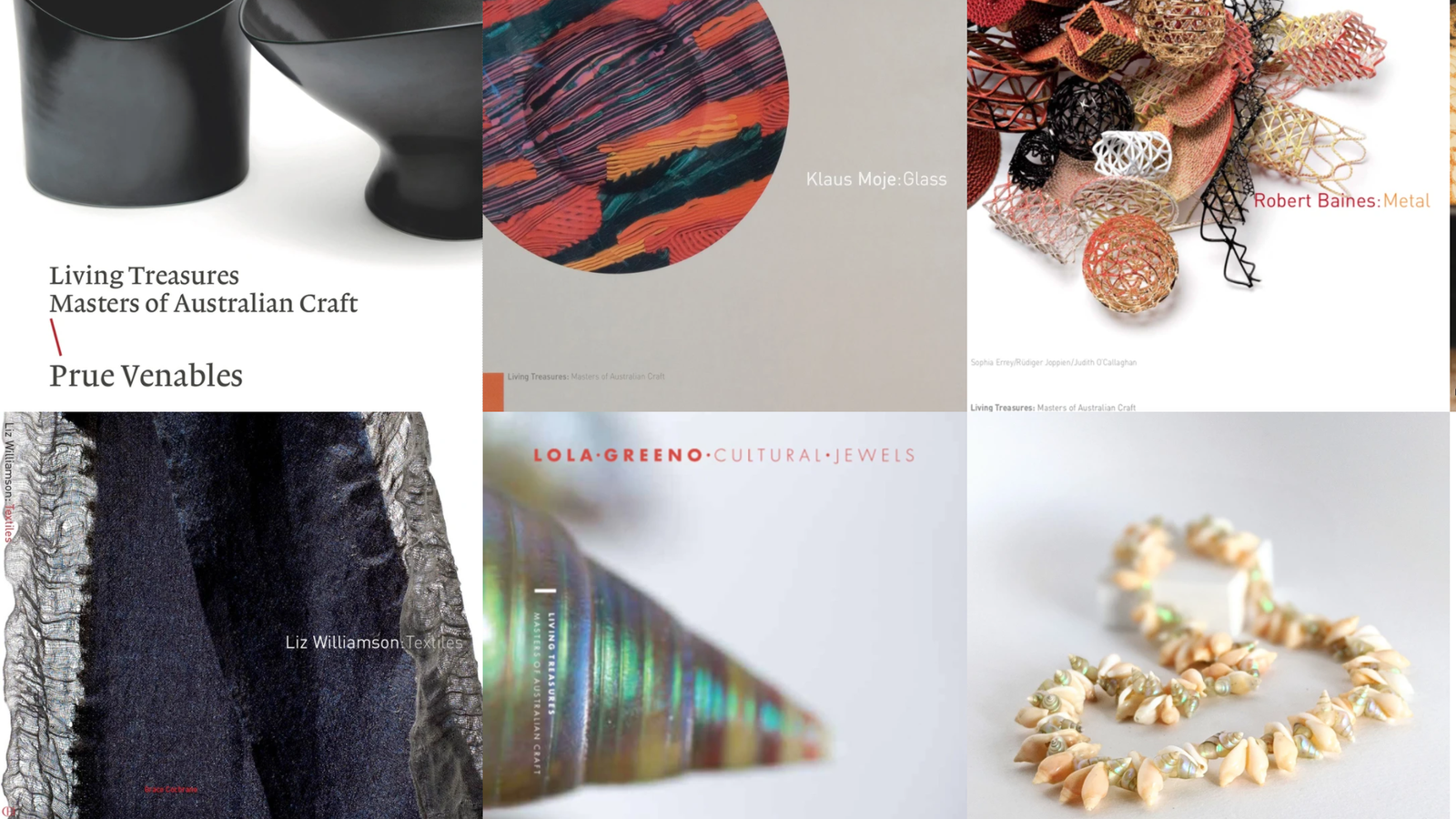 Series 1: Australia's Masters of Craft | Episode 8: The Making of Living Treasures
Show Notes
In this bonus episode, you'll meet one of the key people behind the original idea for the Living Treasures series of exhibitions - Brian Parkes.
Brian is the CEO and Artistic Director of JamFactory, Adelaide's leading craft and design centre, where he's been for over a decade. Before that, he was Associate Director of the Australian Design Centre 2000 - 2010 (when the Centre was called Object. Now you know where the podcast name came from!).
How did the idea of recognising Australia's master craftspeople become a reality? Who chooses Living Treasures?
How was the first Living Treasures exhibition made on a shoestring budget, maybe some shopping at IKEA?
How important are exhibitions like these to regional art galleries?  How do audiences react?
And hear about the two Living Treasures Lisa Cahill didn't get to interview – the late glass artist Klaus Moje and South Australian glass artist Nick Mount.
Brian Parkes lives and works on Kaurna Country in Adelaide.
Transcripts
Word document: Brian Parkes Object podcast transcript
PDF: Brian Parkes Object podcast transcript
Guests
Steve Pozel was the former CEO and Artistic Director of the Australian Design Centre who developed and championed the idea for the Living Treasures series during his 16 year tenure with the organisation. He's now an Innovation Strategist and Facilitator in mindful leadership.
Bridget Guthrie is the director of Tamworth Regional Gallery in NSW.
Show highlights and takeaways
Inspiration from National Gallery of Australia Susan Cohn exhibition [1:47]
In 2000, the National Gallery of Australia made a national touring exhibition of the work of Australian jeweller Susan Cohn, Techno Craft: The work of Susan Cohn 1980 – 2000. It toured to Brisbane, Sydney, Adelaide, Hobart, Perth and Melbourne into 2001. Brian Parkes says it was the first time that a major institution had done a big touring exhibition of someone who came out of the crafts sector. The late Jim Logan, Assistant Curator of Australian Decorative Arts at the National Gallery Australia, curated the exhibition and Brian Parkes worked with him during this time.
"All the hallmarks of the Living Treasure series were borrowed from that exhibition, which Jim had always intended as an ongoing series of shows, celebrating the extraordinary wealth of talent in the kind of decorative arts scene in Australia, " Brian says.
Who nominates and selects craftspeople to be Living Treasures? [5:30]
First, a jury was appointed by the "key figures - curatorially, academically, theoretically", Brian say. The nominations process lets craft sector organisations around the country, as well as individual practitioners, to nominate Australian artists to be a Living Treasure.
The criteria to be nominated as a Living Treasure [6:12]
There are some specific requirements to be nominated as a Living Treasure: Master of Australian Craft. These include a thirty year practice requirement and the need for the artist to not have been recognised in a similar way, says Brian. "Perhaps the biggest umbrella criterion was that the person needed to be a leading practitioner in their field, whose influence had been significant."
Growing the audience online with video [8:30]
Guest Steve Pozel points out that Living Treasures expanded its audience and impact further when "we started doing interviews and videos of the artists". Examples include going behind the scenes with Lola Greeno, through to Prue Venables in her regional Victorian studio, as part of her exhibition curated by Lisa Cahill and currently on tour around Australia.
Be nimble and collaborate [8:40]
Part of the success of Living Treasures series is the nimbleness of a small organisation. Steve Pozel agrees and think that Living Treasures "was not just one organisation's project, it really was a collaboration with many centres across the country. What I see is that it actually established new ways of working with bigger institutions, smaller ones." In turn, this collaboration developed relationships and skills within the sector.
Changing roles of curators [9:46]
The early 2000s saw lots of conversations amongst curators about their changing role. Brian says there was an increasing need to be more of a project manager, than the kind of traditional institutional curatorial role of connoisseurship and scholarship. In the small to medium type organisations sector in particular, the curator position became the key project managers of increasingly complex projects.
Curator as translator [12:45]
"The opportunity in the Living Treasures series was to become a kind of translator, " Brian says, of his curatorial role in some of the early Living Treasures exhibitions. "The story is the story. How do you package it for an audience to digest in different ways, depending on whether they're deep craft enthusiasts, or if they're a casual observer?"
Making a 'flash' exhibition on a shoestring with IKEA [12:45]
One challenge of designing the first Living Treasures exhibition of Les Blakebrough was that there was "bugger all money", as Brian puts it. One solution was shopping at IKEA for trestle legs, using MDF box tops with ""a particular of colour hue that we worked with Les on, " and a series of little boxes that would hang on the wall to kind of frame objects, and concertina into one another to pack into a truck. Despite the shoestring budget, "It looked pretty flash."
Touring regional Australia [15:14]
Touring to regional venues always been a priority for Australian Design Centre On Tour, from the very first Living Treasures exhibition. Les Blakebrough's ceramics toured eight regional venues, and four metropolitan venues, and the number of regional venues in each Living Treasures tour has only increased. "Audiences love these shows, touring venues in the regions love these shows because their audiences love them," Brian says.
Essential access of arts to the regions [15:45 ]
Essential access to quality and significant artists' work is how Tamworth Regional Gallery Director sees the Living Treasures series. Bridget Guthrie talks about the impact of exhibiting the work of Living Treasure Lola Greeno. "We had some of our First Nations community come in and particularly some of the local weavers and they were really inspired by seeing those works. So there was that exchange of ideas that occurred as part of that process."
A safe place for 'unsafe conversations' [16:39]
Bridget Guthrie describes another impact of the hosting the Living Treasures exhibitions as being an important prompt for community discussion, including reflection on recent Australian history. "Particularly some of the works that Lola had done, talking to that difficult past and colonial history."
An alternative to the NETS touring model for small to medium arts organisations [19:00]
Before the first Living Treasures exhibition in 2005, most organisations across Australia in the small to medium sector relied on what were previously called the NETS organisations to manage touring exhibitions, Brian recalls. "So what would happen is a small to medium organisation like ADC or a contemporary art space would develop an exhibition and propose it to the NETS body in their state and NETS would tour it."
Instead of using this model, the Australian Design Centre decided to arrange and manage the Living Treasures exhibition tour itself. "We found that this enabled Australian Design Centre as an organisation to have direct relationships with those venues that were taking it, which would allow this sort of feedback loop to kind of evolve and improve the touring product."
The ADC On Tour program continues working in this way.
Professional development for touring venues [22:03]
Lisa Cahill points out that Living Treasures delivers professional development for the teams at Australian Design Centre and for the regional gallery staff. After almost twenty years of touring Living Treasures exhibitions, she says this professional development means "there are many many staff around the country now with great expertise. We're often maybe not spending as much time on the ground as we were, in the past, depending on the show. That means there is a growing network of expertise around the country."
Living Treasure Klaus Moje [22:40]
Klaus Moje is hailed internationally as the founder of modern kiln-formed glass. Born in Germany, Klaus relocated to Australia in 1982, where he founded the Glass Workshop of the Canberra School of Art and the modern art glass movement in Australia. Australian Design Centre recognised Klaus Moje as Living Treasure: Master of Australian Craft in 2006.
After retiring, he lived and worked on the South Coast of NSW. Brian describes Klaus' home studio as "a series of workshop sheds that were extraordinary environments to be in. Big storage units filled with sheet glass in various colours arranged in a rainbow configuration, and beautifully methodical, chromatic selections of material" laid out for cutting. "For artists at the top of their game, their spaces feel complete in some way. They've evolved their life around their practice."
Living Treasure Nick Mount [26:05]
Nick Mount was made Living Treasure: Master of Australian Craft by Australian Design Centre in 2011. Nick is one of Australia's most accomplished and celebrated studio glass artists. He has been at the forefront of innovation and achievement since the early 1970s. "Nick Mount has been a great advocate, a great survivor, and an exceptional technician, whose influence has been phenomenal," says Brian. He describes Nick as "a classic larrikin in lots of ways" and "a great advocate for the worker."
"We still see Nick blow glass every week in our studio and influence and inform and mentor, formally and informally, generations of others."
Is the the Living Treasures format still valuable today? [28:26]
Lisa and Brian agree that an enduring indicator of the value of this format is that "the audiences love them." Lisa highlights the value of seeing an artist's body of work on a large scale, in the Living Treasures exhibitions. "I think really helps audiences to understand what goes into that life of practice, much more so than seeing a piece in a group exhibition."
Brian adds that "by trying to tell the story of someone's practice or the preoccupations that drive them, you can add all these layers." The different layers of the exhibition program – the monograph, artist talks, public program, highly produced videos, and now this podcast - "make it feel so worthwhile."